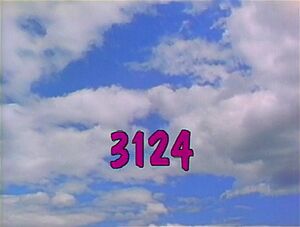 Picture
Segment
Description




Insert
Big Bird greets everyone on Sesame Street, and then sings "Good Morning, Mr. Sun."
(First: Episode 2833)

Animation
The word "dog" appears on-screen, followed by a shot of a dog.
(First: Episode 3082)

Muppets
Mr. Johnson is at home when he calls for pizza delivery. Naturally, the delivery comes by way of Grover who keeps messing up the order because he's not listening to the order. He brings a carpenter's saw and a potted flower attached to his head as a result of cutting Mr. Johnson off mid-sentence.
(First: Episode 2971)

Cartoon
"Five Baby Oysters"
(EKA: Episode 2257)

Film
Michael introduces his friend to the Afro-Brazilian martial art Capoeira.
(First: Episode 2752)

Cartoon
A boy learns to play his violin by practicing.
(First: Episode 1513)

Celebrity
Savion and Gregory Hines do the "Opposite Dance," tap-dancing in opposite ways.
(First: Episode 2949)

Cartoon
K for kangaroo
(First: Episode 2498)

Muppets
The Count sings about the things hands can do.
(First: Episode 3002)

Cartoon
Name That Food ("Will you eat it?")
(First: Episode 1491)

Film
Old bottles are made into new bottles at a recycling plant.
music: "Black Eyed Peas" by Graham Preskett
(First: Episode 0917)

Animation
Pencil box Y / y
(First: Episode 3043)

SCENE 1
Telly is about to play triangle with Bob and his band of kids. As the band plays "The Icicle Waltz," Telly waits for Bob to cue him with his baton, and he plays the triangle right on cue.

Cartoon
Hortense counts four ants.
Artist: Michael Sporn
(First: Episode 2501)

Song
Jerry Nelson sings "Don't Waste Water."
(First: Episode 2804)

Animation
"k" for king, kiss and key
(First: Episode 3084)
Muppets
Guy Smiley takes his 39-member studio audience to a restaurant, but there is no place for him to sit.
(First: Episode 2646)

Animation
An owl is formed out of seeds.
(First: Episode 2368)

Film
Two Navajo kids go to school in Arizona. This year, Dante enters pre-school.
(First: Episode 2680)

Muppets
Kermit sings "Caribbean Amphibian."
(First: Episode 2205)

Animation
Planet Y / y
(First: Episode 2859)




SCENE 2
Bob conducts his band in another slow song. While the band plays, Maria sweeps the steps, Mr. Handford mashes some potatoes, and Flo Bear types a story. When the band plays the song faster, everyone picks up speed in their activities. Bob can't decide whether he likes the song fast or slow, but everyone else prefers it slow.

Animation
Cecille sings "I Want to Be Me."
(First: Episode 2791)

Film
Wegman: Fay shows on the bench and under the bench.
(First: Episode 2653)

Muppets
Three Anything Muppet babies sing "A Baby's Life."
(First: Episode 1423)

Cartoon
The Typewriter: Y for Yo-Yo
Artist: Jeff Hale
(First: Episode 0769)
Muppets /
Celebrity
"Pretty Great Performances" features Placido Flamingo and the All-Animal Orchestra, led by conductor Seiji Ozawa
(EKA: Episode 2485)
Film
Flamingos walk around to classical music.
(First: Episode 2498)




SCENE 3
Telly offers to play his triangle for Maria, but she wants to continue fixing a toy box. He thinks it'll work out if he plays while she bangs, but she has trouble concentrating when he does so. He wanders off, looking for someone who likes triangle music. A baby Dinger pops up and dings, and Maria points her to Telly.

Animation
Four butterflies fly across a film of a waterfall.
(First: Episode 2834)

Film
Operation Playground: A group of students at P.S. 87 come up with ideas for a new playground, and raise money for the effort. Together with their parents and other people from the neighborhood, they build the playground.
(First: Episode 2360)

Cartoon
Pencil box K / k
(First: Episode 2876)




Muppets
Mac TV host Old MacDonald introduces the newest music video, "A New Way to Walk" performed by The Oinker Sisters.
(EKA: Episode 2268)

Animation
Two balls play on a seesaw, when a third ball wants to join them (ending up in the middle).
(First: Episode 2054)




SCENE 4
Telly practices his triangle some more, not noticing that the baby Dinger is watching him. Bob and Maria decide to introduce them to one another. When the Dinger dings at them, Telly thinks there's an echo at first, but they immediately strike a chord when they meet face to face. Bob and Maria announce the sponsors as Telly and the Dinger make music together.
Community content is available under
CC-BY-SA
unless otherwise noted.