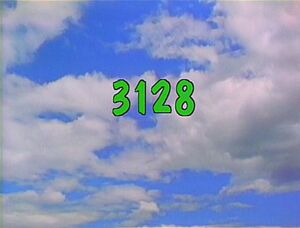 Picture
Segment
Description

COLD OPEN
Elmo introduces today's sponsors and comes face-to-face with a walking fish!




SCENE 1
Elmo and the fish are equally curious about each other, so they decide to take turns in asking questions. Elmo learns the fish is named Wanda Cousteau, who is boldly exploring life outside of her pond in the park. She also meets Telly, who is initially in disbelief. The monsters rush off to find more people for her to "explore."

Film
The floating kids form an L.
Muppets
Sesame Street News Flash
Cinderella's Fairy Godmother tries to make a beautiful ball dress appear on Cinderella without success: the gown ends up on Kermit instead.
(First: Episode 2442)

Song
"(Sittin' On) A Boat on a Lake"
Artist: Jane Aaron
(First: Episode 2807)

Animation
A kerosene lamp assembles itself in stop-motion.
(First: Episode 1473)

Cartoon
A man chases a runaway "no".
(First: Episode 0794)

SCENE 2
Elmo, Telly, Savion, Bob and a child have assembled to meet Wanda, who explores them. She points out all the differences between everyone. They then explain what's similar about them all, making Wanda feel too different and wishes to go back to the pond. Savion tells her being different is fine and they're honored to have her on the street. Wanda decides to stay, asking everyone to go about their daily routine as she observes them. She then spots a number 5...

Cartoon
A lost number 5 looks for his brother.
(First: Episode 0934)

Film
The Count (in voiceover) counts five children standing behind a park bench.
(First: Episode 2931)

Cartoon
A red scribble demonstrates out and in.
Artist: Fred Garbers




Muppets / Cast
Ernie & Bert — Ernie and Bert go see a silent movie, "The Picnic" (starring Maria as Chaplin and Linda as the girl).
(First: Episode 2071)

Cartoon
Speech Balloon: L for Light
(First: Episode 0147)

Film
Footage of kids playing professions, alternating with footage of analogous real-life jobs.
(First: Episode 2811)

Cartoon
A gorilla names "G" words.
(First: Episode 1831)

SCENE 3
Wanda reacts to the previous segment, learning that the letter G stands for gorilla.

Animation
Planet G / g
(First: Episode 2844)

Muppets
Monsterpiece Theater: "The Postman Always Rings Twice"
(First: Episode 2729)

Cartoon
"Wash Your Hands Before You Eat"
Artist: Bruce Cayard
(First: Episode 1523)

Film
Two boys working at the family Mexican restaurant show how they prepare for the day, and how tacos and enchiladas are made.
(First: Episode 1890)

Cartoon
Five butterflies
Artist: Owe Gustafson
(First: Episode 1471)

Muppets
"Barn in the USA"
(First: Episode 2991)

Film
Paper crumples to reveal G, g, and Gg.




SCENE 4
Wanda hears a strange noise and boldly learns it's from Savion's tap dance class. She and the monsters take a peak at it and Wanda tries replicating, but finds she's unable to dance with fins. Savion demonstrates a dance she can do - moonwalking. She joins Elmo as they moonwalk to Bob's apartment for violin lessons.




Film
Kids rehearse a large group African dance in the park, get their faces painted, and perform.
(First: Episode 3079)

Cartoon
A baby climbs up the stairs all by himself.
(First: Episode 1717)

Muppets
Muppet & Kid Moment — Chip and Dip hold a sign with the word "CAT" written on it and ask Danny if he knows what it says. When they learn that he can't read the sign, they give him clues.
(First: Episode 2805)

Cartoon
A caterpillar dances in ten socks.
(First: Episode 2246)

Muppets / Celebrity
Celia Cruz and the Anything Muppets sing "Numero Comparsa."
(First: Episode 2318)

Film
A group of girls do a playground cheer ("One step forward, one step back").
(First: Episode 3031)




SCENE 5
Bob and Elmo introduce Wanda to the violin, as the kids play an allegro for her. Wanda wants to boldly try the violin, but they discover she has no way of holding it. She thinks she won't be able to boldly make music, until Bob tells her she can make music by singing. He begins singing "Sing" as Wanda, Elmo and the others join.

Cartoon
L for Laugh
Artists: Vincent Cafarelli & Candy Kugel
(First: Episode 2767)

Muppets
"I Am Chicken"
(First: Episode 2995)

Film
Some Navajo kids narrate a film about how their blankets are woven, and how they make paper blankets in school.
(First: Episode 2990)

Muppets
The Rainbow Fish counts groups of 5 in the ocean.
(First: Episode 2923)

Animation
Yellow drops don't want to play with a red ball at first, but they make a good flower together.
(First: Episode 1895)

SCENE 6
Wanda recaps what she's learned today, including the sponsors. Elmo signs off as Wanda heads back to the pond for dinner.