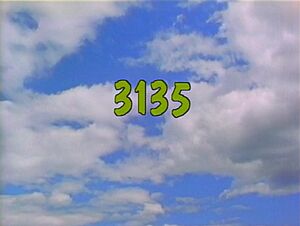 Picture
Segment
Description




SCENE 1
Big Bird introduces the viewer to today's sponsors, and mentions that he and his best friend Snuffy are going to have an ADVENTURE today! While Big Bird describes what an adventure is, neither of them notice an Indiana Jones lookalike (played by Walt Willey) being chased by a rolling boulder. Snuffy has to go get dressed for his adventure, leaving Big Bird curious ...

Cartoon
Leanna Williams tells a story of how she traveled to Hawaii and bought a Hawaiian shirt.
Artist: ArtistMike
(First: Episode 2745)

Song
"Frog Kick"
(EKA: Episode 2155)

Muppets
Monsterpiece Theater: Room at the Top
Grover, the "little guy," climbs from the bottom of the mountain, all the way to the top, only to find a gang of monsters up there, including Telly. When Grover tries to squeeze in between them, they all fall off the mountain, and land in Alistair Cookie's room.

Animation
Planting Letters: A
(First: Episode 3027)

Film
"Visiting Iesha": Olivia sleeps over at Iesha's house, and spend the morning together. Olivia is white and Iesha and her family is black. Next time, Iesha wants to visit Olivia's family.
(First: Episode 2756)
This segment was the subject of an unpublished 1991 study by Sesame Street Research. The study found, among other things, those who have seen this segment were more likely to be willing to play with a doll of another race.

Muppets
"Pond Full of Fish"
(First: Episode 2840)

Animation
Computer N / n
(First: Episode 3039)

Cast
Lillian sings a "Simple Clapping Song" with some kids.
(First: Episode 2827)

Film
A gemsbok runs fast, then faster.
Music: Joe Raposo
(First: Episode 0416)

Animation
Rubber Stamp #15
(First: Episode 2945)

Muppets / Celebrity
Jim Carrey shows Elmo and Telly how he expresses his emotions - with his feet (in speed-induced footage, no less).
(First: Episode 3023)

Animation
It's a crocodile
Artist: Ishu Patel
(First: Episode 1663)

Song
Bob sings Joe Raposo's "Look a Little Closer." (apple tree)
(First: Episode 2654)




Muppets
Colambo: The Great Plum Plunder
Colambo, in his office, decides to have a piece of Christmas pie, when he notices a plum missing from it. He asks the janitor, Little Jack Horner, some questions about what he was doing in the corner. It turns out that Jack had stuck in his thumb and pulled out the plum.
On the title card, the story is credited to J. Mazzarino.
(First: Episode 3121)

Animation
Sand A/a
(First: Episode 0628)

SCENE 2
Big Bird waits in his nest area for Snuffy to come back. He makes some wild guesses about what kind of adventure they'll have, pretending his broom is a horse and a tightrope.




SCENE 2
cont'd
Big Bird's phone rings, and he answers it. Snuffy, on the other end, says he has to clean his room before they have an adventure. For the second time, Big Bird fails to notice the boulder chase behind him. When he hangs up the phone, he decides to clean his own room. He sees some footprints and pieces of rock, which don't look familiar to him ...

Cartoon
A janitor sweeps up his own footprints the wrong way, then the right way. Just then, a giant centipede leaves tracks all over the floor.
Music: Joe Raposo
(First: Episode 0247)

Song
"Reach Your Hand Up High"
(First: Episode 2702)

Muppets
Muppet & Kid Moment — Andrew counts for Grover.

Cartoon
A - acrobat ball
(EKA: Episode 2453)




Muppets
On Vacation with Guy Smiley
Guy Smiley and his tour guide have difficulty taking pictures of animals in the jungle because of Guy's uncontrollably loud voice. A tiger recognizes him, and offers to take a picture of him and some other animals. "Say TREES!"
(First: Episode 1877)

Cartoon
Rap #15
(First: Episode 2567)

Film
Some kids have a bike race by the river.
(First: Episode 1419)

Cartoon
Counting to 10
Artist: Keith Haring
(First: Episode 3042)




SCENE 3
Snuffy shows up with his adventure hat on, ready for an adventure! They bravely set off in search of excitement, and their quest leads them to Hooper's Store, where Gina has just finished baking a vegetable pie. She offers them some, but they don't feel like eating while looking for an adventure. She suggests that they could be adventurous by trying a new food, and they think it's a good idea.

SCENE 3
cont'd
For the third time, the boulder chase (now reversed) passes them by. Big Bird and Snuffy both like the vegetable pie, and Big Bird remarks, "There's always something exciting happening on Sesame Street! You just have to know where to look!"

Cartoon
The Carrot (censored version)
Artist: Bruce Cayard
(First: Episode 1132)

Muppets
The Oinker Sisters sing "The Boogie-Woogie Piggies."
(First: Episode 2922)

Film
The floating kids form a letter N.
(First: Episode 3109)

Cast
Maria as Chaplin tries to throw away a newspaper into a rapidly moving litter can. When she finally does, the exit door also moves and she breaks down the wall.
(First: Episode 0753)

Animation
A/a (Gordon voice-over)
(EKA: Episode 2240)

Muppets
"Do De Rubber Duck"
(First: Episode 2304)

Cartoon
A loud-voiced girl talks about her dog Pete.
Artist: Bruce Cayard
(First: Episode 1266)

SCENE 4
Snuffy wonders what their next adventure will be. Big Bird suggests playing with a hula-hoop, pretending it's a big circle that's chasing them (like the chase that's still happening behind their backs). Ironically, Big Bird's hula hoop idea doesn't sound very believable to Snuffy.

Cartoon
Two caterpillars plus three caterpillars equal five
(First: Episode 2324)

Muppets
"In South America," they say "Buenos Dias" for good morning, and "Buenas Noches" for good night.
(First: Episode 3105)

Cartoon
"Tall Short Texans"
Artist: Joey Ahlbum

SCENE 5
Big Bird asks Snuffy if he wants to have another adventure, but Snuffy feels worn out from trying the vegetable pie. Besides, it's time for them to say goodbye. They announce the sponsors, say goodbye, and walk off-camera.

SCENE 5
cont'd
The un-noticed adventurer, having finally caught the boulder, passes by the camera, says "Goodbye," and walks off. So ends the 24th season of Sesame Street.
Community content is available under
CC-BY-SA
unless otherwise noted.