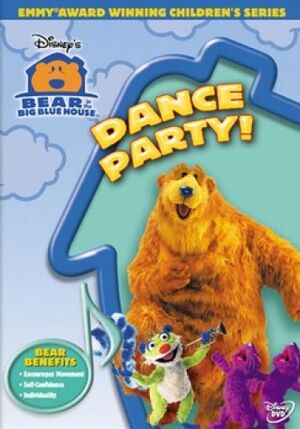 One morning, Bear finds that he can no longer do The Bear Cha-Cha-Cha. It seems that he has simply lost his rhythm. It's so bad that he can't even say "cha-cha-cha." He loaned his records to Doc Hogg, but when he can't get them back, he has to find some other way to regain his rhythm. Pip and Pop attempt to help by providing their services as the "rhythm-masters." Later, Bear finds Treelo dancing to a calypso beat and joins in.
In the Shadow segment, when Bear was looking in the upstairs hallway for Shadow, instead she went to Bear's bedroom. When he found her he was ready for Shadow's story. Shadow sings a song called "Tingalayo." About a donkey, it features a Latin beat. She also gives Bear a tip to help find his rhythm, by telling him to "look right behind your ears".
Songs
Notes
Portions of the events of this episode were adapted for the book Time to Cha-Cha-Cha!.
Throughout the episode, Tutter will sing his version of the cha-cha-cha: "It's time to do the Mouse Cha-Cha-Cha"...
This episodes title references the song I Got Rhythm.
Video releases