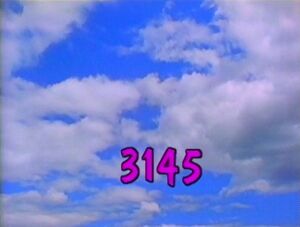 Picture
Segment
Description




SCENE 1
Gina welcomes the viewer to Sesame Street, where it's a really hot day today. Telly, dressed as a penguin, waddles by with three other penguins, on his way to the penguin party (aka the "Snow Ball") at the Furry Arms Hotel, where he and the penguins will sing, dance, slide on ice, and eat fish. Wolfgang goes crazy when he hears there will be fish, but the penguins tell him to stay away. Telly says he'll bring Wolfgang back some fish, and Gina goes inside Hooper's to turn on the air conditioner.

Song
"Hot in the City"
(First: Episode 2751)

Animation
Isadora's sneakers describe all the fun they've had this past year, as the seasons change.
(First: Episode 2758)

Muppets
The Bicuspids sing "Kids Just Love to Brush."
(First: Episode 2060)

Cartoon
A monster named Doug has trouble getting to sleep at night, until the teeth in his dream remind him to brush his own.

SCENE 2
Telly and the penguins reach the Furry Arms, unknowingly followed by Wolfgang.




SCENE 2
cont'd
Meanwhile, Sherry Netherland makes sure that Ingrid and Humphrey have made the adequate preparations for the penguins' stay: the floor is icy (causing everyone to slip at any moment), the air conditioner is on, and there's plenty of fish. Benny Rabbit prepared for this day as well, by wearing ice skates (which don't prevent him from falling when he trips over Telly).

Song
"Ookyook Song," a Joe Raposo song with the Alaskan words for all the things you need to put on when it's ukiuq (winter).
(First: Episode 2360)

Cast
Linda signs the word snow, and Gordon gets snowed on.
(First: Episode 2712)

Cartoon
Bruce the moose invites Toulouse LaGoose over for juice.
(First: Episode 2498)
cut from the Noggin version

Muppets
Elmo sings "Right in the Middle of My Face" while walking through an animated art gallery.
(First: Episode 3130)

Cartoon
Which legs belong on the man?
(First: Episode 1691)

SCENE 3
Telly discovers that Wolfgang has been following them to the hotel, and warns Humphrey and Ingrid about it. They assure Telly that they'll give the old heave-ho to Wolfgang, but when he does come, Humphrey asks him if he's a penguin, then tells him to stand next to a cutout picture of a penguin. They conclude that he's not a penguin, because penguins are black and white. Wolfgang gets inspired, and runs off.




SCENE 3
cont'd
Seconds later, Wolfgang comes back in, this time dressed in a tuxedo, which almost makes them believe he's a penguin this time, until they point out that he doesn't have a beak. He goes and dons one, and is granted access to the party and the fish.

SCENE 3
cont'd
Humphrey wonders if penguins bark, as a penguin-dressed elephant walks by.

Cartoon
An ape takes a bite out of a yellow A.
(First: Episode 2813)

Film
A boy in Jamaica goes to school and attends drum class.
cut from the Noggin version

Cartoon
African quilt pattern

Muppets
Guy Smiley hosts a dinner for all things that begin with the sound SH. Guests include a shirt, a shrieking shovel, a shepherd, and a shark.
(First: Episode 2564)

Cartoon
Leaves form a SH.
(First: Episode 3127)

SCENE 4
Big Bird walks by the Furry Arms, and asks two tenants on the third floor why they have their windows open on a hot day like today. They explain that the whole building was frozen up to prepare for the penguins' stay. Big Bird thinks they should stand up to the management and tell them to warm the building up again.




SCENE 4
cont'd
The penguins want Humphrey to turn the air conditioner all the way up, but Humphrey doesn't want to break it. Sherry agrees with the penguins, so Humphrey turns it up to 13, one notch below full blast. The two tenants tell him to turn it down, because they want to get warm again. Ingrid suggests that they get warm by dancing with the penguins, so they reluctantly go along with it and "Do the Penguin."

SCENE 4
cont'd
Suddenly, the air conditioner breaks, because someone turned it all the way up. This causes the penguins to panic, and the two tenants to rejoice. The AC needs to be fixed, so Telly tells Ingrid and Humphrey to call Maria and Luis, who can fix anything.

Animation
Growing Numbers #13
(First: Episode 2924)

Animation
13 hamburgers dance around.
(First: Episode 2785)

Song
Kevin Clash sings "Skin."
(First: Episode 2749)

Muppets
Big Bird is between what we just saw and what we're about to see ...

Cartoon
A mouse demonstrates between by squeezing between two elephants.
(First: Episode 2750)




SCENE 5
Telly and the penguins lament the hot weather and the broken AC. While Maria and Luis try to fix it, the penguins try imagining they're cold, then they do the "cold cheer." Maria and Luis inform them that Hooper's has a working AC, so the penguins hightail it over there. Telly tries to follow them, but gets caught in the revolving door.

Film
The floating kids form an L.
(First: Episode 3128)

Cartoon
"L Look Around Song"
Artist: Bruce Cayard
(First: Episode 1483)

Muppets
Ernie & Bert — Ernie is confused when he sees Bert playing checkers with his pigeon, Bernice. Ernie thinks it's amazing that a pigeon can play checkers, but Bert thinks it is no big deal, because Bernice has only beaten Bert in two out of ten games.
(First: Episode 1227)

Song
Joe Raposo sings "Dressed Up"
(First: Episode 0302)

Muppets
Big Bird demonstrates how the alphabet song would sound if it didn't begin with A.

Animation
Pencil box A/a
(First: Episode 3082)

Film
Balloons are popped in front of kids' faces, demonstrating surprise.
(First: Episode 2923)

Muppets / Celebrity
Big Bird and tennis star Michael Chang play tennis together and tie their shoes.

Animation
Luxo Jr.: Up and Down
(First: Episode 3130)




SCENE 6
Gina, having bundled herself up in a now-freezing Hooper's with a bunch of frisky penguins, calls the Furry Arms and asks Maria and Luis if the AC is working there again. When she hangs up, one of the penguins invites her to play a "One of These Things" game with four penguins - one of which has a clown nose on its beak, and one of which (unbeknownst to everyone but Gina) is Wolfgang in disguise. When they realize he's a seal, chaos almost ensues, until Maria and Luis come back in to report that the AC at the Furry Arms is now fixed. The penguins slide back to the hotel.

Cartoon
A mouse riding an armadillo sings a song about 13, his lucky number.
(First: Episode 2828)

Film
Fay Ray's head moves across the floor from left to right.
(First: Episode 3034)
cut from the Noggin version

Song
"The Wasteroon Song" - three water drops complain about people wasting water, calling them "Wasteroons."
Artist: ArtistMike
(First: Episode 2851)
cut from the Noggin version

Film
Fay Ray's head moves across the floor from right to left.
(First: Episode 3034)
cut from the Noggin version




SCENE 7
As Sherry says goodbye to the dissatisfied penguins, Humphrey and Ingrid have trouble turing down the AC to prepare for their next event, the jungle open house. A tiger, an alligator and a toucan enter the hotel and, finding it to be too cold, decide to go to Hooper's, where it's warm.




SCENE 7
cont'd
Gina announces the sponsors, as the penguins walk by, wondering who ate all the fish. A stuffed, weary Wolfgang rests on the counter, and Telly asks Gina if she can accommodate the jungle animals until the Furry Arms warms up. Gina remarks, "Just a normal day on Sesame Street ..."
Notes
Additional performers include Lisa Buckley, Brian Muehl, Noel MacNeal, Carmen Osbahr (as the penguins), Don Reardon (as the elephant), Camille Bonora (as the female tenant), Jim Martin (as the tiger), Rick Lyon (as the alligator) and Fran Brill (as the toucan), with Kevin Clash (as Benny, Wolfgang, and the male tenant).