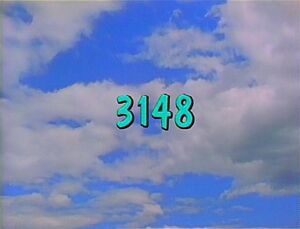 Picture
Segment
Description




SCENE 1
Celina welcomes the viewer and tries to tease the sponsors, but Telly and Baby Bear interrupt; they want to announce them. They claim they like to do things together, since they like the same things. Telly uses triangles as an example, but finds Baby Bear doesn't love them the way he does. Baby Bear is equally distraught that Telly not only doesn't like porridge, but hasn't even tried. He brings him home to Mama Bear to try some.

Cartoon
A lizard sings about how she likes to be "Above it All", as well as below.
Artist: Sally Cruikshank
(First: Episode 2559)

Song
Joe Raposo sings "I Like Alaska", along with a montage of kids saying what their hobbies are, and what they like about their community.
(EKA: Episode 2356)
cut from the Noggin version

Cartoon
P for Planet
(First: Episode 2008)

Film
Kids paint P-word animals on glass.
(First: Episode 0119)

Cartoon
P for Pack
(First: Episode 0504)
cut from the Noggin version

Muppets
Cookie Monster sings "Me Gotta Be Blue."
(First: Episode 1828)

Cartoon
A spider refuses to give up spinning a web, no matter how badly injured he becomes.
(First: Episode 1652)
cut from the Noggin version




SCENE 2
At the Three Bear's cottage, Baby Bear and Telly share a chair. Papa Bear lets Telly use his bowl and spoon, using his hat as a bowl instead. Telly tastes some porridge and finds he doesn't love it as much as Baby Bear, upsetting them both. Mama Bear points out that best friends don't need to like the same things, using herself and Papa Bear (and his hat) as an example. Papa Bear plops his hat back on, spilling the porridge on his head.

Film
A boy makes fruit salad.
(First: Episode 1195)
cut from the Noggin version

Cartoon
Y for Yak (new music added)
Artist: Jeff Hale
(First: Episode 1184)

Muppets
Old West: Sinister Sam announces that someone has bought the last box of crayons, and he wants to know why. It turns out that he just wants a crayon so he can learn how to write the letter Y.
(First: Episode 1288)

Animation
Pencil box Y / y
(First: Episode 3043)

Film
Gilberto, who lives in Central America, learns how bricks are made.
(First: Episode 2744)

Cartoon
A small frog is jealous of how big an ox is, so he expands himself into a very large, round frog. He becomes so self-important and big he ends up exploding.
Artist: Etienne Delessert
(First: Episode 0660)

SCENE 3
Telly bounces on his pogo stick, while Baby Bear counts the bounces. Big Bird skates by wishing to join them, but Baby Bear doesn't want him to play and runs off in an angry huff.

Cartoon
Jill walks up a hill to pick a daffodil.
Artist: Jim Jinkins
(First: Episode 2538)

Song
"Starfish" by Joe Raposo.
(re-filmed version)
(First: Episode 2487)

Muppets
Herry Monster looks for a triangle. He first spots a rectangle. Grover tells Herry it isn't a triangle, and becomes frustrated. Next he spots a square, Grover tells him it isn't a triangle, and once again is frustrated. Grover suggests that Herry should cut the square in half and make two triangles. (ambient noise added)
(First: Episode 0195)

Cartoon
"The Stranger" - a song about a baseball team hesitantly allowing a newcomer to join them, who ends up helping them win the game.
Artist: Michael Sporn
(First: Episode 2108)

Film
Fireworks Alphabet (gold frame added)
(First: Episode 1104)

SCENE 4
Telly tells Luis about what just happened. Baby Bear explains that he likes Big Bird, but if Telly plays with him, he make like Big Bird more than him. Telly reassures him that that won't stop them from being friends and the three all go off to play.

Cartoon
"Magic Pig"
Artist: Vince Collins
(First: Episode 0772)

Muppets
Every time Ernie tries to recite a poem about the number 12, it switches itself around to the number 21 (and vice versa).
(First: Episode 2329)

Cartoon
A man weighs five pounds of bubble gum. He chews it all, blows a huge bubble, and flies away.
(First: Episode 0617)

Muppets / Celebrity
Zoe counts the number of times Michael Chang bounces a tennis ball.

Film
Kids talk about playing tennis.

Cartoon
A juggling bear helps a little girl learn to juggle.
(First: Episode 1834)

SCENE 5
Baby Bear tries bouncing on Telly's pogo stick, but finds he's not good at it. He worries Telly won't stay friends with someone who can't bounce as well, but Big Bird assures him practice will help.

Film
Kids pick green beans in the field. Later their mom cooks the beans, and they eat them.
(First: Episode 0944)

Song
Girls wish they were "Short or Tall".
(First: Episode 3019)

Muppets
The Rhymies go camping, but a bear disrupts their campsite.
(First: Episode 1389)

Cartoon
In rhyme, a man points out animals who stole and/or ruined his clothing.
(First: Episode 0778)
Song
"Me and My Chair"
(First: Episode 1706)

Cartoon
A letter "P" sits on an island before a rotating sunset. The ridges of the letter "P" moves along the letter and flash in different colors.
(First: Episode 0452)




SCENE 6
Baby Bear shows Luis and Maria the progress he's made on the pogo stick. While the grown ups announce the sponsors, Baby Bear borrows Telly's pogo stick to get back home.
Notes