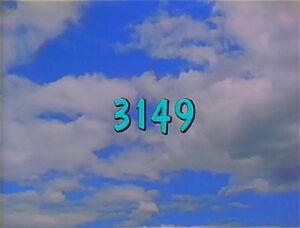 Picture
Segment
Description

COLD OPEN
At day care, Angela, Zoe and two kids display the sponsors. Joey and Davey Monkey appear, adding Angela will be telling "The Joey and Davey Monkey Story"...which is news to Angela.

SCENE 1
Angela tells the monkeys she doesn't have their story, nor the room to hold the. Instead, Zoe tries telling the story of "The Three Bears," though mixes up the beginning, middle and end. Angela then gives in and tells a story the monkeys must enact, which ends with them leaving to look for another storyteller.

Cartoon
"Beginning, Middle, End"
Artist: Sally Cruikshank
(First: Episode 2556)

Muppets
Muppet & Kid Moment — Grover and Jesse talk about love.
(EKA: Episode 2420)

Film
Four kids dance in a colorblock grid.

Cartoon
Four ducks
(First: Episode 1481)

Film
A kid recites a poem about adding penguins.
Music: Joe Raposo
(First: Episode 0255)

SCENE 2
The monkeys try to get a story out of Oscar, who agrees to tell a story, but only if the monkeys act it out. The story involves the two monkeys asking for a story, reading Oscar's "NO" sign and leaving.
Cartoon
"Have you seen my NO?"
(First: Episode 0773)

Film
A class goes on a field trip to Prospect Park, where Ranger Roseanne gives them a tour.
(First: Episode 2944)

Muppets
"Cereal Girl"
(First: Episode 2687)

Cartoon
Counting to 10
Artist: Keith Haring
(First: Episode 3042)

Cast / Celebrity
It's just a normal day on Sesame Street, until Gloria Estefan leads everyone in a conga line as she performs her hit single "Conga." When she leaves, everything returns to normal. (new music added)
(First: Episode 2887)

Cartoon
I am crying / estoy llorando (David and Maria voiceover)
(First: Episode 1041)
cut from the Noggin version

Muppets
The Two-Headed Monster reads the sign atop a miniature school building, and observes a small group of children that run out of it. Once they've left, the monster picks up the now empty building, and declares, "School's out!"
(First: Episode 1907)

Song
"Off to School" A parody of Chuck Berry's "Hail Hail Rock & Roll," accompanied by footage of a day at school.
(First: Episode 2944)

Cartoon
"We Are Kids From Far and Wide": Sierra Leone
(First: Episode 2770)

Muppets
Ernie & Bert — Bert tells Ernie to make a grocery list, but Ernie can't find anything to write with ... except for chocolate pudding. (Bert: "He's improving. Last time he used spaghetti sauce.")
(First: Episode 1967)

Cartoon
A heart that says "I love you" is drawn.
(First: Episode 1971)
cut from the Noggin version

Film
A blind class goes on a field trip downtown, and visits a produce stand.
(First: Episode 2580)
cut from the Noggin version

Film / Animation
Circles of all kinds are displayed as funky rap music plays.
(First: Episode 3126)




SCENE 3
Jamal shows the kids at the playground some animal footprints. He spots more around him, which lead to Joey and Davey, who want a story. Jamal's story for them to act out is about spotting footprints, then leaving.

Animation
OP words (Drop / stop / top / hop / pop)
(First: Episode 2886)

Song
Joe Raposo sings "Doggy Paddle."
(First: Episode 1967)

Animation
Sand X/x
(First: Episode 0638)

Muppets
The Mystery Guest is the letter X.
(First: Episode 1447)

Cartoon
The great Alphonso and his trained X's
(First: Episode 0299)

Film
A girl narrates a film of how pan dulce, Mexican bread, is made.
(First: Episode 3015)

Cartoon
Gloria Globe attempts to pull a rabbit out of her hat, but pulls out a camel instead, which belongs in Egypt.
(First: Episode 2792)
cut from the Noggin version

SCENE 4
Back at the playground, Joey tells an interactive story of his own, starring Davey. The story is about Davey swinging 40 times on a ring, causing him to fly off.

Animation
Counting 20 shells
(First: Episode 2994)

Muppets
Muppet & Kid Moment — John-John and Herry Monster count to twenty.
(First: Episode 0441)

Cartoon
Sign Sounds: GROW
(First: Episode 1120)

Film
Jerry Nelson counts 20 backflips performed by a monkey.
(First: Episode 0217)

Muppets
"J Friends"
(First: Episode 0339)

Film
With their teacher, kids play clapping and dancing games about the rhythm in their names.
(First: Episode 1735)

Cartoon
J family jamboree
(First: Episode 0365)

SCENE 5
Jamal returns home to Angela, which Davey and Joey following. They've arrived to announce the sponsors and are immediately shut out afterward.