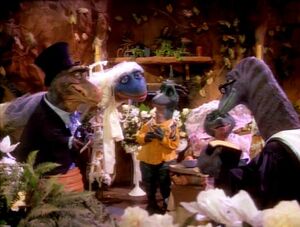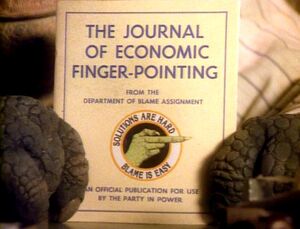 With the Pangaean economy suffering from a bad recession, Earl and Roy Hess lose their jobs. Meanwhile, the government blames its problems on all four-legged creatures in an effort to shift the blame away from them. Immediately, anti-four-legger legislation is passed, causing Monica to also be fired and lose her home. Roy marries Monica to allow her to stay on the right side of the swamp. Earl protests the marriage and breaks his friendship with Roy for colluding with the enemy. After a major accident in which a four-legger saves his life, Earl repents for his bigoted ways and welcomes Roy back into his life. Public sentiment echoes Earl's attitude when the anti-four legged laws are repealed allowing Monica to resume her normal life without Roy.
Guest Star
Notes
Taped on November 9, 1992
Video releases
Community content is available under
CC-BY-SA
unless otherwise noted.