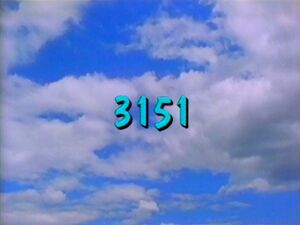 Picture
Segment
Description

SCENE 1
Elmo and Merry Monster admire the flowers in the park and wish to pick them. Jamal points out the "Don't Pick the Flowers" sign and explains why.

Cartoon
A pattern of daisies and tulips - can you tell what comes next? (new music added)
(First: Episode 2256)

Song
"It's Time for a Rhyme"

Cartoon
A bus driver counts 11 of each necessity for a bus trip camping.

Muppets
Guy Smiley promotes the use of "Air." He leads his marching band through the walls of a barber shop every time someone there says a word out loud that rhymes with "air."
(First: Episode 2682)

Cartoon
A man talks about how much he loves his bones.
Artist: Bruce Cayard
(First: Episode 2628)
cut from the Noggin version

Film
A girl wants to learn a playground rhyme after watching some other girls do it, so one of them teaches her.
(First: Episode 2284)
cut from the Noggin version

Animation
Several cards form an H.
(First: Episode 3139)

SCENE 2
Susan returns home with some flowers, which Elmo and Merry suspect is from the park. After questioning her, they learn the flowers came from the store.

Cartoon
A dinosaur tries to move around a rock.
(First: Episode 2744)
cut from the Noggin version

Film
Two kids play drums as animated kid-drawn figures clap with the beat.
(First: Episode 2847)

Cartoon
U for uniform.
(First: Episode 0702)

Muppets
Ethel Mermaid sings "I Get a Kick Out of U."
(First: Episode 3127)

Cartoon
A boy needs a letter U to complete the word UP.
(First: Episode 0416)

Muppets
The Cereal Girl sings about her missing "Hair Brush."
(First: Episode 2940)

Film
Armadillos on film
(First: Episode 2488)

SCENE 3
Gina has Telly go ask Gordon what he wants to drink with his lunch, but Gordon is too busy grading papers to hear Telly. Celina gives him some help and Gordon orders a lemonade.

Cartoon
A cat desperately tries to open a can of cat food by himself while his mistress is on the phone.
Animation by Dan Haskett
(First: Episode 2151)

Muppets / Celebrity
Celia Cruz tells Big Bird about a hummingbird, and sings "Zunzun". (music added to intro)
(First: Episode 2298)

Animation
Jerry Nelson sings "Two Pretty Flowers."

Song
Joe Raposo sings "Little Things."
(First: Episode 2485)

Cartoon
A man thinks of H words while sitting on a horse.
Artist: Cliff Roberts
(First: Episode 1815)

Muppets
A trio of bugs sing "Night Bug Boogie".
(First: Episode 2957)

Cartoon
Rubber Stamp #11
(First: Episode 2885)

SCENE 4
Telly plays Bob his new audio tape: "Ding Along with Mitch and the Ding-a-Ling Band," which Telly can play his triangle to. The tape ends abruptly, upsetting Telly. He cheers up when Bob asks him to join his band.

Cartoon
An elephant, a zebra, a hedgehog, an ostrich, a frog and a ladybug create a rhythm with their footsteps.
Artist: Karen Aqua
(First: Episode 2794)

Muppets
"It's Zydeco"
(First: Episode 2666)

Animation
2 houses plus 3 houses equal 5.
(First: Episode 0283)

Song
Joe Raposo sings "Everybody Eats."
Re-filmed version
(First: Episode 2855)

Cartoon
The Ringmaster displays 11 purple pooches. (new sound effects added)
Artist: Jeff Hale
(First: Episode 1347)

Muppets
Muppet & Kid Moment — Grover and John-John count a penny.
(First: Episode 0438)

Animation
Counting up to 11 (African masks)

SCENE 5
Bob conducts his child orchestra and they play the "Alarm Clock Serenade," with Telly as the clock.

Cartoon
Various sounds are demonstrated, including an alarm clock, a baby crying, a telephone, a faucet dripping, and a boy sneezing.
Artist: Irra Verbitsky
(First: Episode 1483)

Animation
CH words (chop, choose, change, etc.)
(First: Episode 2893)

Muppets / Celebrity
Pretty Great Performances
Live from Sesame Hall, Phil Harmonic introduces Maria and James Galway, who perform "Concerto for Flute and Pool Toy" by Ludwig von Splash.
(First: Episode 2541)

Cartoon
A girl describes why she likes the color black.
Artist: Lisa Crafts
(First: Episode 3105)

Film
Some kids watch a silent film featuring a lady in a burning house. They instruct her to "go to the EXIT!"
(First: Episode 0536)

Animation
Planet H / h
(First: Episode 2851)

SCENE 6
Telly joins Merry and Elmo in smelling the flowers in the park as Susan announces the sponsors.
Notes
Telly's audio tape references Sing Along with Mitch, Mitch Miller's TV series in which Bob McGrath was a member of.
Community content is available under
CC-BY-SA
unless otherwise noted.