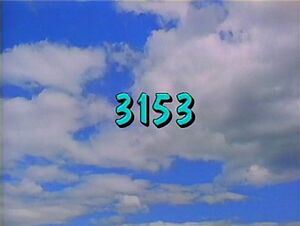 Picture
Segment
Description

COLD OPEN
Big Bird tells the viewer that he's going to help take care of baby Kayla today.

SCENE 1
Big Bird waits for parents Angela and Jamal to decide who's going to change Kayla's diaper, and then decides that he'll choose who does it. "It's a good thing I'm here to help, or they wouldn't get anything done!"

Song
Joe Raposo sings "What Babies Are Called"
(First: Episode 0116)

Animation
Fans unveil Q and q.
(First: Episode 2895)

Muppets
Muppet & Kid Moment — Herry & John-John observe a letter Q.
(First: Episode 0571)

Animation
In reversed film, Q and q candles are unmelted.
(First: Episode 3079)

Film
A dance class does some stretching exercises, then dance in their own ways, ending with the tango (instrumental: "Naughty Door Opera").
(First: Episode 3022)

Cartoon
A bird displays the front and back of a turtle.
(First: Episode 0789)
cut from the Noggin version

Muppets
Herry Monster wakes up and says "Good Morning, Morning" to everything.
(First: Episode 2847)

Animation
Abstract count to 19
(First: Episode 2827)




SCENE 2
Big Bird and Angela make sure they have everything ready for Kayla's bath. Jamal brings her in, and they bathe her as an instrumental version of "Good Morning, Morning" plays.

Song
"Let's Go Tubbin' Today"
(First: Episode 3024)

Cartoon
Campers don't want to play ring toss with Zork, until their counselor reminds them about being judgmental.
(First: Episode 2761)
cut from the Noggin version

Film
The Count (in voiceover) subtracts from five to one to zero children on a park bench.
(First: Episode 2923)

Muppets
In song, a boy wanders into the Animal Lost and Found, looking for his pet named Homer. The shopkeeper says, "Describe Your Pet to Me."
(First: Episode 2967)

Cartoon
A boy says he has a big surprise in his hand.
(First: Episode 0557)

SCENE 3
Kayla's nap is over, so Jamal and Angela tell her to "Wake Up!"

Animation
Arrows give a presentation of the human body.
(First: Episode 2839)

Muppets / Celebrity
Cookie Monster and Annette Bening demonstrate here and there.
(First: Episode 3080)

Cartoon
Two cartoon cacti sing "Here We Are."

Film / Muppets
Alphaquest: S
A swimsuit, Grover as a silly surfer, a seagull, the sunset and a submarine.
(First: Episode 2729)

Animation
Sand S/s
(First: Episode 0622)




Cast
Gordon hosts "The Crossing Zone," in which a boy named Jonathan has to find a way to cross the street. Susan helps him across.
(First: Episode 2729)

Cartoon
A shepherd plays hide-and-seek with his sheep.
Artist: Michael Sporn
(First: Episode 2109)
cut from the Noggin version

SCENE 4
(Insert)
Snuffy leads Carlo and two other kids to an exercise class taught by Arnold Schnuffleupanegger. He has them touch their toes, then stretch their legs and snuffles, but since the kids don't have snuffles, they use their hands instead. They finish off with jumping up and down, and then Arnold has to go teach another class, but assures them "I'll be back! Hasta la vista, baby!"

Cartoon
"There's an Exercise That's Right" even for a snake.
(First: Episode 2962)




Muppets
Prairie Dawn and The Count are contestants on "Squeal of Fortune."
(First: Episode 2331)

Animation
Number creatures #19
(First: Episode 2718)

Film
A Japanese boy plays taiko drums in the park.




Muppets
Camp Wannagohoma: Grover tries to show the campers what is alive in the forest, but they keep correcting him.
(First: Episode 1791)

Cartoon
A caveman sits on what he thinks is a rock, not realizing that it's a dinosaur, which is alive.
(First: Episode 1737)




SCENE 5
The parents take Kayla for a stroll, and Big Bird follows them. They run into Savion, who asks Kayla to dance with him. Big Bird thinks that's not possible, but Savion just holds her while he gently taps. Big Bird remarks, "That's one talented dancing baby!"

Cartoon
Rap #19
(First: Episode 2560)

Film
"Sesame Street Creature Feature": Today's featured creature is the Slug, who sings "I'm a Slug"
(First: Episode 2988)
cut from the Noggin version

Cartoon
Jasper thinks that he has lost his elbow, but Julius shows him his elbow by bending his arm.
Artist: Cliff Roberts
(First: Episode 0410)

Muppets
Farmer Ernie sings "Grow High Grow Low" about how some plants grow high while some grow low.
(First: Episode 2448)

Cartoon
Teeny Little Super Guy
RW wants a pet spoon, so TLSG teaches him the importance of being responsible with a pet.
Artist: Paul Fierlinger
(First: Episode 1986)

Cartoon
Babies and doggies pattern: What comes next?
Artist: Keith Haring
(First: Episode 3039)
cut from the Noggin version

SCENE 6
At night, Big Bird gives Jamal a book to read to Kayla: I Am a Bunny by Ole Risom, illustrated by Richard Scarry.




SCENE 6
cont'd
When it's over, Angela puts Kayla to bed, and Big Bird asks Jamal to read him the story. Jamal does so, as Snuffy announces the sponsors.
Notes