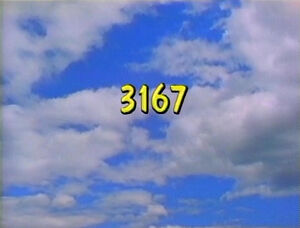 Picture
Segment
Description




SCENE 1
Hoots the Owl welcomes the viewer from the rooftop at night. Telly and Maria arrive, as Telly wants to meet a magical being known as "Radish Dude." He describes him, based on the story of "Izzy Monster and the Radish Dude": Izzy waits on the roof at night when Radish Dude appears. He gives Izzy a radish, which can grant his wish for a pony. Telly hopes Radish Dude can give him his wish of being able to whistle, but realizes he's forgotten some things he needs. Maria leaves to put Gabi to bed.

Cartoon
Three computer animated fish.
(First: Episode 2792)

Muppets
Ernie & Bert — At the movies, Ernie reacts to a sad, funny, scary movie, to Bert's embarrassment and the annoyance of the other viewers.
(First: Episode 0627)

Song
Everyone has the same feelings, "No Matter What." Kids of all types play with a huge beach ball.
(First: Episode 2782)

Cartoon
An orchestra conductor asks "May I have an A, please?" at which point a giant letter A falls from the sky.
(First: Episode 0770)
cut from the Noggin version

Muppets
Kermit the Frog sings "When I Listen".
(First: Episode 1760)

Video
Three kids dance in three columns.




SCENE 2
Telly has set up the roof with balloons, a banner and a bowl of lettuce with thousand-island dressing. He imagines Radish Dude arriving in his worm-pulled wheelbarrow and instantly giving Telly the power to whistle. Telly also recalls Radish Dude likes jazz and has Hoots start playing his saxophone.

Cartoon
A little girl leaves everything on in the house, until the TV set recites a poem about sharing electricity.
(First: Episode 2845)




Muppets
Polly Darton sings "Save Your Energy for Me," a song about energy conservation.
(First: Episode 3134)

Animation
Letter Garden: A
Artist: Jane Aaron
(First: Episode 3027)

Cartoon
The story of sheep, or where wool comes from.
Artist: Bruce Cayard
(First: Episode 1524)
cut from the Noggin version




Film
A montage of the evolution of mechanical technology, from wind-up toys, to robots that can spell "SESAME STREET" with blocks, to satellite transmitters.
(First: Episode 2226)
cut from the Noggin version

SCENE 3
Hoots takes a break from playing, but Telly doesn't want the music to stop. Hoots points him toward the hole in the brickwork, which is home to the Nightclub Bug, where...

SCENE 3 cont'd
A trio of bugs sing "Night Bug Boogie" for a group of jitterbugs.

SCENE 3 cont'd
After the song, Telly peers to the sky and asks aloud of Radish Dude heard the song.

Cartoon
A man counts 40 stars at night.
(First: Episode 2243)




Muppets
Big Bird's Video Postcards
Big Bird explores the mask gallery at the Museo del Barrio in New York City. Edna, the art instructor, shows him and some kids how to make their own masks for a parade.
(First: Episode 3058)

Cartoon
W for Willamina
(First: Episode 0512)

Cast
Gordon and the word "wand."
(First: Episode 1491)
cut from the Noggin version

Animation
Cecille sings "Brushin' Down the Doggies."
(First: Episode 2862)

SCENE 4
Maria has a talk with Telly about reality vs. imagination, which Telly understands. He insists that Radish Dude is real, however.

Cartoon
A girl thinks she hears a monster doing a cha-cha outside her window, but it's only the wind and a cricket. Her snores frighten the real monster.
Artist: Deanna Morse
(First: Episode 2951)

Muppets
The Oinker Sisters sing about what's "Important" to them.
(First: Episode 2818)

Animation
Pencil box A/a
(First: Episode 3082)

Film
A class makes a quilt of their faces.
(First: Episode 3034)

Cartoon
Young Chris Columbus explores the world of ants - and they, in turn, explore his house.
Artist: ArtistMike
(First: Episode 2816)




SCENE 5
Telly has fallen asleep, so Maria sneaks a radish into his hand. He wakes up and assumes Radish Dude has visited. He tries whistling, but can't. Maria teaches him how and he learns he had the power to whistle, not Radish Dude. Telly thanks her and Hoots for their honesty and eats the radish.

Animation
Can you find the animals hiding in the T-shirt?
Artist: Deanna Morse
(First: Episode 2873)

Song
"Off to School"
(First: Episode 2944)

Muppets
Juanita looks for "YO", asking, "¿Esto es yo?" Nope, it's a toy car, and a tomato, and a mirror. Looking in the mirror, she finds herself. "¡Hola, yo!" she cries.
(First: Episode 0454)

Cartoon
"Yo Soy Un ..."
(First: Episode 0777)

Muppets / Celebrity
On a rainy night, the Count brings Susan Sarandon to a locked castle. He knocks on the door just for the sake of counting the knocks, until it's revealed that the castle is his own. He then proceeds to unlock the numerous locks, counting them in the process.
(First: Episode 2528)

Cartoon
Jerry Nelson sings "Moonshine."
(First: Episode 2775)

SCENE 6
As the sun rises, Hoots is ready for bed, but not before playing the Whistling Game with Telly. Hoots then plays the theme, with Telly whistling along and Maria announces the sponsors.
Community content is available under
CC-BY-SA
unless otherwise noted.