Statler and Waldorf leave their box to sit out in the alley, disgusted by tonight's guest star. Danny overhears them in the alley saying that tonight's guest is the worst performer on earth, even worse than Clive Cahuenga, the singing civil servant. At the end, Statler and Waldorf are embarrassed when they find out that the guest star is Danny Kaye -- they thought it was Manny Kaye, the tuned clam player.
During the show, Floyd Pepper and Janice occupy Statler and Waldorf's box.
Songs/Sketches
Notes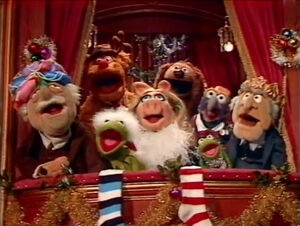 In a sketch, while playing the part of the Swedish Chef's uncle, Danny Kaye claims that the Chef is called "Tom"; this name or nickname is never used again.
The UK version, which premiered on Christmas Day, featured an alternate ending during the closing theme. Instead of the scene of Statler and Waldorf commenting outside, the two are seen in their theater box, decorated for the holiday. They're joined by Kermit, Piggy, Robin, Gonzo, Fozzie, and Rowlf as they all sing a chorus of "We Wish You a Merry Christmas."
Episode
Picture
Description

Cold Open: Scooter finds guest star Danny Kaye taking a nap. Scooter wakes him to inform him that the show starts in 15 seconds. Danny, now a nervous wreck, rushes to prepare for the show. In his hurry, he hits his head on the dresser door and falls back into his chair, once again asleep. Scooter ponders, "I wonder if that's how he took his first nap?"

"The Muppet Show Theme": Statler and Waldorf inexplicably leave the building.

Gonzo's trumpet sounds like a coach's whistle, and so a soccer ball is thrown at him, pushing the trumpet down his throat.

For the opening number, a group of Whatnots sing "Aquarius" as their hair grows wildly out of control.

Floyd goes to the balcony to look for Statler and Waldorf. He calls down to Kermit that they must not have liked the acoustics... because you can hear every word.




Danny and Scooter go looking for Statler and Waldorf. When they find them, Danny learns that they've left because they feel that "Kaye" is the "worst performer on earth – even worse than Clive Cahuenga, the singing civil servant!"




A construction worker breaks for lunch. Very soon, his food is dancing out of his lunchbox to the tune of "Baby's Coming Home." In the end, though, it's the lunchbox who has the worker for lunch!

Janice joins Floyd in the balcony to fill in for Statler and Waldorf.

In the Canteen, Miss Piggy rehearses "Cheek to Cheek" with Rowlf's accompaniment. Danny joins her, having asked to sing this song specifically with Piggy. He remembered hearing her sing it "years and years ago." With this accidental reference to Miss Piggy's age, and then another slip up regarding her weight, Piggy is soon feuding with Danny.




Danny and Piggy's fight makes its way out onto the stage. But as their performance of "Cheek to Cheek" progresses, they forgive each other... mostly. Danny apologizes for saying that he had known Piggy when she was thin. He then reveals that he had never known her when she was thin.

UK Spot: A Jogger sings "Jogging."




The Swedish Chef's uncle (as portrayed by Danny Kaye) helps in the kitchen, translating for the Chef (whom he has dubbed "Tom"). They are to prepare a Swiss turkey stuffed with Chinese ingredients and make a Yugoslavian chicken out of it.

The Flying Zucchini Brothers hurl themselves from a height of 200 feet, planning to dive into a bucket of water. Unfortunately, Beauregard, mistaking it for his own bucket, picks it up just after they jump.

Kermit asks Danny to do one more song for the show, but Danny would rather sing backstage so the song is just for friends. To keep the audience entertained, Kermit sends out Clive Cahuenga, the singing civil servant, to perform the "Municipal Vermin Abatement Code" as set to Mozart.




Danny and the Muppets sing "The Inch Worm."




Danny learns that the "Kaye" that Statler and Waldorf were referring to at the show's outset was Manny Kaye, the tuned clam player. It turns out that Danny Kaye is actually one of their favorite performers, and so Danny invites them onstage for the show's closing. Kermit greets them warmly but, before Danny can stop him, says that Manny Kaye will be next week's guest star. Hearing this, Statler and Waldorf rush out again.

After the credits, Statler and Waldorf, who have returned outside, determine that it's far better to be in the show, because it means you don't have to watch it.
Edits
Cast
Muppets:
Background Muppets:
Performers
Gallery