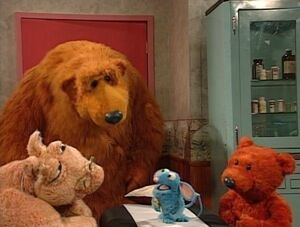 When Bear hears a commotion in the living room, he finds Ojo and Tutter in something of a panic. They were playing and Tutter hurt his tail. It's all bent up and in a lot of pain. Bear does his best to help him feel better and then puts in a call to Doc Hogg. Doc Hogg asks Bear to bring Tutter over to his office, but Tutter is somewhat scared. Ojo's been there before, though, and offers to come along with him. Tutter also brings along his stuffed toy, Kitty, to help him feel better. When he gets there, he's still somewhat scared, but eventually finds that there's really nothing to be afraid of.
Songs
Notes
Gallery
Video releases
Community content is available under
CC-BY-SA
unless otherwise noted.