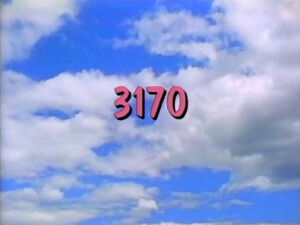 Picture
Segment
Description

SCENE 1
Big Bird recites a poem about the upcoming sketch, "Soon you'll see / Super Grover flying in his cape / and then I'm coming back / so don't put on a tape."

Muppets
Super Grover decides to teach Elmo how to be a superhero. However, Elmo wears his cape the wrong way, which causes him to trip whenever he wants to fly.
(First: Episode 2857)

Song
"Front Back Ballet"
Artist: Jane Aaron
(First: Episode 3016)

Muppets
Lefty the Salesman wants to sell an 8 to Ernie, who ran out of money buying some 9s. Ernie then offers to sell Lefty his 9s.
(First: Episode 0079)

Film
Eight children dance in a colorblock grid.
(First: Episode 3115)

Muppets
The Rainbow Fish counts groups of 8 in the ocean.
(First: Episode 2909)

Song
Christopher Cerf sings "I'm a Manatee."
(First: Episode 3069)
cut from the Noggin version

SCENE 2
Big Bird returns to talk about "sad," and plans to show someone who's sad. Snuffy passes by, but he's happy because he's going to the circus.

Cartoon
A troll draws different faces on herself in front of a mirror.
(First: Episode 0800)
cut from the Noggin version

Film
A Puerto Rican family get-together includes cooking, playing soccer, and finally the big dinner.
(First: Episode 3081)

Cartoon
An ape takes a bite out of a yellow A.
(First: Episode 2813)

Muppets
Harvey Kneeslapper: Do Ya Have an A on Ya?
(First: Episode 0293)
cut from the Noggin version

Cartoon
A for Acorn
(First: Episode 1626)

Cast
Maria as Chaplin looks in a mirror and sees "ME." Maria's reflection is played by Linda.
(First: Episode 1032)
(new music added)
cut from the Noggin version

Cartoon
Two cavemen argue, each chanting "Me!" A large monolith bearing the word ME puts fear in both of them.
(First: Episode 0793)




SCENE 3
Goldilocks visits Hooper's Store and Gina gets increasingly angry as she tries to make her porridge and seat just right. Big Bird comes by looking for someone sad and instantly knows it's not Gina.

Cartoon
"Island of Emotion"
Artist: Sally Cruikshank
(First: Episode 2822)

Film
Looking for triangles in the city (Maria voiceover)
(First: Episode 2696)

Muppets
Kermit the Frog sings "Do-Op Hop".
(First: Episode 2071)

Cartoon
Dinah from South Carolina exchanges letters with her friend Ling Lu in China.
Artist: ArtistMike
(First: Episode 2727)

Film
A girl narrates a film about how things are recycled around the world.
(First: Episode 2913)

SCENE 4
Oscar, Gina and the Grouchketeers sing about Oscar's favorite D word - "Disgusting!"

Animation
D Candles
(First: Episode 3085)

Video
Alphaquest - Letter D: dry dusty desert, drums, dance, dinosaur
(First: Episode 2723)




Muppets
Colambo: The Great Plum Plunder
Colambo, in his office, decides to have a piece of Christmas pie, when he notices a plum missing from it. He asks the janitor, Little Jack Horner, some questions about what he was doing in the corner. It turns out that Jack had stuck in his thumb and pulled out the plum.
On the title card, the story is credited to J. Mazzarino.
(First: Episode 3121)

Film
Korean girls do a spring dance.

Muppets
Cookie Monster sings "Healthy Food."
(First: Episode 2404)

Cartoon
The Carrot (censored version)
Artist: Bruce Cayard
(First: Episode 1132)

Muppets / Celebrity
Elmo and Rosie O'Donnell rap the alphabet.

Cartoon
Gloria sings the alphabet (uppercase version)
(First: Episode 0023)

Muppets
Two-Headed Monster: HONK
(First: Episode 1653)

Cartoon
The Bellhop has to bring 8 steamer trunks down 8 flights of stairs.
(First: Episode 2511)

Animation
Counting to 8

Muppets
"Readers of the Open Range"
(First: Episode 2141)

Cartoon
A girl narrates a poem about the sad time when her goldfish died.
Artist: Bruce Cayard
(First: Episode 1378)




SCENE 5
In the park, Big Bird finds Goldilocks, who's sad because Baby Bear won't play with her. Big Bird cheers her up with a hug. Gina announces the sponsors.