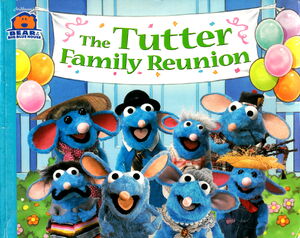 Some of Tutter's relatives wander by the front door. Just then, Bear welcomes you inside (you smell like orange juice!) and says that Tutter and Grandma Flutter are holding their family reunion at the Big Blue House today. Bear meets them in the kitchen, where they explain a family tradition--the Tutter family loaf (with thirteen different kinds of cheeses).
Tutter's family begins to arrive, and Bear grows concerned when they turn out to be far more numerous than he expected. Although Tutter's relatives mean well, their good-natured invasion makes it difficult for the rest of the gang to go about their regular routine. Ojo is upset that she can't build a pretend pillow fort in the living room, Pip and Pop can't play in the bathtub, and Treelo can't bounce on the bed (which the Tutters have chosen for their card game). Bear tries to talk things over with Tutter, but before he can get a word in, it's time for the big dinner!
Tutter is chosen by Grandma Flutter to do the family toast. However, everybody's constant complaining unnerves poor Tutter and drives him out of his mouse hole. Tutter joins his friends in the kitchen and commiserates with them over the difficulties of having a house full of Tutters. An empathetic Grandma Flutter expresses her thanks to the rest of the House for dealing with the Tutter family and helps Tutter realize that as difficult as his family may be, they all still love him and want to see him.
Everybody helps Tutter clean up after the celebration, and Tutter tells his friends he loves them and thinks of them as his family too. Just then, the ever-late Cousin Tardy shows up, wondering where the celebration is being held...
That night, Bear tells Luna about the family reunion and discusses the importance of family. He says goodbye and reminds you that you always have a second family at the Big Blue House.
Songs
Gallery
Notes
Tutter's relatives include Grandma Flutter, Baby Blotter (first seen in "Ooh Baby, Baby") and his mother Juner, Yukker, Uncle Fez, Grandpa Highland McTutter, Jet Setter Tutter, Shouter, Whiner, Jitter, Jim, Tito, Billy (who wants to play baseball), Hopper (always on a pogo stick), and Tardy, among many others.
This episode was adapted in book form under the same name.
During the closing credits, the dog in the Shadow Projects logo says "thank you" instead of barking.
Video Releases
Community content is available under
CC-BY-SA
unless otherwise noted.