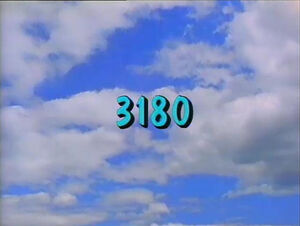 Picture
Segment
Description

COLD OPEN
Humphrey and Ingrid tease that today, the viewer will see all the wonderful things Natasha can do.

SCENE 1
Baby Natasha has just learned how to burp, gargle, snort, and make all kinds of disgusting noises, to the amazement of her parents. Humphrey and Ingrid boast and sing a song about the baby's new ability to Bob, but Bob just rolls his eyes at the proud parents.

Cartoon
Q for Quarter
Artist: Jeff Hale
(First: Episode 1176)
cut from the Noggin version

Muppets
Ernie & Bert — Ernie asks Bert to play a game where they take turns counting and then saying "Q". Ernie goes first with "1 Q", and Bert follows with "2 Q". The game continues, until Bert gets to "10 Q". "You're welcome, Bert!" Ernie says.
(First: Episode 0440)

Animation
Planet Q / q
(First: Episode 2838)

Song
"Doing the Family Thing"

Animation
A Navajo blanket is formed as tribal music plays.
(First: Episode 2963)
cut from the Noggin version

Muppets
Grover recites a poem about a bubble.
(First: Episode 3155)

Cartoon
Willie Wimple: Tree Destruction
(First: Episode 0516)

Film
At a zoo, monkeys clean each other and run around.
Music: Joe Raposo
(First: Episode 2505)

Cartoon
Billy Jo Jive and Susie solve the wig robbery.
(First: Episode 1186)
This is the final appearance of the "Billy Jo Jive" series.

SCENE 2
Natasha fiddles with the keys of her toy piano and Bob jokingly suggests she should have a lesson. Her parents take it seriously and ask Bob to teach her. Bob instructs Natasha how to play "Twinkle Twinkle Little Star," but she instead bangs her face and head into the keys (which the parents interpret as the song).

Film
A baby messes around (literally) with a chocolate cookie, as Cookie Monster (in voice-over) wishes it were for him.
(First: Episode 0407)
cut from the Noggin version

Animation
The big green balls and one little orange ball ride over the top of the hills. The little one can't make it over the big hill, but conquers the small hill.
(First: Episode 1896)

Cartoon
Spinning T (to the tango beat)
(First: Episode 2933)

Cartoon
La letra T es para tigre, tomate, taxi, toro, telefono, televisión, y el terrible tiburon.
(First: Episode 0351)

Film
The floating kids form a capital T.
(First: Episode 3121)

Cartoon
Edgar Turtle's three nephews demonstrate a round by singing "Redwood Tree."
(First: Episode 2506)

Film
Fay Ray moves clockwise and ticks, until an alarm sounds.
(First: Episode 2597)
cut from the Noggin version

Cartoon
A man (Jim Thurman) is interrupted as he tries to recite the alphabet. (new music added)
Artist: Cliff Roberts
(First: Episode 1499)

Muppets
Big Bird recites a poem about front and back.
(First: Episode 2878)

Cartoon
The front and back of a costumed horse follow an ice cream truck. (new sound effects added)
(First: Episode 0782)

Film
Caitlin gets her eyes examined, and picks out a pair of glasses.
(First: Episode 2948)

Cartoon
One chef takes one of each vegetable to make one salad.
cut from the Noggin version

Muppets
Harvey Kneeslapper asks, "Would ya like one?"
(First: Episode 0408)

Cartoon
Hortense beats one drum.
Artist: Michael Sporn
(First: Episode 2570)

Film
A blind class goes on a field trip downtown, and visits a produce stand.
(First: Episode 2580)

Celebrity
14 Karat Soul sings "The Alphabet Song," followed by "The ABCs of Love."
(First: Episode 1675)

Cartoon
A boy finds a set of doors with animals that make the wrong sound, and swaps the doors to correct them.
(First: Episode 2711)

Muppets
Captain Elmo Cousteau searches for the treasure of the missing soap, with the help of a policeman fishy.
(First: Episode 2637)

Cartoon
What if a turtle and rabbit switched appearances?
(First: Episode 0451)
cut from the Noggin version

Film
A little boy sings the "Cold Ocean Blues" at the beach.
(First: Episode 3150)

Cartoon
A boy has fun with his wood plank.
(First: Episode 1503)




SCENE 3
The monster family now does some silly dancing, and Bob once again jokes about taking a lesson. They all go to Celina's dance studio, where Bob tries to explain the situation. Natasha inspires Celina to create a new dance - the "Baby Boogie."

Film
A girl named Jyah tells about dance class. The kids do some stretching exercises, then dance in their own ways, ending with the tango (instrumental: "Naughty Door Opera").
(First: Episode 3022)

Cartoon
Slot-machine legs: Cowboy & horse
(First: Episode 1702)
cut from the Noggin version

Muppets
A heartbroken groom sings "Don't Walk."
(First: Episode 2454)

Cartoon
Sign Sounds: DON'T WALK
(First: Episode 1162)




Film
Future careers: footage of a kid acting out a certain job, followed by an adult doing "the real thing." Includes a girl singing the "Sesame Street Theme" and another watching a sketch with Cookie Monster and Kermit the Frog.
(First: Episode 0796)

Film
Puzzle pieces make a video of a bear.
(First: Episode 3085)

Song
"I Can Do It By Myself"
(First: Episode 1727)

Cartoon
Lillian is proud because she climbed a mountain all by herself.
Artist: Craig Bartlett
(First: Episode 2749)

SCENE 4
Natasha says goodbye to Celina (in raspberry) and "announces" the sponsors in the same manner.
Notes