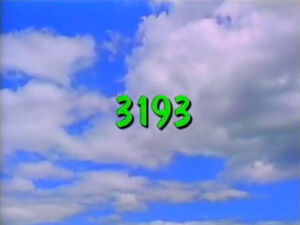 Picture
Segment
Description

COLD OPEN
Big Bird recites a poem: "Here's a little tip worth knowing - when you walk, look where you're going." He bumps into the frame of his door and adds, "...and always listen to your own poems."

SCENE 1
Jack Be Nimble strolls into Finders Keepers to sell Ruthie his candle stick; he wants to try jumping over something new. She suggests a violin bow and baseball bat, but Jack can't work it into his rhyme. He finds a washing machine works for his rhyme, but not when he tries jumping over it.

Cartoon
Cat / fat / hat / sat / rat / bat / scat / splat / flat / pat
Voice: Daws Butler
(First: Episode 0770)

Film
Kids narrate footage of toddlers learning to walk.
(First: Episode 3025)

Cartoon
Madrigal Alphabet
Artist: Jeff Hale
(First: Episode 0615)

Film
A boy compares the growth of the sunflowers to his own height.
Music: Joe Raposo
(First: Episode 0589)

Cartoon
"Tall Short Texans"
Artist: Joey Ahlbum
(First: Episode 3135)

Film
Animals and children bathe in water.
Music: Joe Raposo
(First: Episode 0615)
cut from the Noggin version

Cartoon
In the "Land of No Shoelaces", people find it difficult to play basketball, swing, and run, until Edna Lovelace comes along.
Artist: ArtistMike
(First: Episode 3102)
cut from the Noggin version

SCENE 2
Big Bird attempts reciting his poem again, but bumps into Snuffy.

Animation
A girl reads a book, a magazine, a newspaper, and a letter.
(First: Episode 3142)

Muppets
Ernie & Bert — In order not to disturb Bert while reading, Ernie wears headphones to listen to the radio. Now Bert can't hear anything... except Ernie singing along very loudly.

Song
Holy cow, it's number 2!

Cartoon
The Ringmaster charms two snakes with his saxophone. (new sound effects added)
Artist: Jeff Hale
(First: Episode 1287)

Song
"Doll House"
(First: Episode 0131)
cut from the Noggin version

SCENE 3
Snuffy runs into a wall while chasing a ball. Alice helps ease his pain by kissing his boo-boo. Snuffy decides to jump while chasing the ball instead, causing Alice to fall down and get a boo-boo of her own. Snuffy knows how to help: with a kiss. The two decide to play checkers instead.

Song
"Jump" (soul)
(First: Episode 3136)

Cartoon
A map of Australia morphs into the shape of animals that are found there.
Artist: Fred Garbers
(First: Episode 2646)

Muppets
After sounding out the word "cheese," the Two-Headed Monster poses for many pictures.
(First: Episode 2742)

Song
"Say Cheese"
(First: Episode 3146)

Cartoon
"Angry Annie": A small girl vents her rage at the world, frustrated by the problems of everyday life, until her younger brother offers her part of his orange.
Artist: John Korty
(First: Episode 2087)

SCENE 4
At the playground, a squirrel (Julianne Buescher) calls Snuffy an elephant, which hurts his feelings. Celina instructs him to tell the squirrel how he feels and the two become friends. Snuffy mistakenly calls the squirrel a mouse, but apologizes and the two stay friends.

Animation
Counting to 10 (Latin rhythm) (English version)

Video
Fay demonstrates addition by placing 4 balls on a table.
Artist: William Wegman
(First: Episode 2612)

Cartoon
Slot-machine legs: Cowboy & horse
(First: Episode 1702)

Song
"We're All Growin'"
(First: Episode 3141)

Cartoon
"Poverty X": A peanut-shaped figure lists the words that the letter "X" can be found in.
(First: Episode 0006)

Celebrity
Patti LaBelle sings "Oh, How I Miss My X."
(First: Episode 2168)

Cartoon
The Typewriter gets a check-up with help from an x-ray.
(First: Episode 0787)




Insert
Bob is about to throw out a broom handle, when Oscar claims it and uses it as a part of his junk band, who sing their newest song ("Oscar's Junk Band").
(First: Episode 2731)

Cartoon
A man explains to a girl what a surprise is.
Artist: Bruce Cayard
(First: Episode 1358)
cut from the Noggin version

Song
14 Karat Soul sings about what's "Down Below the Street."
(First: Episode 2556)

Cartoon
Capital letter U for up
(First: Episode 0416)

Muppets
Harvey Kneeslapper goes to a man and asks, "Can I take a picture of U?" The man gives him permission, but Harvey tells him that his shoes are untied, and when the man looks down, Harvey slaps the letter U on top of his head and takes a picture of it.
(First: Episode 0468)

Cartoon
Typewriter: U for Umbrella
(First: Episode 0808)




SCENE 5
Biff and Sully visit Finders Keeps to show some, more and all. Biff tosses some shirts to Sully, then more, then all of them. Sully ends up buried in shirts and Biff leaves to find out where he went.

Film
A parrot announces dos, or two of everything.
(First: Episode 3108)

Cartoon
Two Elephants (Gordon voice-over added)
Artist: Owe Gustafson
(First: Episode 1457)

Muppets
Marshal Grover and Fred the Wonder Horse spot a kitty stuck in a tree. Grover tries to find ways to get the kitty down such as shaking the tree trunk. He finally came to the conclusion that to get the kitty down, he would climb up the tree to bring it down. However, Fred has another idea to bring the kitty down by calling the kitty by saying "Kitty" and the kitty comes down. Now that the kitty is down, they now have another problem - how is Grover going to get down?
(First: Episode 1639)

Animation
Two balls play on a seesaw, when a third ball wants to join them (ending up in the middle).
(First: Episode 2054)

SCENE 6
Biff finds Sully in the pile, who relates the sponsors to him from underneath the shirts.