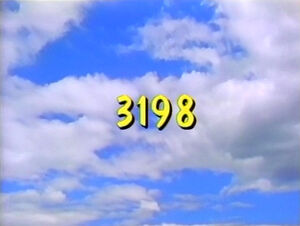 Picture
Segment
Description




SCENE 1
Elmo and Zoe welcome the viewer and say there will be a lot of dancing today. Gabi introduces the letter W and they do a brief dance based on the "Wuh" sound. They try to think of some W words, such as "welcome." Everyone then starts doing the Welcome Dance. Bob and Celina walk into the studio and join along.

Animation
W for water, wind, wave and wet




Muppets
In a Dragnet parody, Sergeant Thursday and Ben hunt for a wanted W.
(First: Episode 0395)

Film
Ornate Ws spin around in accompaniment to a song.
(First: Episode 2952)

Song
"At School," with animation bookended by live-action footage.
(First: Episode 2782)

SCENE 2
With Bob at the piano, everyone practices the waltz. When they finish, Elmo proposes a wacky waltz for them all to do.

Cartoon
Two orange balls perform "Twinkle Twinkle Little Star."
Artist: Fred Garbers
(First: Episode 2160)

Muppets
Grover annoys Mr. Johnson with his guitar playing in the park, mistaking his words "Go away and let me eat my lunch" for song requests.

Animation
Planet Y/y
(First: Episode 2859)

Cartoon
The Typewriter: Y for Yo-Yo
(First: Episode 0769)

Film
A girl learns to write "tree" in Chinese.
cut from the Noggin version

SCENE 3
Shelley the Turtle laments the the world moves too fast for him, but comes to realizes (in song), that different people have different paces.

Cartoon
Campers don't want to play ring toss with Zork, until their counselor reminds them about being judgmental.
(First: Episode 2761)

Muppets
Monsterpiece Theater: "The Sun Also Rises"
(First: Episode 2860)

Animation
A puzzle of an orangutan is put together.
(First: Episode 3065)

Celebrity
Ruthie takes an opera lesson from Marilyn Horne, as they sing "Sing After Me."

Cartoon
Knights use different words for "big".
Artist: Fred Garbers
(First: Episode 1985)

Film
A class makes a quilt of their faces.
(First: Episode 3034)

Cartoon
An elephant and a bear try to cross a bridge to deliver their packages, but they're in each other's way.
(First: Episode 0538)

Muppets
Here is Your Life: Carton of Eggs
(First: Episode 2661)

Cartoon
A girl tries on big, bigger, and the biggest shoes.
(First: Episode 0252)




Cast
Luis reads a story, The Kingdom That Had No King. In the story, the citizens of a kingdom are devastated when their king leaves them, and ultimately decide what to do on their own.
(First: Episode 3003)

Film
A girl who lives in El Salvador plays a counting game with her class, which involves running around and getting into groups of a number when it is called.
(First: Episode 3012)

Muppets
Ernie & Bert — Ernie practices saying "Hola" as he repeatedly opens and shuts the door. To make him stop, Bert convinces him he's mastered it. Ernie starts to practice saying adiós instead.

Animation
Counting 10 shells
(First: Episode 3005)

Film
Russian nesting dolls 10-1
(First: Episode 0563)

Cartoon
The Bellhop must take 10 terriers for a walk.
(First: Episode 2507)

SCENE 4
The Amazing Mumford has an OP in the arbor. He performs a magic trick, adding an H to it, making it HOP. Then, Elmo and Zoe start hopping uncontrollably. Mumford changes the HOP to STOP, but the monsters keep hopping. They claim they are able to stop now; they just don't want to.

Cartoon
The O in STOP bounces around, and the other letters ask it to stop.
(First: Episode 0149)

Film
Balloons are popped in front of kids' faces, demonstrating surprise.
(First: Episode 2923)

Cast
Elmo, Big Bird and Gordon star in a commercial for the Alphabet (as if it were a bank).
(First: Episode 2972)




Animation
The alphabet is presented using many materials and writing methods.
(First: Episode 2210)

Animation
Stop-motion: what goes in the hot dog bun?
(First: Episode 1494)

SCENE 5
Celina, Zoe and Elmo announce (and demonstrate) the sponsors.