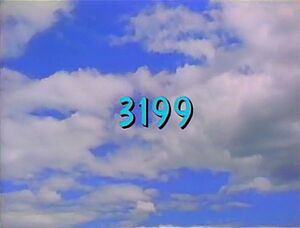 Picture
Segment
Description

COLD OPEN
Gordon is about to announce today's sponsors, when Telly, covered in pillows, announces that he's going to play on the slide in the park today. He's wearing pillows because he's afraid that he'll get hurt, like he did the last time he went down the slide.

SCENE 1
Telly arrives at the park, where Elmo and some kids are already sliding. Telly says he will slide, but then decides against it, out of fear. Elmo thinks he's smart for wearing the pillows, so Telly decides to do it after all. However, he finds it hard to climb up the ladder while wearing so much padding. He falls over, and needs the help of the other kids to get up. He vows to eventually go down the slide ...

Animation
Airplanes carve the capital and lowercase letter Y.

Muppets
Old West: Sinister Sam announces that someone has bought the last box of crayons, and he wants to know why. It turns out that he just wants a crayon so he can learn how to write the letter Y.
(First: Episode 1288)

Cartoon
Y for Yak (new music added)
Artist: Jeff Hale
(First: Episode 1184)

Song
"Frog Kick"
(EKA: Episode 2155)

Muppets / Celebrity
Kadeem Hardison says the alphabet with Natasha.
(First: Episode 2787)

Cartoon
A bully says the alphabet to a mild-mannered gardener, who hits him in the face with a pie at the end. (new sting added)
(First: Episode 0279)




SCENE 2
After removing all his pillows, Telly climbs up the ladder. He is still afraid to go down the slide, so he climbs down the ladder. He then climbs up and down the ladder over and over again.

Cartoon
A man jumps up and down on a trampoline.
(First: Episode 1449)

Song
Everyone has the same feelings, "No Matter What." Kids of all types play with a huge beach ball.
(First: Episode 2782)

Cartoon
Two alpine climbers hike up a letter Z and stake a claim on it.
(First: Episode 0281)

Muppets
Over the Top, a ZZ Top-like band, sings "ZZ Blues".
(First: Episode 2317)

Animation
Playing cards form the letter Z and dance to zydeco music.
(First: Episode 3166)

Muppets
Muppet & Kid Moment — Erik shows Grover his teeth, and tells him how teeth are used.
(First: Episode 1639)

Cartoon
A toothbrush talks to a mouth about what could happen if not taken care of.
(First: Episode 1476)

SCENE 3
Telly is proud about finally sitting on the slide, but is still afraid of going down it. Elmo still thinks Telly can laugh in the face of the fear of sliding, but he just can't. Elmo promises to wait with Telly until he is ready to slide, which may take awhile ...

Cartoon
Abstract count to 17
(First: Episode 2820)

Animation
Growing Numbers #17
(First: Episode 2975)

Animation
Rap #17
(First: Episode 2488)

Muppets
Ernie & Bert — Ernie keeps catching fish, and Bert doesn't, so Ernie tries moving to a different place on the boat, then not using bait, then just quitting. When Bert finally catches something, it is only a note that reads: "What happened to your friend?"

Animation
Counting 1-10 (Indian imagery)

Song
"It's Time for a Rhyme"
(First: Episode 3151)

Cartoon
In rhyme, a man points out animals who stole and/or ruined his clothing.
(First: Episode 0778)

SCENE 4
Telly is almost ready to go down the slide, and asks everyone to count to 3. After they count, Telly becomes stiff with fear, and decides to say the alphabet instead. Still more waiting to go ...

Cartoon
A little girl sings "There Is Only One Me."
(First: Episode 1942)

Film
A girl floats around in a circle.
(First: Episode 3130)

Film
A girl's grandmother teaches Spanish to her parrot Kuka.
(First: Episode 3101)

Muppets
The Hispanic community of Anything Muppets sings "It Sure is Hot!"
(First: Episode 2601)

Film
"Box City Recycling Rap"
Kids sing a rap song about recycling. They build a city out of boxes and cartons.
(First: Episode 2851)




SCENE 5
Telly still doesn't want to go down the slide, and gives up. Elmo suggests that maybe he and Telly could slide down together. Telly likes this idea, and just as they're about to slide, Telly chickens out and lets Elmo go down by himself. Telly thinks he's a big chicken, when a real chicken slides down fearlessly. Elmo decides to seek the help of a grown-up.

Song
Sesame Street Creature Feature: The Iguana
(First: Episode 2938)

Cartoon
The Magnificent Splasho goes from the top of the ladder to the bottom of the water tank.
(First: Episode 0655)

Film
A group of people form a human pyramid to illustrate top and bottom.
(First: Episode 3144)

Cartoon
A hippo has difficulty getting the succulent fruit down from a tree, and enlists the help of another hippo.
Artist: John Korty
(First: Episode 1899)




SCENE 6
Gordon comes over to help Telly overcome his fear of going down the slide. He tells him a story: when he was a boy, he became afraid of roller-skating after hurting his knee. His father convinced him that he wouldn't have fun if he didn't skate, and helped Gordon out until he wasn't afraid of skating anymore. Telly still doesn't think the story applies to him.

Animation
A poem about oranges.
(First: Episode 2881)

Muppets
The Count sings about the things hands can do.
(First: Episode 3002)

Cartoon
A boy gets lost, and encounters a man with a yo-yo, who tells him to remember everything he passed.
Artist: Jeff Hale
(First: Episode 0408)

Song
"One of These Things" (with Fay Ray)
(First: Episode 2604)




SCENE 7
Gordon agrees to hold Telly's hand while he slides down. Suddenly, the chicken accidentally gives him a shove, and he slides down all by himself! Telly is proud that he just slid down the slide by himself, and didn't get hurt. Gordon announces the sponsors, while Telly and Elmo have fun sliding.
Community content is available under
CC-BY-SA
unless otherwise noted.