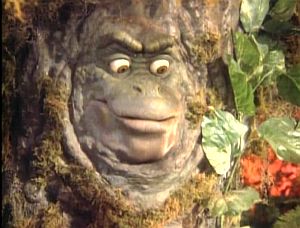 It's story time for the Baby, and Grandma Ethyl reads him a tale about a dinosaur (Earl) who is pushing down trees when a thunderstorm approaches. Just as he is about to push down a large tree, lightning simultaneously strikes him and the tree causing them to exchange souls. The Tree is excited to learn it has become a dinosaur, able to move freely. In the Sinclair home, the Tree, as Earl, is thoughtful and kind causing confusion amongst his family. Meanwhile, the real Earl is besides himself being stuck in a Tree's body with a pesky bird and animal living in him. The Tree, as Earl, confronts B.P. Richfield about the ruination of the Earth and Richfield commits him to a mental institution. This, coupled with the daily hardships of dinosaur life, causes the Tree to return to the forest. During this time, Earl is in a race to save the creatures living in him because he is marked for clearing. Both realize they have to return to their original forms and unite in trying to save the forest.
Guest Stars
Notes
Video releases
See also
Community content is available under
CC-BY-SA
unless otherwise noted.