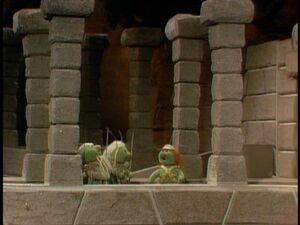 Gobo helps Cotterpin Doozer find the Cavern of Lost Dreams, the original Doozer towers, and their aging Doozer guardians.
Meanwhile, Doc and Sprocket try their hand at making dog cereal, and end up creating dog and human cereal.
Notes
Tosh Fraggle makes a few background appearances, but only behind Doozer towers or partly hidden by other Fraggles.
This episode sheds a bit of light on the Doozers' past. While they always seemed to be builders, they were obviously a bit more martial, as shown by Crusty and Yeaster's willingness to use spears as weapons to jail Gobo and Cotterpin.
Several Kellogg's packages, including "Kellogg's Smacks," appear on the German version of the episode.
Sprocket pays a thinly veiled homage to the Swedish Chef while mixing his dog cereal. Instead of "Bork, Bork, Bork", Sprocket naturally says "Bark, Bark, Bark"
Supporting cast
Songs
Video releases
Community content is available under
CC-BY-SA
unless otherwise noted.