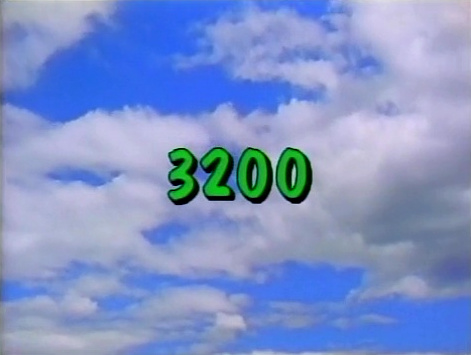 Picture
Segment
Description

COLD OPEN
The Grouchketeers, Gabi and Savion are gathered around Oscar's trash can for Slimey's birthday party. They're anticipating the arrival of Wormo the Happy Clown.

SCENE 1
While they wait for Slimey's entertainer, one of the Kids suggests they sing and dance. Oscar leads the group of worms in the great worm dance, the Hokey Wormy.

Cartoon
Kids sing "Happy Birthday". While they're singing, a birthday cake with animated candles is shown.
(First: Episode 3005)

Muppets
Bad Bart is looking for Marshal Earp.
(First: Episode 0537)

Song
"At the Coastline" (Beach Boys style)
(First: Episode 2792)

Cartoon
Sign Cartoons: Hand
(First: Episode 1179)

Film
Katie is going to be a big sister.
(First: Episode 2769)

Cartoon
A father explains to his son why it is important to wear a seat belt when riding in a car.
Artist: Cliff Roberts
(First: Episode 1446)

Film
Kids play bongo drums loud and soft.
(EKA: Episode 2862)
cut from the Noggin version




SCENE 2
Savion dresses his finger up as Wormo the Happy Clown when the real Wormo doesn't arrive on time; the worms immediately become suspicious. When the real Wormo arrives, he speeds on through in a tiny car, and the kids chase after him.

Cartoon
A woman visits a car dealer, looking for a small car. She will only take a car small enough to fit her clowns.
Artist: ArtistMike
(First: Episode 3079)
cut from the Noggin version

Film
Amelia pretends she's an astronaut.
(First: Episode 2918)

Song
Joe Raposo sings "Little Things".
re-filmed version
(First: Episode 2485)
cut from the Noggin version

Muppets
Ernie & Bert — Ernie makes a mess of the apartment in order to find a note he wrote to Bert.
(First: Episode 0255)

Cartoon
On his way to the store, a boy gets distracted and remembers to buy different things.
(First: Episode 0768)
cut from the Noggin version

Film
Fay Ray subtracts one ball.
(First: Episode 2634)

Muppets
Monsterpiece Theater: "Much Ado About Nothing" by Wilma Shakespeare
(First: Episode 2991)

Song
"Zero Song": A female voiceover sings about the food that keeps being taken away to make 0.
Arist: Jane Aaron
(First: Episode 3003)

SCENE 3
Wormo finally arrives, but he's not very happy. He says he's sad because today's his birthday too, and he's never had a birthday party: he's always too busy making other worms happy. Oscar figures on calling another worm that doesn't have so many emotional problems. Slimey instead says that he'll share his birthday party with Wormo.

Cartoon
A troll draws different faces on herself in front of a mirror.
(First: Episode 0800)

Muppets
Moe Cocker sings "With a Little Yelp from My Friends"
(First: Episode 3108)

Cartoon
A curious cat chases after a ball of string and explores various places in its home.
Artist: Michael Sporn
(EKA: Episode 2238)

Film
Kids shout "empty" and "full" to describe a subway car.
(First: Episode 0415)

Cartoon
F: A frog and a fly. (voiceover: Casey Kasem)
(First: Episode 0034)

Muppets
Guy Smiley hosts "Dialing for Prizes Movie."
(First: Episode 0629)

Cartoon
A football player talks about his favorite sport.
Artist: John and Faith Hubley
(First: Episode 0135)

Film
Flamingos walk around to classical music. (new child voice-overs added)
(First: Episode 2498)

Cast
Gordon, Bob, Maria and Gina sing a song about exploring in the courtyard. Bob is transported to the beach, Gordon to the farm, Maria to the top of a mountain and Gina to the bottom of the ocean.
(First: Episode 2744)

Cartoon
Young Chris Columbus explores the world of ants - and they, in turn, explore his house.
Artist: ArtistMike
(First: Episode 2816)

Film
A saxophone is made in a factory. The film is underscored by a solo saxophone.
(First: Episode 1446)

Muppets
"Pond Full of Fish"
(First: Episode 2840)

Cartoon
A baby tries to climb a flight of stairs.
(First: Episode 1717)

Animation
"Just One Strawberry Blues"
(First: Episode 3161)

Cartoon
King Minus
(First: Episode 0345)

Insert
Jay Leno describes what he has to do before going for a ride on his motorcycle. Big Bird shows up to pull him around on a tricycle instead.
(First: Episode 2408)

Cartoon
A red armless character is stalked by the letter Z until he eats it.
(First: Episode 1340)

Animation
The Letter Z in various typefaces.
(First: Episode 2855)

Cartoon
The Typewriter goes to the zoo.
(First: Episode 0776)

Muppets
Bip Bippadotta and The Androoze Sisters sing "Everybody's Song."
(First: Episode 2064)

Film
Ducks swim and fly.
Music: Chopin's Valse Op. 64, no. 2)
(First: Episode 2510)




SCENE 4
Slimey and Wormo blow out the candle on their cupcake. Wormo wishes he could have this much fun every year on his birthday. Slimey wishes Wormo could share his birthday every year, and for everyone to dance the Hokey Wormy again. They do so, as Savion announces the sponsors.
Notes
Community content is available under
CC-BY-SA
unless otherwise noted.