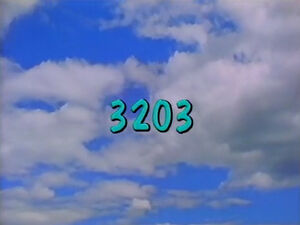 Picture
Segment
Description

COLD OPEN
Baby Bear, Big Bird and Gina introduce today's sponsors. They each intend to sing a song and disagree over who will get to. Gina thinks they should take a brief, song break...

SCENE 1
The three continue their argument, when Grundgetta suggests they each sing a different song at once (thinking it'll be a noisy disaster). Unfortunately for her, Gina assigns them all songs that follow the same melody ("The Alphabet Song," "Twinkle Twinkle Little Star" and "Baa Baa Black Sheep"), so they end up creating a great harmony.

Film
Shapes vibrate as girls beat on their drums.
(First: Episode 2873)

Muppets
"Forty Blocks From My Home"
(First: Episode 2614)

Film
Chimps running around (piano music)
(First: Episode 2493)

Cartoon
Zork lands in Australia, where a kangaroo greets him.
Artist: ArtistMike
(First: Episode 2731)

Muppets
The Martians spy a leaky faucet through a kitchen window. As it continues to drip, a Fat Blue woman turns it off, shocked to see that she had been wasting water.
(First: Episode 2962)

Cartoon
I am dry, they are wet (man laying on the beach)
Artist: Cliff Roberts
(First: Episode 0309)

Celebrity
The Neville Brothers sing "Believe in Yourself," with a montage of clips from films including "I'm the Big One Now," "Reach Your Hand Up High" and "Hot in the City."
(First: Episode 3158)

Animation
Pencil box A/a
(First: Episode 3082)

Animation
Planting Letters: A
(First: Episode 3027)

Cartoon
An ape takes a bite out of a yellow A.
(First: Episode 2813)

Muppets
Ernie & Bert — Ernie brings a surprise home, and he tells Bert to guess what it is. The surprise turns out to be a puppy. Bert wants to call the puppy "Norman"; Ernie suggests "Godzilla the Wonder-Dog".
(First: Episode 1956)

Cartoon
A man tries to figure out where a squeaky sound is coming from; it turns out to be a giant's squeaky shoes. "Surprise!"
(First: Episode 0770)

Insert
Celina shows the Grouchketeers how to do "Doin' the Grouch."

Cartoon
Slot-machine legs: Cowboy & horse
(First: Episode 1702)

Muppets
Muppet & Kid Moment — Grover talks to Chelsea about what their eyes, ears, nose, and mouth can do. Chelsea mentions that they both have them and also have hands, feet, bellies, necks, arms, backs, and shoulders. Grover replies they have a cornucopia of parts, which means they have a lot of good stuff.
(First: Episode 2389)

Film
Korean girls do a spring dance.
(First: Episode 3170)

Animation
Portraits of kids display the alphabet.
Artist: Lisa Crafts

Muppets
"The Ballad of Slippery Slim"
(First: Episode 2827)

Cartoon
A girl explains (in poetry) how she failed trying to make a snowman without using snow. (new music added)
(First: Episode 0480)




SCENE 2
Big Bird, Baby Bear, Telly, the kids and The Count are assembled to play hide-and-seek. Everyone forbids the Count from being "it," referencing past games where he continues counting and never goes looking for them. The Count begs to be "it" and promises to count as high as 40, then stop. The rest go and hide as the Count begins counting. He reaches 40, but believes it was too quick and counts again, and again. The gang comes out of hiding to complain to him, when he finally gets the rules and claims to have found them all. He proposes they play again and everyone leaves.

Cartoon
"Part of the Whole"
Artist: Sally Cruikshank
(First: Episode 2714)

Film
Growing Numbers #20
(First: Episode 2967)

Cartoon
The Bellhop is sent to the grocery store to get twenty grapefruits. He counts to 20 on the way there so that he can remember the quantity, but forgets what item he was sent for.
(First: Episode 2533)

Film
Kids count 20 penguins going down a slide. (new music added)
(First: Episode 0232)

Muppets
Pageant: Where Milk Comes From
(First: Episode 2837)

Cartoon
Sign Sounds: A man rearranges a LIMK sign to make the word "MILK".
(First: Episode 1116)

Cast
Savion plays a rhyming game with the viewer while tap-dancing.
(First: Episode 2859)

Cartoon
Bruce the moose invites Toulouse LaGoose over for juice.
(First: Episode 2498)

Film
A girl narrates a film of herself taking care of her horse, Strawberry.
(First: Episode 2641)

Cartoon
An alien lands on Earth, looking for a Z to eat. He snatches one off a policeman's uniform, eats it, and rests.
(First: Episode 1481)

Muppets
"The Zizzy Zoomers"
(First: Episode 0359)

Cartoon
Z for Zebu
Artist: Jeff Hale
(First: Episode 1185)

Muppets
Ernie (playing Robin Hood) auditions Anything Muppets to be his Merry Men. After screening two individuals who don't meet the requirements, Harvey Kneeslapper is sent in laughing. Ernie thinks he's found a merry man and hires him immediately, but following a string of incessant jokes, decides he's too merry after all and fires him.
(First: Episode 0480)

Cartoon
Two cartoon cacti sing "Here We Are."
(First: Episode 3153)




SCENE 3
For a small crowd, Gordon presents the letters of the day - A and Z. H. Ross Parrot appears to advocate for the middle part of the alphabet. He rallies everyone into saying the whole alphabet together. He heads off and Gordon announces the sponsors.