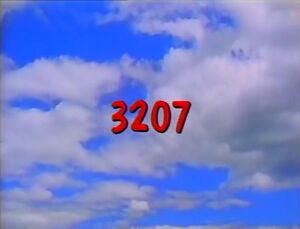 Picture
Segment
Description

COLD OPEN
Zoe announces she's no longer sleeping in her crib and will be picking out a new bed today.




SCENE 1
At Finders Keepers, Zoe shows Ruthie the bed she's picked out. Ruthie suggests she try the "Bounce Test," to see how bouncy the bed is. Zoe gives it a whirl, bouncing high in the air and crashing back on the bed, breaking it.

Song
"Jump" (soul)
(First: Episode 3136)

Cartoon
A loud-voiced girl talks about her dog, Pete.
Artist: Bruce Cayard
(First: Episode 1266)

Film
Kids talk about how many things they can do now that they're five years old.
(First: Episode 1403)

Muppets
Kermit sings "Caribbean Amphibian."
(First: Episode 2205)

Film
Looking for circles in the city (Maria voice-over)
(First: Episode 2711)

Cartoon
Two dogs wait at a bus stop for a long time while the red dog talks endlessly about short and long.
Artist: ArtistMike

SCENE 2
Zoe picks out a new bed and has a test of her own: she wants Ruthie to read to her, to test of the bed is fit to fall asleep in after hearing a story. Ruthie picks "The Monster Who Loved to Rock" (starring Grover). Zoe falls asleep afterward.

Cartoon
Hortense beats one drum.
Artist: Michael Sporn
(First: Episode 2570)

Song
"We're Talking 'Bout the Number One"
(First: Episode 3154)

Cartoon
Kids count one duck in the pond
(First: Episode 3095)

Muppets
Monsterpiece Theater
Alistair Cookie displays an embarrassed Prairie Dawn with a little house on her head. Cookie then displays "Little House UNDER Prairie," but then when he announces "Little House IN Prairie," she comes into the studio and tells him that would be impossible. He proves her wrong when he eats the little house, calling it 'Little House in Alistair Cookie'! Coming up next week: "The House of Seven Gobbles".

Cartoon
Jerry Nelson sings "Moonshine."
(First: Episode 2775)

Muppets
Two-Headed Monster: One head wants to play the trumpet, but the other head wants to sleep.
(First: Episode 1390)

Animation
A boy has a dream in which he floats in Outer Space between things.
(First: Episode 3093)

Cartoon
Buttons ride a rollercoaster "up and down."

SCENE 3
Zoe and her dad, Brad, stop by Finders Keepers, as Zoe wants to help sell her old crib. An Anything Muppet mother comes by, looking for one. Zoe is hesitant to let her have it, until her father helps change her mind.

Cartoon
Vaudeville duo Herman Happy and Stanley Sad sing a song about how they live up to their names.
(First: Episode 0772)

Film
Alphaquest: W
(First: Episode 2712)

Muppets
Muppet & Kid Moment — Kermit asks Debo if he knows what a W is.
(First: Episode 0563)

Cartoon
A worm declares that the word "worm" is the only important word that begins with "W". A walrus retaliates by dumping a bucket of water on it.
(First: Episode 0001)

Muppets
Elmo explains the importance of sleep, but the audience won't stop applauding and let him sleep afterwards.
(First: Episode 2985)

Song
Joe Raposo sings "Everybody Sleeps" (re-filmed version)
(First: Episode 3026)

Muppets
Big Bird wakes up from his nap, "Everybody wha —?" then goes back to sleep.




Film
A montage of the evolution of mechanical technology, from wind-up toys, to robots that can spell "SESAME STREET" with blocks, to satellite transmitters.
Music: "Portrait d'un robot", composed by Janko Nilovic
(First: Episode 2226)

Cartoon
Sign language: Day, morning, noon, night.
Animation by Steve Finkin.
(First: Episode 1173)

Insert
Hoots the Owl sings a special nighttime edition of "The People in Your Neighborhood."
(First: Episode 2619)

Cartoon
A green man demonstrates dark and light.
(First: Episode 1129)

Celebrity
John Moschitta, Jr. plays Porter Pepper of Peter Piper's "P" Products, which produces products that begin with the letter "P". He mentions that two of his clients were Peter Pan and Pablo Picasso until Peter Piper, the boss, gives him a phone call. Pepper now presents a new problem: Peter Piper's "P" Products has been purchased, and is now Sam Singer's "S" Stuff Store. Pepper, without stalling, summons his staff to stand by, switches his products to stuff, and searches for snacks and saucers.
(First: Episode 2061)

Cartoon
P for paper, point, poke, paint, pat, peel
(First: Episode 3066)

Cartoon
P is for Pillow
(First: Episode 0374)

Muppets
A trio of bugs sing "Night Bug Boogie."
(First: Episode 2957)

Film
Fireworks Alphabet
(First: Episode 1104)

Insert
Hoots sings "Sleepytime on Sesame Street".
(First: Episode 2619)

Cartoon
A girl thinks she hears a monster doing a cha-cha outside her window, but it's only the wind and crickets. Her snores frighten the real monster.
Artist: Deanna Morse
(First: Episode 2951)

Animation
Before / after: Designs of a rainforest are painted on a chair.
(First: Episode 3129)

Muppets
The Count's Storybook Theatre
The Count reads the story of "Snoring Beauty" played by The Countess, who is put under a spell to sleep. The Count comes by and counts her snores despite that Countess never woke up from the Count's counting or from the thunder and lighting when the Count reaches 10 snores. Next time on The Count's Storybook Theatre: The Count will read 5 stories for us.

Song
Jerry Nelson sings "I'm the Big One Now."
(First: Episode 2876)

Muppets
Ernie sings "Dance Myself to Sleep."
(First: Episode 1705)

Cartoon
The moon listens to everyone say "Good night" in different languages.
(First: Episode 2243)




SCENE 4
Zoe shows off her new bed and describes what's different about it compared to her crib. As she heads off to sleep with her doll Mimi, Ruthie announces the sponsors.
Community content is available under
CC-BY-SA
unless otherwise noted.