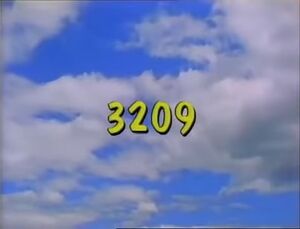 Picture
Segment
Description

COLD OPEN
An excited Telly tells the viewer that he's about to go into Hooper's Store, where Mr. Handford is going to make him breakfast.

SCENE 1
Telly waits impatiently for Mr. Handford to finish shelving items. Carlo comes in and lets Mr. Handford know that he's going to make his own breakfast. Telly watches in awe as Carlo makes a bowl of cereal all by himself! Mr. Handford suggests that Telly could make his own breakfast, but Telly is doubtful of that, imagining a disastrous scenario involving a wild animal stampede. Telly asks Carlo for help, and Mr. Handford decides to watch what happens.

Song
Joe Raposo sings "Everybody Eats."
Re-filmed version
(EKA: Episode 2855)

Animation
Airplanes carve the capital and lowercase A.

Muppets
Muppet & Kid Moment — Ernie, Bert and Shola observe a letter A. Ernie calls out, "A, Bert!"
(First: Episode 0551)

Animation
A/a (Gordon voice-over)
(EKA: Episode 2253)

Film
A dance class does some stretching exercises, then dance in their own ways, ending with the tango (instrumental: "Naughty Door Opera").
(EKA: Episode 3022)

Cartoon
A pencil tries to write the word DANCE.
Artist: Fred Garbers
(First: Episode 1966)

Muppets
Kermit sings "I Love My Elbows."
(First: Episode 2582)

Animation
Arrows give a presentation of the human body.
(First: Episode 2839)

SCENE 2
While watching Carlo make a bowl of cereal, Telly writes down everything Carlo does, including the interruptions that happen.

SCENE 2
cont'd
When Telly gets all the steps down and is about to practice getting his own breakfast, Hooper's Store becomes crowded when Savion's little league team shows up, meaning Telly will have to practice outside in the arbor.

Cartoon
Name That Food ("Will you eat it?")
(First: Episode 1491)

Muppets
"Cereal Girl"
(First: Episode 2687)

Cartoon
A boy demonstrates why his dog's name is Happy.
(First: Episode 0537)

Muppets
Grover and Mr. Johnson: Grover the messenger goes to Mr. Johnson's home to deliver some singing telegrams. After reading a series of wrong telegrams, he reads another one that actually is for Mr. Johnson, and an important one at that, but Grover does not remember who it is from.
(First: Episode 1828)

Song
"Doing the Family Thing"
(EKA: Episode 3180)

Animation
The word EGGS is shown, followed by eggs frying in a skillet.
(EKA: Episode 3045)

SCENE 3
Mr. Handford sets up a table for Telly in the arbor. Barkley continually interferes with Telly's practicing, hungry for cereal himself. Carlo pretends to play fetch, then hides the cereal box in his shirt, but it doesn't even take a bowl of cereal to drive Barkley away. Telly thinks up a plan for practicing without using any of the supplies, which intrigues Carlo.

Cartoon
A poem about dogs of different sizes, feelings and colors.
Artist: Deanna Morse
(First: Episode 2924)

Muppets
"The Elephant Elevator Operator"
(First: Episode 3067)

Cartoon
Four elephants at the circus
Artist: Owe Gustafson
(EKA: Episode 1570)

Video
Four break-dancers dance.
(EKA: Episode 2607)

Cartoon
Donnie Budd counts four lions.
Artist: Bud Luckey
(First: Episode 0300)




Muppets
Colambo in "The Lost Slipper Caper"
Colambo helps Cinderella figure out what happened to her glass slipper. The Prince shows up with it, and takes Colambo with him to the palace.
(First: Episode 2983)

Cartoon
Jill walks up a hill to pick a daffodil.
Artist: Jim Jinkins
(EKA: Episode 2538)

SCENE 4
Telly is about to practice making breakfast again, this time using imaginary supplies. Elmo plays along with Telly's game, imagining other interferences such as dinosaurs hungry for cereal, and a vacuum cleaner. Elmo then lets Telly concentrate, and Telly finally makes an imaginary bowl of cereal all by himself! Will he be able to do it in reality, Elmo wonders?

Animation
Arnold uses his imagination.
Artist: Craig Bartlett
(EKA: Episode 2754)




Muppets
Big Bird's Video Postcards
Big Bird visits Union City, New Jersey, where he learns how to play some Cuban games with some kids.
(First: Episode 3061)

Cartoon
A Spanish-speaking man falls into a hole, and a dragon helps him out.
Artist: Chris Hinton
(EKA: Episode 2290)

Muppets
Cookie Monster has a riddle: what do you get when you have one cookie between two cookies? A cookie sandwich!

Song
"Let's Go Tubbin' Today"
(First: Episode 3024)

Cartoon
Jasper and Julius: Apple.
(EKA: Episode 0833)

SCENE 5
Elmo, Carlo, Mr. Handford, Maria, and Savion's little league team gather around to watch Telly make his own breakfast by himself. They cheer him on loudly every step he slowly makes.

Song
"The First Time" - Children try various activities (riding tricycles, tying shoes, etc.) and progressively improve.
(First: Episode 2950)

Muppets
The Rhymies go camping, but a bear disrupts their campsite.
(First: Episode 1389)

Cartoon
Fish swim to form Q and q.
(EKA: Episode 3105)

Muppets
Muppet & Kid Moment — Herry & John-John observe a letter Q.
(First: Episode 0571)

Animation
Planet Q / q
(EKA: Episode 2838)

SCENE 6
Telly is proud that he made his own breakfast today, but he would still like Mr. Handford to make him breakfast sometimes. Mr. Handford is glad to oblige, and offers Telly some lunch (since he already had breakfast). Elmo announces the sponsors.
Community content is available under
CC-BY-SA
unless otherwise noted.