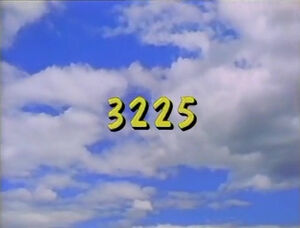 Picture
Segment
Description

COLD OPEN
As Big Bird announces today's sponsors, a cow passes by playing a harmonica. Big Bird follows the cow.

SCENE 1
Big Bird compliments the cow's talent, and the cow confirms that she's done something unique. She happens to be the sister of the cow who jumped over the moon, and like her famous sister, she wants her own nursery rhyme. She wonders if the harmonica is her calling, or whether she should pretend to be a train.

Animation
Cecille sings "I Wanna Be Me."
(First: Episode 2791)

Film
A blind class goes on a field trip downtown, and visits a produce stand.
(EKA: Episode 2777)

Animation
Fans reveal the letter O.
(First: Episode 2905)

Muppets
Director Kermit is filming Oklahoma with Forgetful Jones as the star. Forgetful is supposed to sing "Oklahoma!" but sings "Aklahoma!", "Eeklahoma!" and "Iklahoma!" instead. When he finally gets it right, the production assistant says it's time for lunch.
(First: Episode 2544)

Cartoon
O for open, off, owl, ocean
(First: Episode 3091)




SCENE 2
An emcee introduces the cow, who presents her act: standup comedy and animal noises. Big Bird and Snuffy cheer her on, but she thinks she can do better.

Cartoon
A derby-hatted man identifies animal sounds, ending with a tractor.
(EKA: Episode 1128)

Muppets
Super Grover teaches a class for potential superheroes. Among his students are Telly, Elmo, Zoe, Rosita, Herry, and Merry.

Cartoon
"Animal Elevator": 1-10 (addition)
(EKA: Episode 2783)

Film
"Operation Playground" Kids at a school come up with ideas for a new playground, and raise money for the effort. Together with their parents and other people from the neighborhood, they build the playground.
(First: Episode 2360)

Cartoon
A girl explains why she likes the poet Grubby Groo.
Artist: Mo Willems

Film
Kids count 5 racehorses.
(EKA: Episode 2244)

Muppets
A father monster sings a song to his confused son about the difference between up and down.

Animation
Two frogs demonstrate up and down.

SCENE 3
The sad cow is still indecisive about her career path. Savion meets the cow, and shows her how he can tap-dance. Big Bird mentions that he can say the alphabet, and the cow gets inspired to say the alphabet and dance at the same time. After doing so, she still wonders, "Is it really me?"

Animation
Portraits of kids display the alphabet.
Artist: Lisa Crafts
(First: Episode 3203)

Muppets
Old West: Sinister Sam announces that someone has bought the last box of crayons, and he wants to know why. It turns out that he just wants a crayon so he can learn how to write the letter Y.
(First: Episode 1288)

Animation
Airplanes carve the capital and lowercase letter Y.
(First: Episode 3199)

Film
A giant panda walks around.
(First: Episode 0920)

Cartoon
A pencil tries to write the word DANCE.
Artist: Fred Garbers
(First: Episode 1966)

Muppets / Celebrity
Little Richard sings "Rosita," a song about feelings, to Rosita.

Film
Old McFay juggles three lemons, then two.

SCENE 4
The cow is now wearing a pineapple hat and hitting tennis balls. She is still indecisive about what to be, and Savion suggests that she can be the cow who tries different things, which suits her fine. Big Bird points out that she doesn't stand around going "moo" like the other cows, and she decides to try mooing, eating grass and giving milk, which she's never done before.

Cartoon
In the "Land of No Shoelaces", people find it difficult to play basketball, swing, and run, until Edna Lovelace comes along.
Artist: ArtistMike
(First: Episode 3102)

Muppets
Big Bird and Jamal visit The Squirrelles - they sing "I'm So Proud (You're My Baby)."
(First: Episode 3187)

Cartoon
Gloria Globe appears sick and ailing, because of pollution and damage to the planet. Only by taking better care of the Earth can Gloria become well again.
(First: Episode 2781)

Film
A variety of cat-shaped objects walk in front of the screen.
(EKA: Episode 1845)

Animation
Clown Honking #10
(First: Episode 3214)

Muppets
Muppet & Kid Moment — Kermit and Tracy count to 10.
(First: Episode 0120)

Cartoon
Ten Turtles
Artist: Bud Luckey
(EKA: Episode 0425)




SCENE 5
The cow announces the sponsors, and her sister lands from jumping over the moon. The two cows go off to have lunch, and Humpty Dumpty's brother Harry Dumpty shows up, wanting to do something special. The credits follow.
Community content is available under
CC-BY-SA
unless otherwise noted.