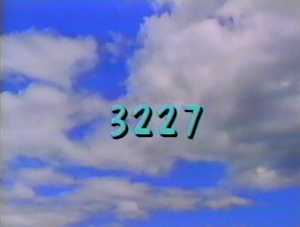 Picture
Segment
Description




COLD OPEN
Big Bird introduces the sponsors for today, as well as Joey and Davey Monkey eating a banana, which they don't have. They argue over who was supposed to get one and Big Bird cues up the theme song...

SCENE 1
Big Bird convinces the monkeys to stop fighting and look for bananas separately. Now, the two argue over which direction to split up.

Animation
Planet J/j
(First: Episode 2833)

Muppets
Sesame Street News Flash
Kermit the Frog reports from an alphabet mine where they dig Js. The miners tell him various words that begin with J and Richard presents him with his own J.
(EKA: Episode 2302)

Cartoon
The 'J' Train
(First: Episode 1169)

Film
Cars on the street go fast, then slow, then fast again.
(First: Episode 2988)

Cartoon
The dancing birds dance fast and slow.
Artist: Karen Aqua
(First: Episode 3072)

Film
Kids narrate footage of toddlers learning to walk.
(First: Episode 3025)

SCENE 2
On Joey's solo trip, he finds a banana, but ends up eating it all himself, not sharing any with Davey, who is now angry.

Film
Balloons are popped in front of kids' faces, demonstrating surprise.
(First: Episode 2923)

Cartoon
A boy acts out his feelings as animals. ("There's a zoo in me!")
(First: Episode 0783)

Film
Ornate Rs fly through the sky to a song.
Artist: Jane Aaron
(First: Episode 2932)

Animation
R / r (space paint)

Film
Alphaquest: R
Running down a road past a rabbit, a radio, some rocks, and a rainbow.
(First: Episode 2783)

Animation
A rock does somersaults for its peers, but gets little applause.
(First: Episode 2021)

Muppets
"I Love You (More or Less)"
(First: Episode 2990)

Cartoon
More and more moths appear, and devour a man's clothes.
Artist: Bob Kurtz
(First: Episode 0294)

SCENE 3
Joey feels really bad about what he's done, but Davey won't forgive him, declaring he doesn't even have a brother. Joey sets out to make things right.

Cartoon
Two monkeys argue over what to watch on TV, growing bigger the angrier they get.
(First: Episode 0762)

Film
A girl draws a picture of her friend Amelia.
(First: Episode 2784)

Animation
Rubber Stamp #17
(First: Episode 2975)

Animation
Growing Numbers #17
(First: Episode 2975)

Cartoon
Abstract count to 17
(First: Episode 2820)

Film
Footage of a Chinese noodle factory.
(First: Episode 0984)

Cartoon
Ball-dribbling characters count the feet on a wall ruler.
Artist: Bill Davis

SCENE 4
At Hooper's Store, Gina helps Joey write an apology card to Davey. His brother finds the card nice, until he finds out who it's from and storms out of the store.

Cartoon
Two men try to go over a very steep hill.
(First: Episode 1522)

Muppets
"Ballad of the Sad Café"
(First: Episode 2974)




Film
Beads arrange themselves in different ways, and finally stick themselves to a boy's jacket.
(First: Episode 3045)

Film
Baby turtles swim around.
Music: Joe Raposo
(First: Episode 0294)

Muppets
Harry Belafonte and The Count sing "Coconut Counting Man."
(First: Episode 1692)

Cartoon
Ten brightly-beaked birds land on a statue.
(First: Episode 1524)

Film
At a zoo, monkeys clean each other and run around.
Music: Joe Raposo
(First: Episode 2505)

Cartoon
Lazy Wanda's knees converse with each other.
Artist: Bruce Cayard
(First: Episode 1075)




SCENE 5
Joey has a more elaborate plan now: he performs a musical apology, backed up by Gordon and Jamal. Davey enjoyed the song, but without a banana, he refuses to forgive his brother. Joey realizes the only way to get back in his good graces is to get him some bananas.

Song
"One of These Things" (with Wegman's dogs and a poodle)
(First: Episode 3114)

Cartoon
"The Wasteroon Song" - three water drops complain about people wasting water, calling them "Wasteroons."
Artist: ArtistMike
(First: Episode 2851)

Muppets
The dark-bearded half of the Two-Headed Monster wakes up to argue with itself over whether to go to the zoo or the playground. The two both end up taking naps instead.
(First: Episode 1475)

Cartoon
Is no one afraid of The Big Bad Wolf?
(EKA: Episode 2405)

Muppets
Grover is a personal trainer of his workout video called, "Grover's Monster Workout Video." He exercises with Bobby and Sissy, but he gets tired from swinging his arms, running, and jumping up and down that he faints.

Cartoon
A little boy describes a time when he got angry after his toy truck was destroyed by a big kid.
Artist: ArtistMike
(First: Episode 2764)

Muppets
Muppet & Kid Moment — Bert and David display their mad and happy faces.
(First: Episode 0343)

Animation
"Flowers on the Doorstep"
Artist: Jane Aaron
(First: Episode 3140)

Film
A baby messes around (literally) with a chocolate cookie, as Cookie Monster (in voice-over) wishes it were for him.
(First: Episode 0407)




SCENE 6
Joey returns with a bunch of bananas, wondering how many it'll take for Davey to forgive him. Davey munches down five of them, until he's not angry anymore. Joey, however, is now the angry one, as Davey has eaten all the bananas and left none for him. Their spat continues, as Big Bird recites the sponsors.
Community content is available under
CC-BY-SA
unless otherwise noted.