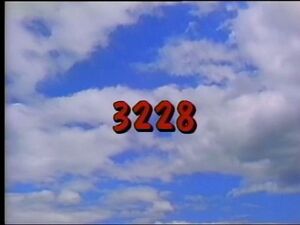 Picture
Segment
Description

SCENE 1
Big Bird sits outside the Furry Arms hotel and tells the viewer that he's the first one up today. He speaks quietly, as not to wake anyone else up. He demonstrates a loud tone that would do so, causing some of the hotel guests to emerge from their windows and complain.

Film
A Japanese boy plays taiko drums in the park.
(First: Episode 3153)

Animation
16 TV sets are counted.
(First: Episode 2850)

Cartoon
I've Got the "Sixteen Blues"
(First: Episode 2755)

Animation
Growing Numbers #16
(First: Episode 2996)

Cartoon
Number creatures #16
(First: Episode 2755)

Muppets
Kermit sings "Get Along" with some Anything Muppet greasers, the Martians, the Twiddlebugs, and a cow.
(First: Episode 2600)

Film
Kids narrate footage of toddlers learning to walk.
(First: Episode 3025)

SCENE 2
Big Bird introduces The Squirrelles, who sing "My Boyfriend's Back and Front."

Cartoon
Two men compete to be in front.
(First: Episode 0789)

Song
"We're All Growin'"
(First: Episode 3141)

Muppets
Fairy Tales Today
Prairie Dawn interviews The Princess from "The Princess and the Pea", who can't seem to get to sleep. Prairie suspects it's the pea under the mattress that's preventing her sleep, but it turns out she needs the pea to sleep on, as she has gotten so used to sleeping on it.

Animation
Playing cards form the letter Z and dance to zydeco music.
(First: Episode 3166)

Muppets
"Zig Zag Dance"
(First: Episode 1567)
Cartoon
Z for zebra and zoo
(First: Episode 0281)

Muppets / Cast
"Brush Boogie"
(First: Episode 2827)

Cartoon
A spider refuses to give up spinning a web, no matter how badly injured he becomes.
(First: Episode 1652)

Film
A little boy sings the "Cold Ocean Blues" at the beach.
(First: Episode 3150)

Animation
Sand J/j
(First: Episode 0631)

Muppets
A lady brings her J to Al's Alphabet Garage because it won't jump. Al asks if it can jog, jiggle, play jazz and determines that it needs a jump start. After he gets it working, the J smashes through the wall.
(First: Episode 2997)

Cartoon
The Typewriter: J for jump
Artist: Jeff Hale
(First: Episode 0772)

Muppets
Colambo: Mother Hubbard's Heist
Colambo visits the home of Old Mother Hubbard to investigate a missing bone for her dog, Bootsie.




Animation
Beads arrange themselves into different groups and finally become a girl's necklace.
(First: Episode 3108)

Muppets / Celebrity
Zoe counts the number of times Michael Chang bounces a tennis ball.
(First: Episode 3148)

Film
Farmer McFay counts 40 fruits from the season's bumper crop.

Muppets
Ernie & Bert — Ernie practices saying "Hola" as he repeatedly opens and shuts the door. To make him stop, Bert convinces him he's mastered it. Ernie starts to practice saying adiós instead.
(First: Episode 3198)

Film
A group of kids paint a mural with the help of a mural artist.
(First: Episode 3007)

Cartoon
St. Bernard dog leads Zork down the snowy hill.
Artist: ArtistMike
(First: Episode 2738)

Insert
Elmo explores Sesame Street, and observes Susan as she grades test papers.
(First: Episode 2285)

Film
Children on a playground form the letters of the alphabet. (new music added)
(First: Episode 1966)

Cast
"Between You and Me" (Gina and Savion)
(First: Episode 3133)

Animation
On a computer, a boy draws a sun setting between the mountains.
(First: Episode 3059)

Muppets
"I Could Have Counted All Night"

Cartoon
Fluffy recalls being a homeless dog, getting taken in to the dog pound, and meeting his new pal Petey.
Artist: ArtistMike
(First: Episode 2981)

Muppets
Muppet & Kid Moment — Grover asks Chelsea, What is love?
(First: Episode 2397)

Animation
Cecille sings "Up Down, In Out, Over and Under."
(First: Episode 2746)

Muppets
Two-Headed Monster: One head wants to play the trumpet, but the other head wants to sleep.
(First: Episode 1390)

Cartoon
A man tries to get to sleep, but is woken up by a fly, a chicken and a drum-playing rabbit, all of whom call him on the phone after he throws them out.
Artists: The Hubleys
(First: Episode 0257)

SCENE 3
At night, Big Bird speaks quietly still, as everyone has just head back to bed. He again demonstrates a loud tone, disturbing the hotel residents once more. Big Bird has fallen asleep himself now. Gina announces the sponsors and gets silenced by the guests.
Community content is available under
CC-BY-SA
unless otherwise noted.