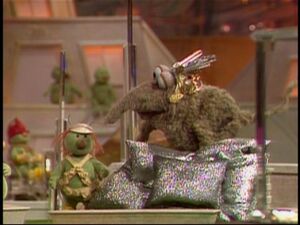 The Doozers think that Gunge is their king, forcing the creature to choose between glory and his friendship with Philo.
Meanwhile, Sprocket wants to see what it's like to be king and wants Doc to obtain a dog food called Rover's Royal Repast.
Notes
The first two seasons of the show had 24 episodes each. The third season was also planned as 24 episodes, but the last two produced for the third season -- "Sidebottom Blues" and "Wembley's Wonderful Whoopie Water" were held over for the fourth season instead.
Other than Uncle Traveling Matt, there are only two Fraggles in this episode, Red and Wembley. They are only seen briefly at the beginning, giving Philo and Gunge directions.
This marks one of the few times when someone else reads a postcard from Uncle Traveling Matt. In this episode, it was Gunge when the Doozers somehow obtained this postcard.
Supporting cast
Songs
Video releases