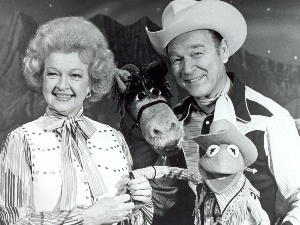 In honor of Roy and Dale, the theme of the show is cowboys, and Roy's cows mill around backstage. They're crazy for Fozzie's cow jokes: "You cows are an udder delight! You don't know the hoof of it!" But just as he's getting rolling, they're herded onstage, Kermit says that's one thing you had to worry about in the Old West: "Audience rustlers."
Songs/Sketches
Notes
Unusual for a 3rd season episode, Miss Piggy doesn't make an appearance.
This is one of few episodes that doesn't end with Kermit saying "We'll see you next time on the Muppet Show." Instead, Roy says goodnight in his way.
Cast
Muppets:
Background Muppets:
Performers
Community content is available under
CC-BY-SA
unless otherwise noted.