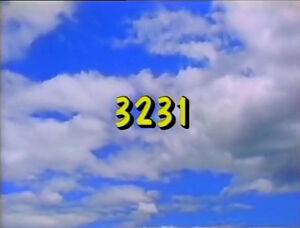 Picture
Segment
Description

COLD OPEN
Telly announces today's sponsors and adds we'll be seeing the cast of "Hey Diddle Diddle." First up is the cat who plays the fiddle, who's instead fixated on catching mice.

SCENE 1
The cat can't seem to find any mice anywhere and instead chases Telly (who he thinks is a big, purple mouse).

Cartoon
A cat chases a mouse into a mouse hole. The cat and mouse make music as they hit the wall, until the cat breaks through the mouse hole.
Artist: The Hubleys
(EKA: Episode 0265)

Muppets
"It's Zydeco"
(EKA: Episode 2760)

Film
Amelia pretends she's an astronaut.
(First: Episode 2918)

Cartoon
Christopher Clumsy jumps over a hole, and falls into another hole.
Artist: Cliff Roberts
(First: Episode 0440)

Animation
Computer: in/out
(EKA: Episode 3122)

Cartoon
A red scribble demonstrates out and in.
Artist: Fred Garbers
(EKA: Episode 3128)




Insert
Ruthie sets up a display at Finders Keepers of "The King of Counting" memorabilia. The Count is impressed, and Ruthie explains to him and Maria that she used to be a friend of his. In a flashback, we see the King (played by the Count) singing "You Gotta Count My Blue Suede Shoes." After the flashback, Ruthie says she hasn't seen the King in a long time, "but a lot of people say they have ..."

Cartoon
A Rube Goldberg device is used to turn on a television as the numbers one through twenty are featured.
(EKA: Episode 2492)

Song
"Hot in the City"
(EKA: Episode 2751)

Muppets
Ernie & Bert — At the movies, Ernie sits behind a woman wearing a tall hat.
(EKA: Episode 0677)

Film
Alphaquest: D
(EKA: Episode 2748)

Muppets
Big Bird appears in a disguise, representing the letter D. (new music added)
(EKA: Episode 3188)

Animation
D / d (space paint)
(First: Episode 3213)

Animation
Letter Garden: D
(First: Episode 3015)

Muppets
Four monsters, including Elmo, sing "We Are All Monsters". (redubbed version)
(First: Episode 2731)

Cartoon
"I'm Curious"
Artist: Sally Cruikshank
(EKA: Episode 3066)

SCENE 2
Telly has escaped from the cat and now presents the little dog who laughs and the cow who jumps over the moon. However, the dog is crying because the cow would rather lead the life of a normal cow. Gina serves her some hay. The cow suggests Telly jump over the moon instead, especially to cheer up the crying dog. Telly tries jumping, but finds it's impossible...unless if he had his pogo stick.

Song
"Jump" (soul)
(First: Episode 3136)

Cartoon
A domestic cat paints various wild feline versions of himself on his owner's canvas.
(EKA: Episode 2140)

Muppets
Caribbean Anything Muppets sing about "Caribbean Air."
(EKA: Episode 2758)

Film
On a windy day, Maria (in voice-over) asks a man (Bill Irwin), "Does air move things?" The wind speaks for him.
(First: Episode 2876)

Song
"At the Coastline" (Beach Boys style)
(First: Episode 2792)

Cartoon
Zork lands on the coast of California, where he meets a slick agent.
Artist: ArtistMike
(EKA: Episode 2687)

SCENE 3
Telly returns bouncing on his pogo stick and with a mighty bounce, he ends up crashing on top of the fence instead. The little dog cracks up ("A monster, a pogo stick, a fence, so original!")

Cartoon
The Typewriter: A for airplane
Artist: Jeff Hale
(EKA: Episode 0849)

Animation
Airplanes carve the capital and lowercase A.
(First: Episode 3209)

Muppets
Monsterpiece Theater
Cookie Monster is the star of an adaptation of Little Red Riding Hood, in which he eats all the cookies before he gets to his grandma's house.

Cartoon
Little Red Riding Hood uses a map to get to Grandma's house.
(EKA: Episode 2750)

Film
The Count (in voiceover) subtracts from five to three to zero children on a park bench.
(EKA: Episode 2995)

Song
"We Got the Power!" - a hip-hop song about computers
(EKA: Episode 3058)




SCENE 4
Telly now introduces the dish and the spoon, only the dish refuses to go running. She's tried of it and wants to live her life like normal place settings. The spoon suggests Telly join instead, but Telly's had it with the uncooperative characters. While the spoon goes off to find a new partner ("There's plenty of dishes in the dishwasher."), Telly gets an idea on how to sort out the problem.

Animation
Counting to 8
(EKA: Episode 3170)

Muppets
The Rainbow Fish counts groups of 8 in the ocean.
(First: Episode 2909)

Film
Ornate 8s stroll through a gate and pose in other remarkable places.

Cartoon
Passengers on a crowded subway illustrate "between".
(EKA: Episode 0926)

Muppets
"Something Always Comes Between Us"

Film
A boy dances his way into his family's portrait.
(EKA: Episode 3129)

Cartoon
Edgar Turtle sings "Hey Diddle Diddle."
Artist: Jeff Hale
(EKA: Episode 2404)




SCENE 5
Telly gathers all the characters and gives an empowering speech as to how they should stick to who they truly are. They perform their nursery rhyme as normal, except for the little dog, who doesn't find the cow's feat as funny as Telly's accident. Telly performs his stunt again as Gina announces the sponsors.
Community content is available under
CC-BY-SA
unless otherwise noted.