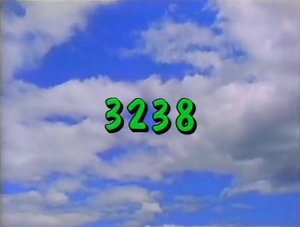 Picture
Segment
Description




COLD OPEN
A cat meows, attracting the attention of a stray Barkley, who runs away from the park. Linda emerges, wondering where he is. She relays what's happened to Gordon, who then informs the viewer. He accompanies Linda to try to find Barkley.

SCENE 1
Gordon and Linda stop by Oscar's trash can to see if he's seen Barkley. Oscar, however, wants nothing to do with the situation. Linda angrily signs at him, as Gordon translates, saying she'd help him if Preposterous got lost. Oscar agrees to keep an eye out for Barkley.

SCENE 1 cont'd
Just as the adults leave, Barkley shows up. Oscar tells him to stay put as Nathan helps hand him Barkley's leash. Barkley hears the cat again and takes off, pulling Oscar from his can and dragging him along with him.

Cartoon
Q for Quiet
Artist: John Korty
(First: Episode 0441)

Muppets
The Two-Headed Monster observes the letter Q, then the word QUIET.
(First: Episode 1850)

Animation
Airplanes carve the letter Q.
(First: Episode 3179)

Muppets
Grover's Health Minute: Kermit the Frog and Grover talk about teeth. Grover notices that Kermit does not have any teeth at all, so he puts a pair of teeth into Kermit's mouth. Grover says to see a "tooth checker," to eat crunchy things like bananas and to clean teeth with a "tooth comb."
(First: Episode 1949)

Song
"Take Care of That Smile"
(First: Episode 2745)




SCENE 2
Gordon, Linda, Susan and friends hang up Lost Dog posters all over the street. Carlo tells them he's spotted Barkley in the park with Oscar. The two pass by and everyone chases after them.

Song
"Washin' the Dog"
(First: Episode 3020)
Cartoon
A trainer announces that his talking dog will say YES, but the dog says NO instead.
Artist: Derek Lamb
(First: Episode 0511)

Muppets
Sonny Friendly hosts "The Crying Game," where Sonny tells a sad story, and whoever (Luke Warm, Ida Nomer, and Gordon Blue) cries the hardest wins. However, after Sonny learns that the prize is his own teddy bear, he cries the hardest and wins.
(First: Episode 3201)

Song
"Around and Around"
(First: Episode 2753)




SCENE 3
Everyone is gathered back at Oscar's can, where Barkley rests. Linda apologizes to Oscar for Barkley's behavior. Mr. Handford thinks everyone should learn some dog commands in sign language in case they take care of Barkley. Linda hands the leash to Oscar, who refuses to learn any signs, as she teaches the rest some commands. They sign "run," which makes Barkley run off, yanking Oscar from his can once more.

Cartoon
Don't cross the street alone.
(First: Episode 1942)

Song
Jeff Redd sings "Between."
(First: Episode 2738)

Muppets
Pageant: Ernie plays the role of Bart, a farm boy who plants a flower. Herry Monster plays the sun, and a nervous Cookie Monster plays a cloud. Bert reluctantly plays the flower. When it is said that Bert made the leaves for his costume out of lettuce leaves, Cookie and Herry proceed to eat the leaves and rip the costume apart.
(First: Episode 0578)

Animation
"Just One Strawberry Blues"
(First: Episode 3161)

Insert
Big Bird goes through his old toy chest with some kids, and encounters a banner with the alphabet on it. He remembers the time he learned what it was, which fades to a flashback of him singing "ABC-DEF-GHI."
(First: Episode 2266)

Film
Fireworks Alphabet
(First: Episode 1104)

Muppets
Muppet & Kid Moment — Morgan sings the alphabet for Grover.
(First: Episode 3133)

Film
"One Thousand Faces"
(First: Episode 2894)

Animation
Sand I/i
(First: Episode 0619)

Muppets
Harvey Kneeslapper asks a man, "Do you want me to keep an eye on your hat?" The man says yes. Harvey then puts a letter I on top of the man's hat, crushing it in the process.
(First: Episode 0288)

Cartoon
Letter I (Beep Beep)
(First: Episode 0427)




Cast / Celebrity
Ruthie tells Big Bird and some kids the story of Little Bo Peep's absentminded cousin, Flo Peep (Laraine Newman), who came to Finders Keepers one day for help on how to keep from losing her sheep. Ruthie gave her a beeper to put on each sheep, plus a phone, so that whenever Flo dialed a number on the phone, the beepers would beep, and the sheep would come home. However, Flo lost the phone and had to call them from Finders Keepers, then realized she had lost the hay she had just bought for their dinner. After that, the sheep began carrying the phone, and Flo started wearing the beeper. Ruthie gave her a copy of a book called "How to Stop Losing Things." But in the present, Flo comes back to ask for another copy of the book, since she lost hers.

Film
A flower opens and closes.
(First: Episode 0441)

Cartoon
A boy's friends bring him flowers to cheer him up, not knowing that he's allergic to them.
(First: Episode 1524)

Muppets
Benny Rabbit looks for the Shopping Network, but finds himself on the Home Hopping Network, hosted by Bonnie Rabbit.

Cartoon
Geometry of Circles #3 "Six Colored Circles"
(First: Episode 1395)

Film
A girl floats around in a circle.
(First: Episode 3130)

Cast
Gina plays and sings "Follow the Leader" with the kids.
(First: Episode 2604)

Cartoon
A ball goes up and down a musical staircase.
(First: Episode 2151)

Muppets
Ernie & Bert — Ernie wants to go outside and play catch, but Bert gets him interested in watching his goldfish.
(First: Episode 1422)

Film
Animals and children bathe in water.
Music: Joe Raposo
(First: Episode 0615)

Animation
A group of 1s chant, "We're the number 1!"

Song
"We're Talking 'Bout the Number One"
(First: Episode 3154)

Cartoon
One chef takes one of each vegetable to make one salad.
(First: Episode 3180)

SCENE 4
Oscar is through with his doggy day, just as Gordon announces the sponsors. Oscar cowers into his can when he sees the word "dog" appear.