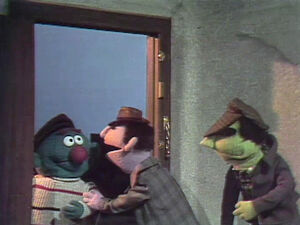 Picture
Segment
Description

SCENE 1
Zoe is dropped off at Angela's daycare and is feeling sad. Jamal suggests she lift her spirits by saying hello to everyone. Zoe gives everyone a silly hello, when Jamal has to head off to work. Zoe gets sad again, but perks up when Jamal says he'll see her later.

Cartoon
Vaudeville duo Herman Happy and Stanley Sad sing a song about how they live up to their names.
(First: Episode 0772)

Muppets
Pageant: Where Milk Comes From
(First: Episode 2837)

Cartoon
Speech Balloon - I: An iron irons the word.
(First: Episode 0314)

Film
An I-beam is molded at a steel factory as heavy industrial-type music underscores the action. The segment ends on a video freeze of the finished beam, which is shaped like the letter "I."
(First: Episode 1077)

Cartoon
"I in the Sky"
(First: Episode 0368)

Muppets
Tim Robbins and Elmo talk about surprise.
(First: Episode 2766)

Cartoon
A paranoid bird doesn't like to be surprised ... unless it's a surprise party.
Artist: John Korty
(EKA: Episode 2522)

SCENE 2
Zoe plays with some sticks Jamal brought from the park. Even though she's given them all the same name (Shirley), she can tell them apart by how they look.

Muppets
Elmo sings "In Your Imagination."
(First: Episode 3119)

Cartoon
3 song (butterflies, birthday presents, waving pennants etc.)
(First: Episode 0927)

Muppets
Benny and his boss have been waiting for Lefty for a long time. Benny wonders how they will know when it's Lefty at the door, so he informs him that Lefty will knock three times - their secret knock to enter their hideout. Lefty forgets, so they won't let him in until he finally gets three knocks. When they let him in, the boss informs him that if he forgets the number of knocks again, he's in big trouble. So, to test his memory, the boss and Benny lock themselves out and knock the door to see if Lefty knows which is the correct number. He forgets once again, which gets him very worked up and runs out of the hideout, leaving the other two locked outside.
(First: Episode 0722)




Film
Number Three Ball Film (cherry version)
(First: Episode 0744)

Cartoon
A boy imagines his room turning into a jungle.
Artist: Karen Aqua
(First: Episode 2808)




Film
Future careers: footage of a kid acting out a certain job, followed by an adult doing "the real thing."
(First: Episode 0796)

Cartoon
An apple, an orange, and a pear learn they can cooperate by rocking and rolling.
(First: Episode 0555)

SCENE 3
Big Bird and the Birdketeers arrive at day care to recruit some new members. He sings how "You Can Be a Birdketeer." He leaves, inviting everyone to the next meeting. He immediately returns - the next meeting's starting now!

Cartoon
Can you think of words that rhyme with BALL? (voice of Daws Butler).
(First: Episode 0773)

Film
In an Alaskan village, a doctor makes a regular visit to a clinic.
(EKA: Episode 2410)

Animation
Airplanes carve the capital and lowercase A.
(First: Episode 3209)

Muppets
Muppet & Kid Moment — Ernie, Bert and Shola observe a letter A. Ernie calls out, "A, Bert!"
(First: Episode 0551)

Cartoon
Speech Balloon: A for Ape
(First: Episode 0006)

Song
"Cow Dog Song"
(First: Episode 0783)

Cartoon
A man teaches his dog Rover how to read the word SIT.
(First: Episode 0304)

Muppets
Muppet & Kid Moment — Andrew counts for Grover.
(First: Episode 3135)

Cartoon
Counting 40 pigs
Artist: Keith Haring
(First: Episode 3084)

SCENE 4
Big Bird introduces the newest member to the Birdketeers: Zoe, who sings "My Name Is Zoe."

Cartoon
A boy learns to play his violin by practicing.
(First: Episode 1513)

Film
James talks about how great it is to be Indian-American, because he gets to learn about things from two different places.
(First: Episode 3191)

Cartoon
The moon listens to everyone say "Good night" in different languages.
(EKA: Episode 2243)




Muppets / Celebrity
Hoots tells Ernie to "Put Down the Duckie".
Celebrity version #2; this version replaces Paul Reubens, Mookie Wilson and Keith Hernandez of the New York Mets, New York Giants, and Pete Seeger's appearance with Phil Donahue, Robert MacNeil, Barbara Walters and Gladys Knight and the Pips.
(First: Episode 3076)

Cartoon
Buttons ride a rollercoaster "up and down."
(First: Episode 3207)

SCENE 5
Zoe learns about collages is with some visual examples. They count 6 butterflies in a garden collage, but Angela only recalls there being 5. One flutters away.

Cartoon
A man (Jim Thurman) is interrupted as he tries to recite the alphabet. (new music added)
Artist: Cliff Roberts
(First: Episode 1499)

Film
Kids in Jamaica play bongo drums.
(First: Episode 3160)

Muppets
"Cereal Girl"
(First: Episode 2687)

Cartoon
A monster named Doc has trouble getting to sleep at night, until the teeth in his dream remind him to brush his own.
(First: Episode 3145)

Song
"Playground Map Song"
(First: Episode 2680)

Cartoon
A magician performs a trick that makes birds appear, and fish can be glimpsed between them.
Artist: Vince Collins
(First: Episode 1614)

SCENE 6
Zoe shows off her collage: "Today on Sesame Street." It includes a yellow feather, butterfly and a stick, as well as today's sponsors.