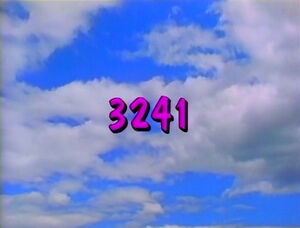 Picture
Segment
Description




SCENE 1
Savion welcomes the viewer. Rosita plays a guessing game with him where she has him guess what her favorite instrument is. She gives him some clues: you play it with your hands, and it's round. For the last clue, she has him close his eyes while she plays it. It's the cymbals!

Film
Shapes vibrate as girls beat on their drums.
(First: Episode 2873)

Cartoon
A man has a J under his hat.
(First: Episode 0231)

Muppets
Biff sings "This Is My J."
(First: Episode 1169)

Cartoon
Consonant Sound: J, jaguar
(First: Episode 1144)

Muppets
Ernie and Bert: "That's What Friends Are For": Ernie sings to Bert about friends being tolerant of each other's differences, while Bert just wants to sleep.
(EKA: Episode 2073)

Film
A man makes a shadow puppet of a swan. (new music added)
(First: Episode 1118)

SCENE 2
Rosita plays the cymbals while Telly plays his favorite instrument, the tuba. They realize that they disagree about how they should play together. Savion asks what they'll do about it, and they decide to run away in fear.

Film
A girl wants to learn a playground rhyme after watching some other girls do it, so one of them teaches her.
(First: Episode 2284)

Cartoon
A close-up of a face makes the S sound, before it's revealed that the creature is a snake.
(First: Episode 0278)

Muppets / Celebrity
Carol Channing sings a spoof of "Hello, Dolly!" with Sammy the Snake, praising his ability to look and sound like an S.
(First: Episode 1951)

Cartoon
S for sing
(First: Episode 0824)

Muppets
Cookie Monster sings "If Moon Was Cookie." (underscore added to intro)
(First: Episode 1789)

Cartoon
What if a frog and a fly switched bodies?
Artist: Cliff Roberts
(First: Episode 0406)




SCENE 3
Telly tries to play his tuba with Barkley, but it doesn't work. After Telly leaves, Rosita tries to play her cymbals, but the crashing scares Barkley away. Telly encounters Rosita, and they reach a compromise on how to play together. Savion is glad to see they've worked it out.

Cartoon
"Cooperation" - a reggae song about a group of animals who wash a car together.
Artist: Michael Sporn
(First: Episode 2139)




Muppets
Big Bird's Video Postcards
Big Bird explores the mask gallery at the Museo del Barrio in New York City. Edna, the art instructor, shows him and some kids how to make their own masks for a parade.
(First: Episode 3058)

Film
The floating kids form a triangle.
(First: Episode 3122)

Cartoon
Madrigal Alphabet
Artist: Jeff Hale
(First: Episode 0615)

Muppets
Muppet & Kid Moment — Kermit & Joey sing The Alphabet Song.
(First: Episode 0426)

Cartoon
A lizard sings about how she likes to be "Above it All" as well as below.
Artist: Sally Cruikshank
(First: Episode 2559)

SCENE 4
Prairie Dawn prepares to talk about being angry, when Monty pops up wearing a chicken hat and interrupts her.

Cartoon
"Angry Annie": A small girl vents her rage at the world, frustrated by the problems of everyday life, until her younger brother offers her part of his orange.
Artist: John Korty
(First: Episode 2087)

Film
Flamingos walk around to classical music. (new child voice-overs added)
(First: Episode 2498)

Cartoon
Abstract count to 14
(First: Episode 2811)

Film
Girls dance and chant about the number 14.
(First: Episode 3014)

Cartoon
"Sing a Song of Fourteen"
(First: Episode 2670)

Muppets
Monsterpiece Theater: "Conservations With My Father"

Cartoon
Bud the Bird flies above and below in a bumper car.
Artist: Lisa Crafts
(First: Episode 2901)

Muppets / Cast
Maria, Big Bird, Oscar and the Count sing "Happy Birthday to Me."

Cartoon
Light and heavy (bird falls on man) (new music added)
(First: Episode 0785)

Film
Two Navajo kids go to school in Arizona. This year, Dante enters pre-school.
(First: Episode 2680)

Cartoon
A lizard, a girl and a dog dance.
Artist: Karen Aqua
(First: Episode 2795)

Muppets
"Body Rhythms" by Little Jerry and the Monotones.
(First: Episode 1399)

Animation
OP words (Drop / stop / top / hop / pop)
(First: Episode 2886)

SCENE 5
Prairie starts to announce the sponsors, when Monty interrupts her to apologize repeatedly. He gives her his chicken hat.
Community content is available under
CC-BY-SA
unless otherwise noted.