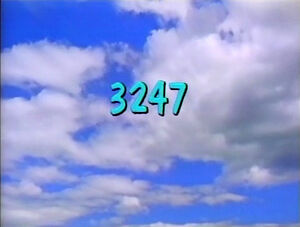 Picture
Segment
Description

COLD OPEN
Big Bird says, "Ready, set, go!" and ducks down, popping up again during the theme sequence.

SCENE 1
Big Bird again says, "Ready, set, GO!," as the latter word appears on-screen.

Muppets
Humphrey thinks Natasha will help him demonstrate the words GO and STOP, but she does the opposite of whatever he says.
(First: Episode 3122)

Song
Kevin Clash sings "The Pasta Song."
(First: Episode 3137)

Cartoon
Speech Balloon: Two men demonstrate "up" on a teeter totter; one man ends up crashing through the ceiling.
(First: Episode 0650)

Muppets
Ethel Mermaid sings "I Get a Kick Out of U."
(First: Episode 3127)

Cartoon
Typewriter: U for Umbrella
Artist: Jeff Hale
(First: Episode 0808)

Cast
Savion and some kids do "The Arm."
(First: Episode 2908)

Cartoon
Jasper thinks that he has lost his elbow, but Julius shows him his elbow by bending his arm.
Artist: Cliff Roberts
(First: Episode 0410)

Film
A girl narrates a segment about nature through winter and spring.
(First: Episode 1966)

Cartoon
Two hippie kids wonder how to make their droopy plant grow.
(First: Episode 1484)

Muppets
Cookie Monster sings "What is Friend?"
(First: Episode 2840)

Cartoon
Leaves form R and r
(First: Episode 3110)

Muppets
Muppet & Kid Moment — Telly and Sean come up with R words, including roar, which attracts Chicago.
(First: Episode 3028)

Film
Alphaquest: R
Running down a road past a rabbit, a radio, some rocks, and a rainbow.
(First: Episode 2726)

Song
"One of These Things" (with Fay Ray)
(First: Episode 2604)

Animation
Marco had a flower. When it wilted, he called his grandpa and told him exactly what the flower looked like. Grandpa told him to water the flower, and it grew again.
(EKA: Episode 1016)

Muppets
A harried bird visits a tree, who has some open nests available. She doesn't want the big or bigger nests and plants herself in his biggest nest so she can lay her many eggs.

Song
"It's Time for a Rhyme"
(First: Episode 3151)

Cartoon
Mother Nature shows how earthworms help trees grow.
Artist: ArtistMike
(First: Episode 2736)

Muppets
"We Are All Earthlings"
(First: Episode 2835)

Animation
A map of China morphs into the shape of animals and things that are found there.
(First: Episode 2782)

SCENE 2
Linda does some stretches, and Barkley rests. She invites Maria and Gordon to go running with her, but they're both pre-occupied. She asks Barkley to go running and he gladly agrees. Big Bird appears to say "Ready, set, go!" again as Barkley charges off, dragging Linda behind.

Muppets
"Forty Blocks From My Home"
(First: Episode 2614)

Film
Empty / full classroom (time-lapse)
(First: Episode 0475)

Cartoon
"Martian Beauty" has nine hairs, nine bows, nine eyes, nine nostrils, nine arms, and nine toes.
Artist: Bud Luckey
(First: Episode 0316)

Muppets
Big Bird asks to see that number one more time.

Cartoon
"Martian Beauty" (repeat)

Animation
Rubber Stamp #9
(First: Episode 2876)

Film
College students volunteer at the San Francisco Children's Zoo, which has such animals as ferrets, possums and chinchillas.
Music: Joe Raposo
(First: Episode 2227)

Cartoon
A male chorus sings about zoo animals, to the tune of "The Twelve Days of Christmas."
(First: Episode 0780)

SCENE 3
Colorful circles surround Big Bird, who asks the viewer to guess what he's thinking about, leading to...

Cartoon
I thought a thought ... about circles.
Artist: Cliff Roberts
(First: Episode 0247)

Film
Looking for circles in the city (Maria voice-over)
(First: Episode 2711)

Cartoon
A pig sings "There Are Chickens in the Trees" until a rooster tells him that chickens don't live in trees.
Artist: Jeff Hale
(First: Episode 1394)

SCENE 4
Linda carefully visits Hooper's Store to show Maria and Gina a butterfly from the park resting on her head. They wonder how long it'll stay there...

Animation
Isadora's sneakers describe all the fun they've had this past year, as the seasons change.
(First: Episode 2758)

Muppets
The Hispanic community of Anything Muppets sings "It Sure is Hot!"
(First: Episode 2601)

Animation
Match the word HOT.
(First: Episode 2055)

SCENE 5
Gordon now joins the grown-ups as they observe the butterfly, still on Linda's head. The Count comes by with his "counting wolunteers" who will count to 40. The adults don't think it's an appropriate time, but Linda encourages them, thinking it'll get the butterfly to leave. They count and the Count's trademark thunder and lightning occur, but the butterfly remains. Linda jokes that it must be deaf too.

Cartoon
I Love You, in American Sign Language
Artist: Steve Finkin
(First: Episode 1170)

Muppets
Wanda's friends beg her to stay in the water, but she'd rather explore land and be "A Fish Out of Water."

Cartoon
Water travels from a cloud to a river, into a reservoir, and through pipes, and finally ends up in a bathroom sink.
(First: Episode 2708)

Film
In a village in Africa, people catch fish and celebrate afterwards.
(First: Episode 2669)

Cartoon
A pencil tries to write the word DANCE.
(First: Episode 1966)

Animation
The word ICE is formed with ice cubes, which melt.
(First: Episode 1177)

SCENE 6
The grown-ups go to the park, where Linda signs a goodbye to the butterfly. Sure enough, it leaves her head and flutters away. The grown-ups wonder where it's gone...




SCENE 6 cont'd
The butterfly has landed in Big Bird's hand. He says a final "Ready, set, go," letting the butterfly fly away. He then announces the sponsors.
Community content is available under
CC-BY-SA
unless otherwise noted.