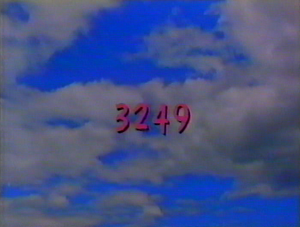 Picture
Segment
Description

SCENE 1
Big Bird welcomes the viewer and witnesses Zoe flying overhead dressed as a cow. After she crash lands, she explains she's trying to be the cow from "Hey Diddle Diddle" and is practicing jumping over the moon. Big Bird tells her the moon is too high to jump over, so she resolves to jump over him instead.

Cartoon
Jerry Nelson sings "Moonshine."
(First: Episode 2775)

Film
Fay Ray subtracts one ball.
(First: Episode 2634)

Song
"Zero Song": A female voiceover sings about the food that keeps being taken away to make 0.
Arist: Jane Aaron
(First: Episode 3003)

Muppets
Muppet & Kid Moment — Cookie Monster asks Lexine what 0 is.

Film
Cheri goes fishing with her abuelo.
(First: Episode 2784)

Cartoon
While fishing one day, a boy catches the letters of the alphabet. Frustrated at not having caught any fish to eat, he decides to use his catch for alphabet soup.
(First: Episode 0004)

Muppets
Phil Harmonic introduces Charmin', who performs an opera about the fax machine.

Cartoon
A girl talks about her skin.
Artist: Bruce Cayard
(First: Episode 2611)

Film
A park ranger speaks to a group of kids about trees and the fruits that come from them. Then all the kids hug a tree.
(First: Episode 2891)

SCENE 2
Following the film, Telly decides to hug a tree in the park as well. Jamal comes by and learns what Telly is up to. Telly feels as though he's given enough love back to the tree and hugs something else he loves in the park - the park ranger Jamal.

Cartoon
In the forest, a small tree feels insignificant, until a mother bird gives him a pep talk.
(First: Episode 1872)

Muppets
Ernie sings "Little Plant."
(First: Episode 2144)

Cartoon
A bird watches as two monkeys climb above and below each other in a tree.
(First: Episode 2965)




Film
A montage of the evolution of mechanical technology, from wind-up toys, to robots that can spell "SESAME STREET" with blocks, to satellite transmitters.
(First: Episode 2226)

Animation
Space frogs count to 10.
(First: Episode 3109)

Muppets
"Big Bird Doesn't Fly"

Cartoon
A baby bird tries and tries again to fly from its nest.
Artist: Irra Verbitsky
(First: Episode 1510)

Film
A girls' jump-rope team trains for a contest. They end up winning second place.
(First: Episode 2510)

Cartoon
Typewriter: S for spring
(First: Episode 0792)

Muppets
"Sammy the Snake"
(First: Episode 0278)
Cartoon
S - Snake: A snake charmer irritates the snake.
(First: Episode 0063)

Celebrity
Ruthie takes an opera lesson from Marilyn Horne, as they sing "Sing After Me."
(First: Episode 3198)

Cartoon
Lillian discusses the adjustments she had to make when her parents had a new baby. She ultimately appreciates her sister.
Artist: Craig Bartlett
(First: Episode 2746)

Film
A blind class goes on a field trip to the park, using their other senses to experience their surroundings. The teacher sings "If You're Happy and You Know It."
(First: Episode 2566)

Cartoon
A girl describes why she likes the color black.
Artist: Lisa Crafts
(First: Episode 3105)

Muppets
Bert enjoys a nice day at the park feeding his pigeons when Elmo screams a hello to him, scaring the pigeons away. Bert explains that when pigeons are near, one must be quiet. Elmo understands and helps Bert by loudly calling the pigeons back. Bert becomes happy again and Elmo cheers...scaring the pigeons away again.

Cartoon
Planet J / j
(First: Episode 2833)

Muppets
Sesame Street News Flash
Kermit the Frog reports from an alphabet mine where they dig Js. The miners tell him various words that begin with J and Richard presents him with his own J.
(EKA: Episode 2302)

Cartoon
Jughead Jones's J story
(First: Episode 0231)

Song
Joe Raposo sings "Somebody Come and Play".
(First: Episode 0047)

SCENE 3
Prairie Dawn approaches Monty, who is standing around reciting "Ding Dong!," with a proposition - since he always tries to get her to be silly, she wants him to do something she likes: reading. Monty agrees and starts reading a book called "Ding Dong."

Cartoon
A story of a cat who hated rain, wished for it to stop, and witnessed the disastrous effects of no rain.
Artist: ArtistMike
(First: Episode 2724)

Film
The Count counts five children sitting on a park bench.
(First: Episode 2958)

Muppets
"Pond Full of Fish"
(First: Episode 2840)

Film
A dolphin walks backwards on the water.
Music: Joe Raposo
(First: Episode 0278)

SCENE 4
Monty reaches the thrilling conclusion of the book, but Prairie tells him it was an awful book, stating it lacked anything needed for a story. "I thought it had a certain ring to it," Monty tells her before pointing out her opinions could upset the author - a nearby Dinger. Prairie notices him and starts complimenting the book, while Jamal announces the sponsors.
Community content is available under
CC-BY-SA
unless otherwise noted.