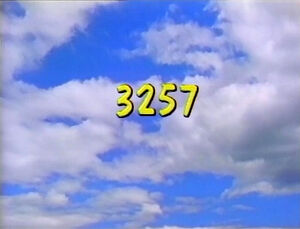 Picture
Segment
Description

SCENE 1
Big Bird welcomes the viewer on his way to Celina's dance class. Today, they're learning dances inspired by the city sounds around them, including the subway, construction and the noon bell, meaning it's time for their lunch.

Cartoon
A man in a bowler hat hears different sounds behind each door. (new sting added)
(First: Episode 1409)

Song
"My New Computer"
(EKA: Episode 2857)

Cartoon
K for kangaroo
(First: Episode 2498)

Film
Girls dance and chant about K.
(First: Episode 3012)

Animation
Playing cards form a capital and lowercase K as a queen and a jack tango.
(First: Episode 3190)

Muppets
Ernie and Bert decide to use both Bert's canvas and Ernie's paints to paint a picture of something. Bert wants to paint a bowl of oatmeal, but Ernie wants to paint a purple monster. Finally, they decide to paint a purple monster eating a bowl of oatmeal.
(First: Episode 1446)

Cartoon
A girl has trouble closing her suitcase after she's packed it, but has help from her four-legged friend.
(First: Episode 1469)

SCENE 2
Celina reads the kids "The Three Little Pigs," when Monty continuously comes by shouting, "The end is coming!" He explains his behavior is to notify everyone that the end of the story is coming. Celina tells him to stop until she finishes reading. As she finishes the story, Monty starts yelling, "The end is here!"

Film
"Simple Pleasures" by Bobby McFerrin is played over footage of a girl trying to play frisbee with a dog on the beach.
(First: Episode 2876)

Cartoon
Ten tiny T's in top hats do the tippy tappy tango and take tea.
Artist: ArtistMike
(First: Episode 3230)

Film
The floating kids form a capital T.
(First: Episode 3121)

Animation
Airplanes carve the capital and lowercase T.
(First: Episode 3230)

Celebrity
Paul Simon and Ladysmith Black Mambazo sing the African Alphabet Song.
(EKA: Episode 2431)

Cartoon
A woman displays a BUS STOP sign to a crowd.
Artist: Irra Verbitsky
(First: Episode 1231)

Muppets
Grover the Flight Attendant: Mr. Johnson is cold, and wants something warm. Grover suggests exercise, grabs him out of his seat and starts bouncing him around, which bothers a nearby passenger. Next, Grover gives Mr. Johnson a big hug, which doesn't work either. What Johnson really wants is a blanket, so Grover looks in the overhead luggage container, letting everything in it fall out and cover up Mr. Johnson.
(First: Episode 3103)

Cartoon
A curious cat chases after a ball of string and explores various places in its home.
Artist: Michael Sporn
(EKA: Episode 2238)

SCENE 3
Maria comes across Telly practicing the tango. She tells him it "takes two to tango," so he starts dancing with a number 2.

Animation
Rubber Stamp #16
(First: Episode 2959)

Muppets
"Sixteen Samba"
(First: Episode 2822)

Animation
Counting to 16 on quilt patterns
(First: Episode 2996)

Film
Maria and some kids count katydids hiding in the leaves.
Music: Joe Raposo
(EKA: Episode 2548)

Muppets
Sesame Street News Flash: Humpty Dumpty has fallen off a wall, and Kermit interviews one of the king's horses. Humpty is put together again, but then Kermit gives him a congratulatory slap on the back, and he falls off the wall again.
(First: Episode 0657)

Cartoon
"Part of the Whole"
Artist: Sally Cruikshank
(First: Episode 2714)

Film
As a boy plays with a tugboat in the bathtub, we watch footage of a real tugboat.
(First: Episode 0801)

SCENE 4
Zoe wants to pretend that she's a tugboat, having Big Bird play a larger boat she pushes along the water. She struggles to move him and reminds him he has to pretend she is strong enough to move him.

Cartoon
"That's About the Size of It"
Artist: Bud Luckey
(First: Episode 0279)

Film
Fay Ray rolls balls near the camera.
(First: Episode 3061)

Cartoon
Slot-machine legs: Cowboy & horse
(First: Episode 1702)

Muppets
"Once Is Not Enough"
(First: Episode 2921)

Cartoon
Three characters try to watch a baseball game over a fence, then cooperate by stacking their blocks.
(First: Episode 0478)

Muppets
Captain Elmo Cousteau searches for the treasure of the missing soap, with the help of a policeman fishy.
(First: Episode 2637)

SCENE 5
Tugboat Zoe pushes "Big Boat" into "Hooper's Harbor" for supplies. Big Bird requests some birdseed, inspiring Zoe to swap roles so she can get some supplies - a sandwich.

Cartoon
"Big Sneeze" - a man destroys everything in his path when he sneezes.
Artist: Paul Fierlinger
(First: Episode 1579)

Film
Five girls play a clapping game.
(First: Episode 2763)

Cartoon
A lost man in the desert asks a stranger for directions to the city. He builds a pretend city out of sand to show what it looks like. As it turns out, the stranger is an alien.
(First: Episode 0763)

Muppets
Guy Smiley sings "I'll Love You in Springtime."
(EKA: Episode 2201)

Cartoon
Bolt and Nut show how they work together.
(EKA: Episode 0619)

SCENE 6
Zoe and Big Bird depart from the harbor, when they stop to see a really big boat...

Muppets
Ernie & Bert — On the deck of The Love Boat, a uniformed Ernie expresses how much he loves this boat. "Ernest" shares his love with Amanda, a grumpy patron, a fish, and soon several passengers who join them in their love for this boat.
(First: Episode 1958)

SCENE 6
cont'd
Zoe gets another idea and has Tugboat Big Bird lead her away.

Cartoon
Uncle Al tells his nephew a story about a dog he had, but gets mixed up with the details.
Artist: Marv Newland
(EKA: Episode 1145)

SCENE 7
Tugboat Zoe brings in another load - giant, stone likenesses of today's sponsors.