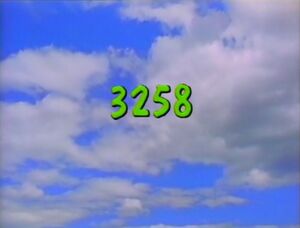 Picture
Segment
Description

SCENE 1
Rosita teaches Big Bird, Telly and some kids that "Me gusta" means "I like it" in Spanish. Big Bird tries saying it to Maria and Luis, who sing a song about how to use the phrase, backed up by a mariachi trio.

Cartoon
A white boy hangs out with his Latino friend.
(First: Episode 1471)

Song
Hoots the Owl sings "This is How We Take a Bath."
(First: Episode 3216)

Animation
Computer G / g
(First: Episode 3112)

Muppets
Grover talks about the letter G, as it slowly grows. (new music added)
(First: Episode 0210)

Cartoon
The Typewriter gets stuck in a spot of glue, and types "G: Glue".
(First: Episode 0775)

Film
Empty / full cafeteria (time-lapse)
(First: Episode 0415)

SCENE 2
With the help of Osvaldo, Grundgetta and two other Grouches, Oscar gives Maria and Luis a musical rebuttal to their song, changing it to "No Me Gusta" -- but ironically, the grouches can't stop dancing!

Film
A group of kids paint a mural with the help of a mural artist.
(First: Episode 3007)

Cartoon
Speech Balloon: C for carrot
(First: Episode 0203)

Muppets
Cookie Monster sings "C is for Cookie."
(First: Episode 0372)

Cartoon
C for Cat
Artist: Bud Luckey
(First: Episode 1141)

Muppets
Muppet & Kid Moment — Chip and Dip hold a sign with the word "CAT" written on it and ask Danny if he knows what it says. When they learn that he can't read the sign, they give him clues.
(First: Episode 2805)

Animation
The word CAT is shown, followed by a black cat sitting on a chair.
(First: Episode 3000)

Muppets / Celebrity
Zoe counts the number of times Michael Chang bounces a tennis ball.
(First: Episode 3148)

Animation
A voiceover counts forty dots, each one rising on a musical scale as their colors shift from red to orange.
(EKA: Episode 2406)

Film
Farmer McFay counts 40 fruits from the season's bumper crop.
(First: Episode 3228)

Cartoon
Hands embrace the word "LOVE."
(First: Episode 0926)

Film
"Visiting Iesha": Olivia sleeps over at Iesha's house, and spend the morning together. Olivia is white and Iesha and her family is black. Next time, Iesha wants to visit Olivia's family.
(First: Episode 2756)

Cartoon
Dr. Nancy Einstein shows how the brain works.
Artist: Bruce Cayard
(First: Episode 2607)

Muppets
The Martians are a "Yip Yip Family."
(First: Episode 2724)

Cartoon
The story of Tommy LaPlaid, the painter so sad until he discovered the joys of kicking his paints on the canvas.
Artist: Mo Willems
(First: Episode 3208)




Muppets
Snuffy brings his TV over to Big Bird's nest so that he, Big Bird, and some kids can work out along with Jane Snuffleupagus.
(First: Episode 2076)

Cartoon
A beaver does his exercises, while his friends make fun of him. He then uses his strength to save his friends when the dam breaks.
Artist: Irra Verbitsky
(First: Episode 2067)

Song
Sesame Street Creature Feature: The Marmoset.
(First: Episode 2487)

Muppets
Sesame Street News Flash
Kermit the Frog witnesses how the mailman and salesman knock at the door while the Big Bad Wolf chases Little Red Riding Hood around the bed. Eventually, the Woodsman shows up, and Red and the Wolf chase him for cutting down a maple tree which was their favorite one.
(First: Episode 0621)

Cartoon
Six camels
Artist: Owe Gustafson
(First: Episode 1503)

Animation
"Six Circus Balls"
Artist: Jane Aaron
(First: Episode 3001)




SCENE 3
Finders Keepers is having a "Lincoln's Birthday" sale. Elmo comes by, feeling sad because he lost his imagination hat. Ruthie gives him some different hats to try on, and he has fun with an admiral's hat, then a space helmet. Maria comes back with Elmo's imagination hat, but Elmo is busy going on an imaginary trip to the planet Mayonnaise.

Song
"Imagination Landscape"
(First: Episode 2904)




Muppets
Ernie & Bert — The Count sleeps over at Ernie and Bert's (Part 1)
The Count sleeps in Bert's bed while Bert sleeps on the couch. Ernie tells the Count that he can count sheep to get to sleep, but it never dawned on Ernie that the Count never gets tired of counting. He stays up all night counting sheep, to Ernie's detriment.
(First: Episode 0941)

Cartoon
A woman serves milk to her cat. Several other cats join him, including a lion.
Artist: Bruce Cayard
(First: Episode 1017)

Muppets
Ernie & Bert: The Count Sleeps over at Ernie & Bert's (Part 2)
It's the next morning. The Count had a good night, but he didn't sleep. His counting kept Ernie up, and now Ernie is walking and counting huge numbers like a zombie.
(First: Episode 0941)

Cartoon
Willie Wimple went a-boatin' and polluted the river.
Artist: Abe Levitow
(EKA: Episode 0590)

SCENE 4
Elmo has found a coat that matches Abraham Lincoln's, and Ruthie gives him a stovepipe hat and beard to match.

Film
Lucia, who lives in Argentina, narrates a segment where she visits her abuelo's chocolate factory, where they make candy out of chocolate and mazapan.
(First: Episode 3171)

Cartoon
Which footprint doesn't belong?
(First: Episode 0509)

Muppets / Celebrity
Cab Calloway sings "Hi De Ho Man."
(First: Episode 1540)

Animation
Crayons play together.
(First: Episode 3105)

SCENE 5
As Elmo and Rosita debate on which of them should announce the sponsors, Ruthie does it for them.
Notes
Community content is available under
CC-BY-SA
unless otherwise noted.