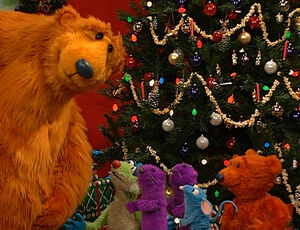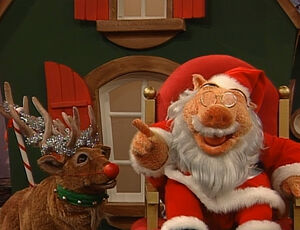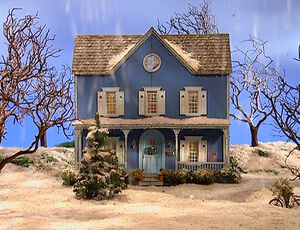 The winter holidays find Bear and his friends planning a big celebration. They're all getting ready for Christmas, but also learn about Hanukkah and Kwanzaa. Bear also celebrates his favorite tradition, the finding of the winter berry.
As things start out, Pip and Pop have put together a reindeer wreath. Everyone wants to help out with the wreath, so Bear suggests they all add something of their own. Later, the group meets Santa Hogg and presents him with a large list of holiday wishes. Then there's a bit of an argument when Treelo wants to open everyone's presents and not just his own.
In the Shadow segment, Shadow thanks Bear for his gift of a scarf --- Shadows don't get cold, but it's the thought that counts. She then sings the song "It's Kwanzaa Time."
After hearing a howling noise, the group takes in an old hound named Jack with no home and invites him to stay at the Big Blue House for the holidays. This gets everyone thinking about the true meaning of the holidays.
The story continues in part two.
Songs
Notes
Edits
Wow, this has been some day! It's nice having a new friend like Jack around. Well, bye bye! (Bear begins to walk off) ...Oh! (Bear pops his head back on-screen) I almost forgot. (Bear walks back) I hope that you have a wonderful holiday too, and be sure to come back to the Big Blue House and tell us all about it. See you soon!
In the VHS release, it was shortened to:
Wow, this has been some day! And tomorrow's going to be an even bigger day! So, (Bear yawns) this bear better get some sleep. I'll see you tomorrow.
Video releases
Book adaptation
The special was adapted as Bear's Berry Christmas, a storybook published in 2000.
External links
Community content is available under
CC-BY-SA
unless otherwise noted.