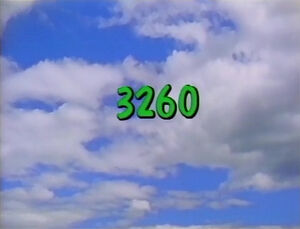 Picture
Segment
Description

COLD OPEN
Elmo introduces the sponsors for today, when Angela calls him inside for day care.




SCENE 1
Angela presents some special guests today at day care - Biff and Sully! They're going to talk to everyone about a word they've just installed over the front door - EXIT. Their sign falls off, however.

Cartoon
A honking orange ball follows signs to the EXIT.
(First: Episode 1879)

SCENE 1 cont'd
The sign is replaced atop the door and their talk of "EXIT" continues. Biff isn't quite sure what the word means and gets even more confused when Sully leave through the door. Elmo tells him Sully demonstrated what the word meant. Biff also has to leave, but he uses the wrong door.

Film / Animation
Circles of all kinds are displayed as funky rap music plays.
(First: Episode 3126)

Muppets
Mysterious Theater
Sherlock Hemlock is commissioned to find the shape of a circle in an antique castle before time runs out at 5:00. Watson does his best to point out that the face of a clock is the shape of a circle.
(First: Episode 2706)

Film
Some Navajo kids narrate a film about how their blankets are weaved, and how they make paper blankets in school.
(First: Episode 2990)

Cartoon
Gloria Globe appears sick and ailing, because of pollution and damage to the planet. Only by taking better care of the Earth can Gloria become well again.
(First: Episode 2781)

Muppets
"The Ballad of Slippery Slim"
(First: Episode 2827)

Cartoon
The detective sees a lever, and thinks about what might happen if he pulls the lever, being prepared for anything.
(First: Episode 2613)

Muppets
Big Bird recites a poem introducing Kermit the Frog.

Muppets
Sesame Street News Flash
The hare challenges The Tortoise to a rematch: this time, the Tortoise comes equipped with a jet-pack.
(First: Episode 2690)

Film
Two kids play drums as animated kid-drawn figures clap with the beat.
(EKA: Episode 2847)

Cartoon
"Do the Continental" - two kids jump into Africa.
Artist: Peter Wallach Enterprises
(First: Episode 2733)

Muppets
Ernie & Bert — Ernie and Bert search for Dr. Livingstone.
(First: Episode 1736)

Cartoon
Dr. Annie Eyeball looks at air.
Artist: Bruce Cayard
(First: Episode 2592)

Film
Footage of kids playing professions, alternating with footage of analogous real-life jobs.
(First: Episode 2811)

Cartoon
One chef takes one of each vegetable to make one salad.
(First: Episode 3238)




Muppets / Celebrity
Johnny Cash sings "Don't Take Your Ones to Town," while Big Bird, the Count and the Countess act it out.
(First: Episode 2982)

Animation
A group of 1s chant, "We're the number 1!"
(First: Episode 3238)

Film
A boy hikes up a mountain with his family.
(First: Episode 2734)

Animation
Cecille sings "Up Down, In Out, Over and Under."
(First: Episode 2746)

Muppets
Muppet & Kid Moment — Cookie Monster asks Jahwara to point to parts of her head.

Cartoon
Jake the Snake demonstrates body parts.
(First: Episode 2486)




Cast
Gordon hosts "The Crossing Zone," in which a boy named Jonathan has to find a way to cross the street. Susan helps him across.
(First: Episode 2729)

Cartoon
Why did the chicken cross the road?
(First: Episode 2050)

Muppets
"It is I, Captain Vegetable!"
(First: Episode 1741)

Cartoon
Animals who eat crunchy things have nice teeth.
(First: Episode 1487)

Animation
Planting Letters: B
(First: Episode 3035)

SCENE 2
Now, the pair will talk about the letter B, though Biff claims he'll do all the talking following Sully's "mistakes" from today. Biff struggles to come up with a B-word and tells Sully to stop bowing until they're finished. The gang points out that "bowing" is a B-word and Biff starts crying, since Sully took care of the demo already. This leads Biff to another B-word: "blowing" (his nose).

Animation
Pencil Box B / b
(First: Episode 3040)

Song
Joe Raposo sings "Water Baby" over footage of seals and kids swimming.
(First: Episode 2016)

Muppets
The Two-Headed Monster demonstrates surprise.
(First: Episode 2924)

Cartoon
A man pulls a rabbit out of his hat, but the rabbit turns out to be a cow. "Surprise!"
Artist: John Schnall
(First: Episode 2770)

Film
Kids fly and form the letter W.
(First: Episode 3181)

Muppets
Bert sings the club song for The National Association of W Lovers.
(First: Episode 0366)

Cartoon
Are you the monster that ate the television?
(First: Episode 1970)

SCENE 3
Sully and the kids head out, while Biff is ready to make some crafts. Angela tells him it's time to go home, even though he never got to do anything at day care. She allows him to announce the sponsors (by feeding him the letters and numbers) and promises he can comeback any time.
Community content is available under
CC-BY-SA
unless otherwise noted.