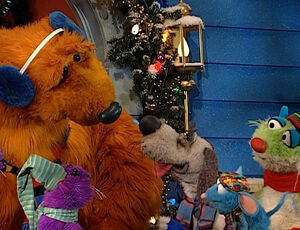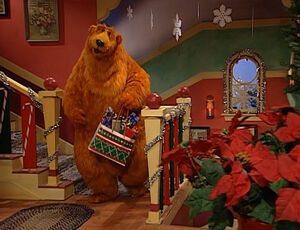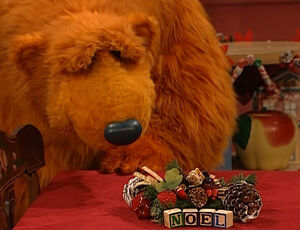 Continuing from part one of the Berry Bear Christmas special, the entire gang (now with Jack) goes out caroling.
As the kids settle down to try to figure out what to do about a Christmas present for Bear, Bear turns his attention to the finding of the winter berry. Jack overhears the kids' conversation and suggests making something.
In the Shadow segment, Shadow sings a song about a Hanukkah dreidel. She then wants to give Bear a present, but says there isn't much a shadow can give a bear. So she has him kneel down and she gives him a kiss.
Everyone enjoys their presents, but they worry that they've left out Jack. Jack helps them to see that they've already given him a gift -- a peaceful, happy holiday in a warm house with good friends. Later, the search for the winter berry proves fruitful for all.
Songs
Cuts
When the special aired on Playhouse Disney over two days, the following scenes are cut: Jack tries to sneak away after the "Best Present Ever" song, but Bear convinces him to stay for the search for the winter berry. Additionally, the "Holiday" portion of the "Winter Berry / Holiday" reprise song is cut. These scenes are also not shown on the UK DVD version.
On the VHS version of this part of the special, the opening song "A Berry Bear Christmas" is not repeated. Instead, the previous episode transitions to Luna setting and Ray rising, followed by Bear welcoming the viewers without re-introducing Jack. Additionally, a segment following the caroling in which Bear says the viewer smells like sugarplums and then discusses holiday traditions is removed, as well as Bear discussing Tutter's special holiday tradition -- leaving a pair of shoes out to be filled with cheese.
Allusions
Notes
Despite the fact that the song implies that the winter berry needs to be eaten in order for the wish to come true, the winter berry does not get eaten.
Video releases
Book adaptation
The special was adapted as Bear's Berry Christmas, a storybook published in 2000.
External links
Community content is available under
CC-BY-SA
unless otherwise noted.