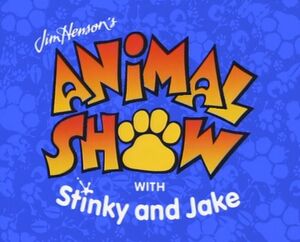 In this family-based episode, Stinky the Skunk and Jake the Polar Bear learn how gorillas and lions live in families. After the song which everyone sings, Stinky plans to have the regular characters together as a family.
Performers
Trivia
During Rhonda's segment, Melanie the Mink wants to be interviewed, but Rhonda passes her for Lamont the Sloth and later interviews Randall the Zebra.
Since this was the show's finale, the closing song "We Are One Big Happy Family" for this episode features many of the show's past characters, in addition to classic Muppet animals such as a lobster and a penguin. Besides the regular characters and this episode's guests, the finale included cameos by Bosko the Baboon, Doreen the Camel, Guffrey the Vulture, Humphrey the Badger, Lamont the Sloth, Milton the Blue-Footed Booby, Molly the Albatross, Jasper the Jaguar, Julius the Spoonbill, Stanley the Mouse, Virginia the Red Fox, Humphrey the Badger, Charlie the Chamois, and Hillary the Owl.