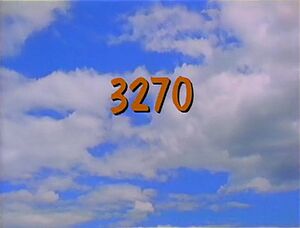 Picture
Segment
Description

COLD OPEN
Telly points out that Kingston Livingston III is writing a song, which will be ready soon.

SCENE 1
Kingston's song is finished and he cues up a funky beat. Carlo raps an intro to Kingston, who raps his own unique welcome to the viewer. Now, he's going to write a story instead.

Cartoon
Mi kat iz ... gone
(First: Episode 1967)

Film
A group of girls do a playground cheer ("Ooh I'm so happy!").
(First: Episode 3017)

Cartoon
Dogs cheer D-O-G and fight with cats.
(First: Episode 1148)

Song
"Big D and Little D"

Muppets
Big Bird wears a disguise and says "D-disguise." (new music added)
(First: Episode 3188)

Film
A girl writes to her grandmother about going to summer camp.

Animation
Looking for shapes on the Aztec Calendar Stone (Maria voiceover)
(First: Episode 3049)

SCENE 2
Telly wonders why Kingston is pacing back and forth when he's supposed to be writing. Kingston claims it helps him think and he gets some words of inspiration - a king, DANGER, a piano and charging horses!

Cartoon
A chicken gets an idea to sit on a football and hatch it like an egg. (new sound effects added)
Artist: Dan Haskett
(First: Episode 2360)

Muppets
Mr. Johnson comes to Grover's photo studio to have his portrait taken. However, Grover photographs his foot and hand instead, and has to be reminded to capture the face.
(First: Episode 3232)

Cartoon
A female head is drawn as its voice-over lists its parts, ending with earrings that "do nothing" ... and promptly wiggle around. (new sound effects added)
Artist: James Rizzi
(First: Episode 0821)

Film
A girl learns how to rollerblade.

Cartoon
L for Lion (poem) (new music and sound effects added)
Artist: Jeff Hale
(First: Episode 1149)

Film
Wegman's dogs form the letter L.

SCENE 3
Telly impatiently waits for Kingston to finish writing his story - "The King Who Couldn't Read." He hands it off to Carlo to read aloud.




SCENE 3 cont'd
In the story, Kingston plays an African king, who is entirely dependent upon his royal helpers to do everything for him. His Royal Reader helps him read a STOP sign (which helps them avoid some stampeding horses) and a DANGER sign (which saves them from a falling piano). One day, the Royal Reader calls in sick and the King is unable to read any signs, putting himself in much pain. He eventually gets some lessons from the Royal Reader and soon, he can read the signs on his own and learn how to do other things by reading books.

Song
"Zero Song": A female voiceover sings about the food that keeps being taken away to make 0.
Arist: Jane Aaron
(First: Episode 3003)

Muppets
Ernie & Bert — Ernie keeps catching fish, and Bert doesn't, so Ernie tries moving to a different place on the boat, then not using bait, then just quitting. When Bert finally catches something, it is only a note that reads: "What happened to your friend?"
(First: Episode 3199)

Cartoon
A boy counts down to 0 as he eats his soup.
(First: Episode 2283)

Celebrity
Take 6 sings "Take 6," a song about themselves that counts to the number 6.
(First: Episode 3001)

Cartoon
A ball goes up and down a musical staircase.
(First: Episode 2151)

SCENE 4
Kingston is now in the mood for reading, but Carlo doesn't have anything for read. Kingston thinks the contrary and finds they can read the labels in his cap, vest and sneaker. Telly borrows his cap for the night so his mommy can read him a "bedtime cap."

Film
Alphaquest: D
(First: Episode 2723)

Animation
Where do the Ds fit?
(First: Episode 1617)

Song
"When You Grow Up"
(First: Episode 2912)

Muppets
Cookie Monster has a riddle: what do you get when you have one cookie between two cookies? A cookie sandwich!
(First: Episode 3209)

Song
"(The Name of the Place is) The Laundromat"
(First: Episode 3159)

Cartoon
A man has a small octopus on his head, but a little boy has a big octopus.
Artist: Mo Willems

SCENE 5
Sesame Street's Theater in the Park presents "The Grapes of Math," where Elmo and Carrington add their grapes.

Film
The Count (in voiceover) counts five children standing behind a park bench.
(First: Episode 2931)

Cartoon
Two itchy gorillas agree to scratch each other's backs.
(First: Episode 1456)

Muppets
Bip Bipadotta leads "Scratch My Back" as a song about two monsters named Jack and Jill who swear that they will always be there to scratch each other's backs.
(First: Episode 2191)

Cartoon
A polar bear learns what "EXIT" means.
Artists: John and Faith Hubley
(First: Episode 0131)

Animation
A Keith Haring mural comes to life after some kids EXIT.
(First: Episode 3006)

SCENE 6
Telly notices Kingston is writing again. This time, Kingston's writing a letter to Carlo, but he can't read it out loud to them since it's a private matter. Kingston requests Telly stick around for the best part - watching Carlo read the letter to himself. Telly compliments how well Carlo does it.

Cartoon
Dinah from South Carolina exchanges letters with her friend Ling Lu in China.
Artist: ArtistMike
(First: Episode 2727)

Song
Kevin Clash sings "(I Eat With) Chopsticks" over a film of kids doing so.

Cartoon
I am dry, they are wet (man laying on the beach)
Artist: Cliff Roberts
(EKA: Episode 0309)

Muppets
Little Chrissy always has fun whether he's "Wet or Dry."
(First: Episode 3134)

Cartoon
Geography Guy points to China on the globe.

Animation
Stop-motion: what goes in the hot dog bun?
(First: Episode 1494)

SCENE 7
Carlo has a letter for Kingston now and Telly has Karrington and another child watch the thrilling action as Kingston reads it to himself. Kingston then points out there's some letters for Telly to read, despite his limited capability. The letters turn out to be the sponsors.
Notes