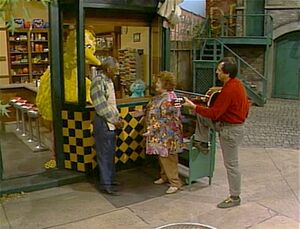 Picture
Segment
Description




SCENE 1
Big Bird welcomes the viewer as Luis announces to him and Rosita that Maria's aunt, Tia Lola (Graciela Lecube), has arrived from Puerto Rico. Big Bird calls over Mr. Handford to meet her, but he claims he's busy, until he sees her and is smitten. The rest of them take notice, and the two kids begin scheming on how to get them together. Rosita recalls how her grandfather won her grandmother over: by playing a song outside her window. But first, they need to write him a song.

Cartoon
A white boy hangs out with his Latino friend.
(First: Episode 1471)

Film
A group of kids paint a mural with the help of a mural artist.
(First: Episode 3007)

Animation
B / b candles
(First: Episode 3111)

Animation
Letter Garden: B
(First: Episode 3035)

Cartoon
Letter B becomes a banana and broccoli
(First: Episode 2513)

Animation
"Banana Samba"
(First: Episode 2920)

Muppets
Juanita looks for "YO", asking, "¿Esto es yo?" Nope, it's a toy car, and a tomato, and a mirror. Looking in the mirror, she finds herself. "¡Hola, yo!" she cries.
(First: Episode 0454)

Animation
Can you find the flamingos?
(First: Episode 2791)

SCENE 2
Rosita and Big Bird go to Mr. Handford and explain their plan and sing their song for him. However, he points out that Tia Lola knows little English and their song is completely English. They leave to rewrite the song.

Animation
A group of round crayons draws a house, and is hesitant to let a square yellow crayon join, until it draws the sun. They all cooperate to make a rainbow.
(First: Episode 3105)

Muppets
"Some Enchanted Lunchtime"
(First: Episode 3230)

Cartoon
F/f (Gordon voiceover)
(EKA: Episode 2288)

Film
Alphaquest: F
A faucet finishes a fire, and flood of freaky fish.
(First: Episode 2759)

Animation
F / f (space paint)
(First: Episode 3215)

Film
"Simple Pleasures" by Bobby McFerrin is played over footage of a girl trying to play frisbee with a dog on the beach.
(First: Episode 2876)

SCENE 3
Mr. Handford, with Luis on guitar, is ready to sing the Spanish lyrics. They sing toward their window, but she doesn't respond. Maria and Lola appear from behind them, having been in Hooper's the whole time. Maria sees they're preoccupied and leaves with Lola.

Cartoon
Hortense counts 3 peas.
Artist: Michael Sporn
(First: Episode 2519)

Film
Song: It's number 3 (on trike/on hike)
(First: Episode 3136)

Muppets
Seahorses 1, 2, 3
(First: Episode 2925)

Film
A Puerto Rican family get-together includes cooking, playing soccer, and finally the big dinner.
(First: Episode 3081)

Animation
Ten masked dancers are counted in Spanish.
Artist: Karen Aqua
(First: Episode 3079)

SCENE 4
They find Lola with Maria inside the Fix-It Shop, but Big Bird points out that the lyrics mention her coming to the window and the shop doesn't have a window that will open. They change it to "puerta" (door). However, Lola is busy listening to her headphones and can't hear the song.

Cartoon
Edgar Turtle sings "Hey Diddle Diddle."
Artist: Jeff Hale
(First: Episode 2404)

Muppets
Waiter Grover prepares a table for a family who's celebrating their grandmother's birthday, but Grover doesn't know her name, so when each family member refers to her as a different relative each time, Grover thinks there's more than one party going on, so he ends up bringing out seven cakes.
(First: Episode 1958)

Animation
Pencil Box B / b
(First: Episode 3040)

Film
Kids paint pictures of things that start with B. (edited)
Producer: Ken Snyder Enterprises
(First: Episode 0008)

Celebrity
Take 6 sings their own version of The Alphabet Song.
(First: Episode 2998)

Cartoon
Vaudeville duo Herman Happy and Stanley Sad sing a song about how they live up to their names.
(First: Episode 0772)

SCENE 5
Rosita and Big Bird try to cheer Mr. Handford up, despite his protests that he's not sad. Just then, Tia Lola arrives singing the song for Mr. Handford.

Song
Girls wish they were "Short or Tall".
(First: Episode 3019)

Film
A boy compares the growth of the sunflowers to his own height.
Music: Joe Raposo
(First: Episode 0589)

Muppets
Muppet & Kid Moment — Bert tells John-John that he's lost his paper clips, and he feels sad. He asks John-John to show how he looks when he feels sad. Then Bert feels angry about losing his paper clips, and John-John acts out that emotion. Bert remembers where he left his collection, and John-John acts happy, too.
(First: Episode 0443)

Cartoon
Jake the Snake demonstrates body parts.
(First: Episode 2486)

Animation
Arrows give a presentation of the human body.
(First: Episode 2839)

Cartoon
Spike's Scribble Theatre Presents: "Island"
(First: Episode 2673)

Song
"Do the Jelly" with Celina
(First: Episode 3160)

Film
The McDouble twins know how to help each other.
(First: Episode 3213)

Cartoon
A seal and a bear fight over a circus ball, but learn to cooperate.
Artist: Frank Gresham

Song
Sesame Street Creature Feature: Joe Raposo sings "Goats."
(First: Episode 2366)

Cartoon
Two orange balls perform "Twinkle Twinkle Little Star"
Artist: Fred Garbers
(First: Episode 2160)

SCENE 6
Monty enters the store to help Mr. Handford prepare for his date, claiming to know Spanish. However, the only word he knows is "hola."

Cartoon
AMOR, amor, amor ... amoramor ... amoramor
(EKA: Episode 2116)

Song
"My New Computer"
(First: Episode 2857)

Cartoon
King Minus and the Disappearing Dragons
(First: Episode 0345)

Film
The Count (in voiceover) subtracts from five to three to zero children on a park bench.
(First: Episode 2942)

Cartoon
African quilt pattern #2
(First: Episode 3134)

Muppets
Cookie Monster has a riddle: what do you get when you have one cookie between two cookies? A cookie sandwich!
(First: Episode 3209)

Film
The floating kids form a square.
(First: Episode 3132)




SCENE 7
Maria and Luis watch Mr. Handford and Lola arrive back from their date. He tells them they went dancing. They all begin to dance together as a tango version of the theme plays, and Rosita announces the sponsors.
Community content is available under
CC-BY-SA
unless otherwise noted.