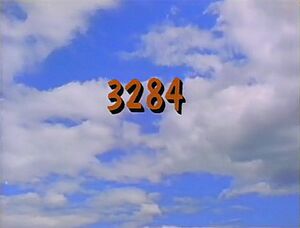 Picture
Segment
Description




COLD OPEN
Ahoy! Pirate Edna sails the high seas aboard her ship, with her seagull Stinky (formerly owned by Oscar), on her way to Sesame Street. She looks through her telescope, and spots today's sponsors.




SCENE 1
Big Bird plays catch with some kids, when Pirate Edna makes a less-than-grand entrance. They pry her out of the garbage bin, and she asks them for help in her search for buried treasure (she has a permit to do so). Gina has to work at Hooper's, but the others are willing to join her, so they get their own eye patches. Before digging, Edna leads them in some exercises. Big Bird remarks, "Pirates have as much fun as day care!"

Film
Kids dance around at gymnastics to "Rockin' Robin."
(First: Episode 3147)

Muppets
Grover is a personal trainer of his workout video called, "Grover's Monster Workout Video." He exercises with Bobby and Sissy, but he gets tired from swinging his arms, running, and jumping up and down that he faints.
(EKA: Episode 3227)

Animation
Planet E / e
(First: Episode 2840)

Film
Ornate E's go easing by to a song.
Artist: Jane Aaron
(First: Episode 2937)

Cartoon
E for End
(EKA: Episode 2164)

Song
"Doing the Family Thing"
(First: Episode 3180)

Muppets
Muppet & Kid Moment — Cookie Monster asks Lexine to count to 5.
(EKA: Episode 3236)

Cartoon
Little Red Riding Hood uses a map to get to Grandma's house.
(EKA: Episode 2750)




SCENE 2
In front of the Fix-It Shop, Pirate Edna shows the gang a map of Sesame Street which will lead them to the treasure they're looking for. She points to the letter Y, which is what marks the spot, and also asks about some of the street's famous spots, making sure the map is accurate.

SCENE 2
cont'd
Edna and the other "pirates" find their way to the Y that marks the spot. They'll start digging as soon as Edna finishes folding up the map.

Cartoon
A boy can yell and yodel, and his dog can yelp and yowl. They can both yawn.
(EKA: Episode 0353)

Cartoon
Consonant Sound Limerick: Y - Yak (sound effects added)
Artist: Jeff Hale
(EKA: Episode 1858)

Muppets
Ernie & Bert — At the movies, a lady with a tall hat sits in front of Ernie and Bert. She block's Ernie's view, so he asks her if she'd mind taking it off. When she places the hat on the seat next to her, Bert's view is now obstructed.
(First: Episode 0538)

Cartoon
A cat desperately tries to open a can of cat food by himself while his mistress is on the phone.
Artist: Dan Haskett
(EKA: Episode 2424)

Song
"Jump"
(First: Episode 3136)

Cartoon
What does the word COLD match with? (new music added)
(EKA: Episode 2222)

Cast
Luis and Linda assemble the word COLD, and it snows.
(EKA: Episode 2491)

Muppets
Baby Tooth and the Fuzzy Funk: "Get the Funky Rhythm"
Part 1
(First: Episode 3000)




SCENE 3
Pirate Edna starts digging for the treasure, but finds that she can't dig into the concrete with a shovel, whether it's a big one, a bigger one or the biggest one. Luckily, she also brought a jackhammer. "Don't try this at home, mateys!"

Muppets
Baby Tooth and the Fuzzy Funk: "Get the Funky Rhythm"
Part 2
(First: Episode 3000)

Cartoon
Knights use different words for "big."
Artist: Fred Garbers
(EKA: Episode 2291)

Song
"Rollin' on the River"
(EKA: Episode 2783)

Cartoon
A man shows the difference between a regular slice of bread and a toasted one.
(EKA: Episode 1575)




Cast
Gordon hosts "The Crossing Zone," in which a boy named Jonathan has to find a way to cross the street. Susan helps him across.
(EKA: Episode 2729)

Cartoon
Don't cross the street alone.
(EKA: Episode 2179)

Muppets
An Anything Muppet family sings "Let's Go Driving."
(EKA: Episode 2363)

Cartoon
A little girl shows the building and apartment where she lives -- both with the number 6.
(EKA: Episode 0982)

Film
A saxophone is made in a factory. The film is underscored by a solo saxophone.
(EKA: Episode 1446)

Animation
Counting 8 harvesters
(First: Episode 2981)




SCENE 4
The hole is deep by now, but the "pirates" have finally found the treasure! Edna opens the treasure chest, and finds some "pieces of eight" - the number 8, to be exact. They assemble the number in sped-up footage.

Film
Ornate 8s stroll through a gate and pose in other remarkable places.
(First: Episode 3231)

Muppets
Little Chrissy sings "Eight Balls of Fur."
(First: Episode 2669)

Cartoon
A story of a cat who hated rain, wished for it to stop, and witnessed the disastrous effects of no rain.
Artist: ArtistMike
(EKA: Episode 2755)

Film
A boy takes dance lessons at The Alvin Ailey American Dance Theater.
(EKA: Episode 1839)

Muppets
Baby Tooth and the Fuzzy Funk: "Get the Funky Rhythm"
Part 3
(First: Episode 3000)

Cartoon
Three scribbles exercise.
Artist: Fred Garbers
(First: Episode 1579)

Cast
Angela demonstrates to kids, in song, what you can do with your arms.
(First: Episode 3226)

Cartoon
Jasper thinks that he has lost his elbow, but Julius shows him his elbow by bending his arm.
Artist: Cliff Roberts
(First: Episode 0410)

Film
In time-lapse footage, a construction crew builds a house and paints it green, and a family moves into it.
(EKA: Episode 1230)

Muppets
Guy Smiley hosts the Letter of the Day Pageant.
(EKA: Episode 2212)

Animation
E / e (elephant / jazzy trumpet)
(EKA: Episode 2222)

Muppets
Baby Tooth and the Fuzzy Funk: "Get the Funky Rhythm"
Part 4
(First: Episode 3000)




SCENE 5
After filling the hole back up, Pirate Edna says goodbye to Big Bird, Gina and the kids, grabs the next available rope and swings away. Gina announces the sponsors.