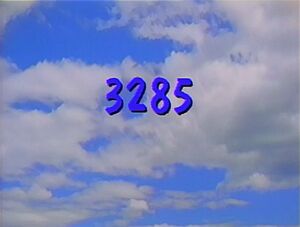 Picture
Segment
Description

SCENE 1
Gordon and Elmo have an important "E" word to show. Gordon suggests ear, elbow, and Elmo, but the word is "elephant." An elephant runs through the arbor.

Cartoon
E for Elephant & Elk, the nominees for best E animal.
(First: Episode 0486)

Animation
Computer E / e
(First: Episode 3071)

Muppets
"It's Zydeco"
(First: Episode 2666)

Cartoon
A girl fantasizes what she could do without leaving her room if her nose, ears, legs, and arms got bigger.

Muppets
Muppet & Kid Moment — Grover talks to Chelsea about what their ears, eyes, nose, and mouth can do. Chelsea mentions that they both have them and also have feet, hands, bellies, necks, arms, back, and shoulder. Grover replies they have a cornucopia of parts, which means they have a lot of good stuff.
(First: Episode 2389)

Film
A gymnasium switches from empty to full.
(First: Episode 2968)

Cartoon
Toothpaste March
Artist: Ray Favata
(First: Episode 1446)

Song
"Take Care of That Smile"
(First: Episode 2745)




SCENE 2
Telly rushes into Hooper's Store in a panic - he's lost Freddy! Mr. Handford calms him down and has him remember the last time he had Freddy. Telly recalls playing catch with Elmo, and laying him down on a table in the arbor beforehand. Telly goes out to the yard and is reunited Freddy. He thanks Mr. Handford by letting him play with Freddy for awhile.

Cartoon
An alligator and an elephant chat about how to remember their names.
(First: Episode 1301)

Song
"Reach Your Hand Up High"
(First: Episode 2702)

Cartoon
Number creatures: 15.
(First: Episode 2693)

Film
Growing Numbers #15
(First: Episode 2971)

Cartoon
Rap #15
(First: Episode 2567)




Film
Kids rehearse a large group African dance in the park, get their faces painted, and perform.
(First: Episode 3079)

Cartoon
"We Are Kids from Far and Wide": West Africa
(First: Episode 2774)

SCENE 3
Oscar gives the Grouchketeers a music lesson as he sings through his interpretation of the basic eight notes.

Cartoon
In Egypt, three lemons make lemonade.

Film
A Caucasian boy narrates a film of himself hanging out with his African American friend Jamal.
(First: Episode 2787)

Cartoon
Typewriter: U for Umbrella
(First: Episode 0808)

Muppets
"I'm in Love with U"
(First: Episode 1701)

Animation
Sand U/u
(First: Episode 0624)

Muppets / Celebrity
Zoe points out to Zap Mama and some kids that Chicago is sad because he's never been to the jungle. The group cheers him up by making jungle noises with their voices.
Cartoon
A boy acts out his feelings as animals. ("There's a zoo in me!")
(First: Episode 0783)

Muppets
"Six Kids Subtraction"
(First: Episode 2670)

Cartoon
A boy and his dog demonstrate addition and subtraction with balancing hamburgers.
Artist: Bill Davis
(EKA: Episode 2345)

SCENE 4
Baby Bear strolls into Hooper's to buy a birthday gift for Papa Bear, but can't decide on a toy airplane or racecar. Mr. Handford tells he can't buy either, as all he has to pay with is one penny. He instead suggests Baby Bear draw him those things, an idea Baby Bear loves.

Cartoon
Jill walks up a hill to pick a daffodil.
Artist: Jim Jinkins
(First: Episode 2538)

Muppets
Shelley the Turtle sings "I Get There" on his way to a picnic.
(First: Episode 2314)

Film
"Simple Pleasures" by Bobby McFerrin is played over footage of a girl trying to play frisbee with a dog on the beach.
(First: Episode 2876)

Animation
Can you find the animals hiding in the T-shirt?
Aritst: Deanna Morse
(First: Episode 2873)

SCENE 5
Mr. Handford helps Baby Bear write a poem to go along with his drawing, but can't come up with a rhyme for "dad," one that describes how he feels. Goldilocks shows up and offers a rhyme (plaid), frustrating Baby Bear, who says he'd be glad if she were gone - a perfect rhyme for his poem. Baby Bear is also glad he could finish it before Goldilocks, who tells him he wouldn't have finished if it weren't for her "help."

Song
Sesame Street Creature Feature: Christopher Cerf sings "I'm a Manatee."
(First: Episode 3069)

Insert
Big Bird: "That was great! Makes you proud to be an animal, doesn't it?"
(First: Episode 3159)

Cartoon
A girl builds a sand castle at the beach, but the ocean keeps washing it away, so she builds one away from the waves.
Artist: Fred Garbers
(First: Episode 1452)

Film
A man (voice of Jim Thurman) finds a magic remote control that makes things go up and down. He tests it on various objects. When he presses "down" for a bridge, it crumbles and falls into the river below, prompting the man to abandon the remote and slink away. A girl then finds the remote and makes the bridge go back up.
(First: Episode 2614)

Cartoon
A boy needs a letter U to complete the word UP.
(First: Episode 0416)




SCENE 6
Now, Gordon and Elmo have a "U" word to show, but it's not "umbrella" or "under." It's "up," which they demonstrate by having Gordon give Elmo a piggyback ride. Baby Bear announces the sponsors.