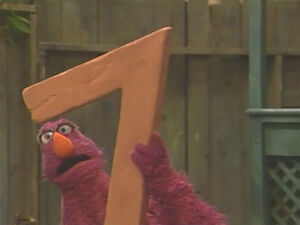 Picture
Segment
Description

SCENE 1
Telly has been assigned to talk about the letter X, only he hasn't been able to find anything that starts with X. A fox in a tux playing the sax helps him come up with some words ending in X instead.

Film
Ornate Xs spin around in accompaniment to a song.
(First: Episode 2929)

Cartoon
The Story of Cowboy X, with the voices of Jean Shepherd
(First: Episode 0325)

Film
"We have a nice school"... with ducks.
(First: Episode 3144)

Song
"Exploring in Your Closet"
(First: Episode 3132)




SCENE 2
Snuffy returns to the Fix-It Shop to pick up Alice, whom was left in Maria's care. She reports she was able to teach Alice to count, which surprises Snuffy; he's never been able to do that (believing she's too young). Maria demonstrates as she and Alice count to 10 in Spanish. Snuffy is so impressed, he also wants to learn.

Animation
Ten masked dancers are counted in Spanish.
Artist: Karen Aqua
(First: Episode 3079)

Muppets
"Forty Blocks From My Home"
(First: Episode 2614)

Cartoon
A lizard, a girl and a dog dance.
Artist: Karen Aqua
(First: Episode 2795)




Muppets / Cast
Ruthie reads to some kids the story of Star White (Snow White's cousin), who had a mirror that couldn't answer her question of who's the best looking. The mirror looked at a number of kids, and soon had an answer for Star White: everyone in the world is good-looking in their own way.
(First: Episode 3265)

Cartoon
A girl describes why she likes the color black.
Artist: Lisa Crafts
(First: Episode 3105)

Muppets
Muppet & Kid Moment — Grover and and Carrington show how they look when they're cold.

Cartoon
Is snow cold? Yes!
(First: Episode 0822)

Song
Joe Raposo sings "There's a Bird On Me."
(First: Episode 0416)




SCENE 3
Big Bird finishes painting a chair, while Slimey watches. He has a WET PAINT sign handy so nobody ruins the paint. However, he can't find a place to put it; if it goes on the chair, it could ruin the paint. Slimey has an idea and fetches his airplane, circling the area while waving a "WET PAINT" flag behind him.

Muppets
How Now Brown and the Moo Wave performs "Wet Paint."
(First: Episode 2033)

Cartoon
Sign Man: SCHOOL
After a bunch of kids come running by, a girl goes before the man and says it's Saturday. That leaves him to say: "No school."
(First: Episode 1155)

Song
"Off to School"
(First: Episode 2944)

Cartoon
X for X-ray: The Typewriter gets a check-up with help from an x-ray.
(First: Episode 0787)

Insert
Oscar and Grundgetta seem to be arguing again, now over the letter X and a train. They tell Gordon they're actually preparing for a song about the "X Train," a favorite method for Grouch vacations. They're backed up by a pair of Grouch conductors.
(First: Episode 2610)

Cartoon
In the "Land of No Shoelaces", people find it difficult to play basketball, swing, and run, until Edna Lovelace comes along.
Artist: ArtistMike
(First: Episode 3102)

Film
Flamingos walk around to classical music. (new child voiceovers added)
(First: Episode 2498)

Muppets
Monsterpiece Theater
Mel Gibson plays Hamlet, who keeps repeating "words, words, words" -- but Elmo can't read, so he only looks at "pictures, pictures, pictures".
(First: Episode 3047)

Animation
Pencil box G / g
(First: Episode 3042)

SCENE 4
Telly plans to talk about the other of today's letters - G, and is caught by surprise when the actual letter appears. The gabby G starts talking about herself, not letting Telly get in a single word.

Cartoon
G For Giggle
(First: Episode 0357)

Film
A girls' jump-rope team trains for a contest. They end up winning second place.
(First: Episode 2510)

Muppets
"Daddy Helps with the Dishes" - three families sing about how they help each other doing chores, cooking, and homework.
(EKA: Episode 2223)

Cartoon
A shy girl wants to join a group bouncing a ball.
Artist: Joanna Priestley
(First: Episode 2849)




SCENE 5
Telly now drags in a giant number 7 to help talk about it, but accidentally drops it onto the ground, shattering it. Telly relays his woes to Gordon, who points out that the broken 7 can still help - it's now in 7 different pieces.

SCENE 5 cont'd
Telly gives a heartfelt speech about how much time and effort went into making that number 7, while the fox provides some melancholy back-up violin music. Gordon reveals he's now fixed the 7, with the fox's help (he happened to have some glue with him). Telly, feeling much better now, requests some happy music from the fox.

Cartoon
The Alligator King
Artist: Bud Luckey
(First: Episode 0411)




Muppets
The Count's Storybook Theatre
The Count reads the story of "The Magnificent 7" who would save a village from becoming lonely. A mediocre 7 and a magnificent 5 show up first, to the behest of the villagers. Next time on The Count's Storybook Theatre: "20,000 Leagues Under the Sea."
(First: Episode 3147)

Cartoon
"Island of Emotion"
Artist: Sally Cruikshank
(First: Episode 2822)

SCENE 6
While the fox plays the "Sesame Street Theme" on saxophone, Maria, Telly and Big Bird announce the sponsors. Telly then tips over under the weight of the 7, smashing it once more.
Community content is available under
CC-BY-SA
unless otherwise noted.