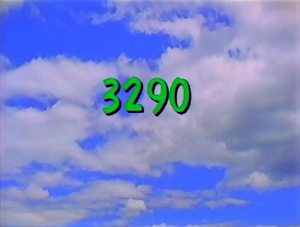 Picture
Segment
Description

SCENE 1
Big Bird and Zoe are surprised to see Gordon in the park, since he should be teaching at school. Gordon notes today's a school holiday and he has the day off. He plants to spend it reading, listening to music and watching the clouds. Big Bird adds another thing he'll be doing: spending time with himself and Zoe!

Cartoon
A boy chases a butterfly, and watches the clouds form into different objects.
Artist: Irra Verbitsky
(First: Episode 1736)

Song
"Let's Go Tubbin' Today"
(First: Episode 3024)

Cartoon
Speech Balloon: A for Ape
(First: Episode 0006)

Film
A for action, acrobat, art, artichoke, and applause.
(First: Episode 3266)

Animation
A/a (Gordon voice-over)
(First: Episode 2240)

Insert
The Tokyo String Quartet and some kids show how important it is to practice, as Big Bird provides voiceover.

Cartoon
How to know a hippo when you find one. (new sound effects added)
Artist: ArtistMike
(First: Episode 3081)

Muppets
The Singing Dentists sing "Say Toothpaste, Somebody!"
(First: Episode 2705)

Animation
"Toothpaste ... coming soon to a mouth near you!"
(First: Episode 2876)

SCENE 2
Gordon tells the two he'd like to be left alone, though they suggest he read his book to them. Since his book is too advanced for them, they get him a fairy tale book instead.

Cartoon
"Beginning, Middle, End"
Artist: Sally Cruikshank
(First: Episode 2556)

Film
A zydeco band plays "Allons a Lafayette" while people dance.
(First: Episode 2498)

Cartoon
A spoof of Alice Cooper's "Eighteen" - the number of sandwiches the singer has to choose from.
(First: Episode 2859)

Animation
Growing Numbers #18
(First: Episode 2933)

Animation
Abstract #18
(First: Episode 2859)

Muppets
"Do De Rubber Duck"
(First: Episode 2304)

Cartoon
Two ducks look the same height when they're in the bathtub, but one of them is taller when he steps out. Voice: Joe Flynn
(First: Episode 0303)




SCENE 3
Now that the story is finished, Gordon moves on to watching the clouds through his binoculars. Zoe and Big Bird watch them too and Gordon recalls being in a play about clouds when he was Zoe's age. The two rush off and come back with two kids, all dressed like clouds for Gordon to observe.

SCENE 3 cont'd
Big Bird even has a surprise cloud: an elephant (Joey Mazzarino), who shows off his skills as a pretend cloud and dog.

Video
Fay Ray dresses up as different animals. ("It's Kermit the Dog!")
(First: Episode 2639)

Cartoon
Falling leaves form H and h.
(First: Episode 3118)

Muppets
Spaceship Surprise: The Next Generation
The crew lands on Planet H. They are greeted by Hopalong Hamster, and see Happy Harry the Hopping Haystack and hula dancing hens.
(First: Episode 3195)

Film
The floating kids form H.
(First: Episode 3118)

Animation
Cecille sings "Up Down, In Out, Over and Under."
(First: Episode 2746)

Film
The Count (in voiceover) counts five children standing behind a park bench.
(First: Episode 2931)

Muppets
Wanda's friends beg her to stay in the water, but she'd rather explore land and be "A Fish Out of Water."
(First: Episode 3247)

Cartoon
A boy puts together a fishbowl, and watches his fish swim around in it.
(First: Episode 2030)

SCENE 4
Gordon listens to Beethoven's "Pastoral Symphony" and imagines being in the country. Big Bird and Zoe provide him with a chicken (Mazzarino) to enhance the experience, which attracts its angry owner (Camille Bonora). She lets it slide when she sees how relaxed the chicken is, claiming it needs a day off.

Cartoon
A chicken gets an idea to sit on a football and hatch it like an egg.
Artist: Dan Haskett
(First: Episode 2360)

Song
"Playground Map Song"
(First: Episode 2680)

Animation
A big paper clip and a small paper clip can hold papers together, and so can a small staple, with the help of its "mommy."
(First: Episode 2930)

Film
Various situations of before and after, to a hip-hop beat.
(First: Episode 3201)

Muppets / Celebrity
Kadeem Hardison says the alphabet with Natasha.
(First: Episode 2787)

Cartoon
Letters appear over a sky-view of a neighborhood.
(First: Episode 3267)

SCENE 5
Zoe and Big Bird find Gordon writing a letter to his sister and learn as he reads it back to himself how much trouble they've caused him. They conclude the best way to help him enjoy is day off is to leave him alone and alert Bob of the fact. Finally at peace, Gordon watches the clouds and enjoys his music.

Film
Alone Song
(First: Episode 0921)

Muppets
Muppet & Kid Moment — Cookie Monster and Lexine talk about the letter A.
(First: Episode 3263)

Animation
Sand A/a
(First: Episode 0628)

Song
"Write Your Name"
(First: Episode 3274)

Cartoons
Backward and forward: dancing, flying and swimming.
(First: Episode 3083)

SCENE 6
Gordon catches up with Big Bird and Zoe, claiming to be free for playing now. The two, however, are taking a day off for themselves and watch the clouds, asking to be left alone. Gordon announces the sponsors and is shooed away.