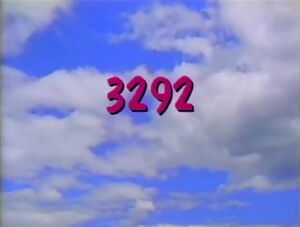 Picture
Segment
Description

COLD OPEN
Chicago, Gina and Celina reveal some stuff that'll be happening today, while Zoe tries guessing what today is. Chicago reveals it's "Vegetable Day," his favorite day of the year!




SCENE 1
The Vegetable Day festivities begin with the "Vegetable Alphabet," where Gina shows off vegetables for every letter of the alphabet (with a few cheats here and there). As they reach the letter Z, a zucchini arrives with much celebration.

Film
Three girls clap rhythms while naming vegetables.
(First: Episode 3051)

Cartoon
An ape takes a bite out of a yellow A.
(First: Episode 2813)

Film
Wegman's dogs form a letter A.

Cartoon
A man displays the capital and lowercase A, and explains what an alligator is.
(First: Episode 0006)
Muppets
The Count sings "The Batty Bat."
(First: Episode 2096)

Cartoon
A magician performs a trick that makes birds appear, and fish can be glimpsed between them.
Artist: Vince Collins
(First: Episode 1614)




SCENE 2
Next on Vegetable Day, Gina reads the story of "Snuffle & Gretel and Roy & Keesha." In the story, Roy and Keesha (Gina) leave a trail of cabbages as they make their way to the Subway. Snuffle and Gretel see the cabages and Snuffle eats up the trail. Keesha is distraught, but the others show her how to remember the way back home.

Cartoon
Abstract count to 16.
(First: Episode 2822)

Muppets
"Sixteen Samba"
(First: Episode 2822)

Animation
16 TV sets are counted.
(First: Episode 2850)

Film
College students volunteer at the San Francisco Children's Zoo, which has such animals as ferrets, opossums, and chinchillas.
Music: Joe Raposo
(First: Episode 2227)

Cartoon
A little girl tries to figure out why a dog is crying.
(First: Episode 0862)

SCENE 3
Chicago and Zoe present Celina doing the Vegetable Day Dance, dressed as a broccoli. Chicago sings a song about the vegetable.

Cartoon
"Name That Food" game show hosted by Don Carrot
Artist: Len Glasser
(First: Episode 1491)

Song
Hoots the Owl sings "This Is How We Take a Bath."
(First: Episode 3216)

Cartoon
Kids sing about the joys of celery.
Artist: ArtistMike
(First: Episode 2976)

Muppets
"It is I, Captain Vegetable!"
(First: Episode 1741)

Animation
Sand H/h
(First: Episode 0630)

Film
H for Hat - kids try on different hats as camera shutters go off.

Animation
Planet H / h
(First: Episode 2851)

Muppets / Celebrity
Big Bird expects Zap Mama to show him a merry-go-round, so they make one with their voices.

Cartoon
Leanna Williams explains why she loves her brother's shoes - she has fun with the box they came in.
Artist: ArtistMike
(First: Episode 2985)

Song
"Country in the City"

Cartoon
How Andy Fritz Ate the Sun.
Artist: ArtistMike
(First: Episode 2730)

Muppets
Oscar sings "Just Throw It My Way."
(First: Episode 2794)

Cartoon
Gloria Globe appears sick and ailing, because of pollution and damage to the planet. Only by taking better care of the Earth can Gloria become well again.
(First: Episode 2781)




SCENE 4
Chicago now poses as a magician, with Zoe and Gina as his assistants, who will all do tricks using potatoes. He waves his wand and Zoe says the magic words ("Potato shmato!") and Gina makes boiled, fried and mashed potatoes.

Muppets
Cookie Monster sings "Healthy Food."
(First: Episode 2404)

Animation
Airplanes carve the capital and lowercase A.
(First: Episode 3209)

Muppets
Harvey Kneeslapper: Do Ya Have an A on Ya?
(First: Episode 0293)

Cartoon
Bruce the moose invites Toulouse LaGoose over for juice.
(First: Episode 2498)

Song
Joe Raposo sings "Bein' a Pig."
(First: Episode 2356)

Cartoon
The Carrot (censored version)
Artist: Bruce Cayard
(First: Episode 1132)

SCENE 5
Chicago and Zoe sign off as the sponsors are announced. Zoe takes great delight in repeating everything mentioned, adding a "schm" to the beginning of everything ("Eighteen, schmayteen!").