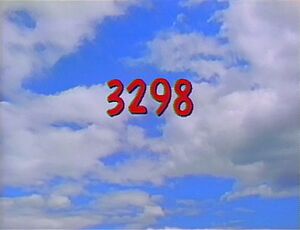 Picture
Segment
Description

SCENE 1
Big Bird and Maria are in the Fix-It Shop, when a man named Mr. Quincy enters. He wants his 10-second toaster fixed and demonstrates the problem: the toast is ready after 9 seconds. Maria figures he's the type of guy who likes things working exactly as they should and states she'll have it fixed in 10 minutes. Big Bird suggests she hold herself to that.

Animation
Space frogs count to 10.
(First: Episode 3109)

Muppets
Muppet & Kid Moment — Kermit and Tracy count to 10.
(First: Episode 0120)

Cartoon
"We Are Kids From Far and Wide": Sierra Leone
(First: Episode 2770)




Film
A girl goes to school somewhere in Africa. We see the girl getting ready to go to school, as she washes herself and brushes her teeth, puts on her clothes, brushes her hair, and takes her lunch, all with some help from her mother. We see her walking past her neighbors and watching her classmates play outside as she arrives at school. The bell rings and the girl enters the school, where the teacher is passing out chalk to her students. We see the teacher teaching the students the English words: "a boy", "a girl", "a man", "a woman," which she has written on the board, along with a drawing for each word. The students repeat the words, then write them down on their individual chalkboards as we hear the girl remark, "We are learning to read and write." The students then jump up and down, as the teacher looks on, smiling. Next, we see the students jumping outside excitedly, now that school has finished.
(First: Episode 2658)

Animation
Airplanes carve the capital and lowercase T.
(First: Episode 3230)

Film
The floating kids form a capital T.
(First: Episode 3121)

Animation
A picture puzzle of the letter T is put together. A man walks up to it, and calls a taxi.
(First: Episode 2933)

Song
Sesame Street Creature Feature: The Sloth
(First: Episode 2500)

SCENE 2
Maria has fixed the toaster and the toast is ready after exactly 10 seconds. Mr. Quincy is happy to have his toaster fixed and his scheduled breakfast can continue as normal once more.

Cartoon
A boy demonstrates why his dog's name is Happy.
(First: Episode 0537)

Film
A class makes a quilt of their faces.
(First: Episode 3034)

Animation
School supplies make the letter E.
(First: Episode 2880)

Animation
Computer E / e
(First: Episode 3071)

Cartoon
A man explains that the letter E begins both Enter and Exit. Another man named Roy runs through the doors.
(First: Episode 0406)

Film
Joe Raposo sings "Everybody Eats."
Re-filmed version
(First: Episode 2855)

SCENE 3
Maria runs into Mary, who's little lamb has stopped following her. Maria helps demonstrate the different things the lamb would do the same as Mary. She compliments Maria on her following abilities and asks if she can star following her. Maria states she's too busy to follow Mary, so Mary decides to follow Maria.

Cartoon
A girl picks the key that matches the keyhole in order to gain access to a cache of toys.
Artist: Dan Haskett
(First: Episode 2050)

Song
"The First Time" - Children try various activities (riding tricycles, tying shoes, etc.) and progressively improve.
(First: Episode 2950)

Cartoon
Kids observe cloud formations, until it starts to rain.
(First: Episode 2074)

Muppets
Captain Elmo Cousteau searches for the treasure of the missing soap, with the help of a policeman fishy.
(First: Episode 2637)

Animation
Counting to 8
(First: Episode 3170)

Cartoon
The Bellhop has to bring 8 steamer trunks down 8 flights of stairs.
(First: Episode 2511)

Muppets
The Rainbow Fish counts groups of 8 in the ocean.
(First: Episode 2909)

Film
Fay Ray gets on and off a rug.
(First: Episode 2635)

Cartoon
Building a dog house is easy if you have a ruler.
(First: Episode 0630)

SCENE 4
Mr. Quincy heads to Hooper's Store for his noon lunch and Big Bird warns Mr. Handford about his pickiness. Mr. Quincy orders the foot-long hot dog, taking out his ruler to make sure it's a foot long. The first hot dog is a tad short, and the second is a tad too long. He finally gets a hot dog that's exactly 1 foot long, but he requests the bun be just as long.

Animation
Stop-motion: what goes in the hot dog bun?
(First: Episode 1494)

Cartoon
Kevin Clash sings "Your Feet's Too Big."
Artist: Sally Cruikshank
(First: Episode 3230)

Film
What sound does a duck make?

Muppets
Ernie & Bert — Ernie and Bert decide to use both Bert's canvas and Ernie's paints to paint a picture of something. Bert wants to paint a bowl of oatmeal, but Ernie wants to paint a purple monster. Finally, they decide to paint a purple monster eating a bowl of oatmeal.
(First: Episode 1446)

Cartoon
A girl has trouble closing her suitcase after she's packed it, but has help from her four-legged friend.
(First: Episode 1469)

Song
Lillian sings "Face Facts."
(First: Episode 2760)

Cartoon
A female head is drawn as its voice-over lists its parts, ending with earrings that "do nothing" ... and promptly wiggle around.
Artist: James Rizzi
(First: Episode 0821)

Film
A girl narrates a film about how things are recycled around the world.
(First: Episode 2913)

Celebrity
Ruthie takes an opera lesson from Marilyn Horne, as they sing "Sing After Me."
(First: Episode 3198)

Film
Kids in Jamaica play bongo drums.
(First: Episode 3160)

Cartoon
Spinning T (to the tango beat).
(First: Episode 2933)

Cartoon
Ten tiny T's in top hats do the tippy tappy tango and take tea.
Artist: ArtistMike
(First: Episode 3230)

Muppets
Annette Monster and Frankie Monster sing "Love the Ocean" to urge others to "show respect for the sea" and refrain from throwing trash in the water.
(First: Episode 2680)

Animation
Draw a line from the dog to the bowl, underline the hen.
(EKA: Episode 2178)

Cartoon
A postal worker tells the viewer what the post office is good for.
Artist: Cliff Roberts
(First: Episode 0783)

Animation
Dancing pepper pattern - which one is missing?
(First: Episode 3079)

Muppets
Grover talks about the word walk. He is accompanied by styrofoam letters that form the word walk, and they keep walking back and forth.
(First: Episode 1692)

Cartoon
Cars WALK.
(First: Episode 0556)

Film
A man uses hedge clippers to create a peacock.
(First: Episode 3208)

Cartoon
A mother sings the story of how water travels down the drain and becomes rain.
(First: Episode 2865)

SCENE 5
Mary and Maria finish fixing their respective radios, when Mary decides she's not going to follow Maria anymore and instead spend some time on her own. She does join her in announcing the sponsors.
Community content is available under
CC-BY-SA
unless otherwise noted.